Hello to everyone in the blogosphere who maybe reading this.  I've been very quiet on the blogging front lately, so thought I'd take the opportunity to add a few reviews that have been sitting in limbo on my PC for ages, while the time allows.
The lovely ladies at Beauty Heaven sent me this product to test out and review for their Trial Team.  Here are my thoughts:
When I first received this product, I was under the impression that is was just another moisturising body wash, so when I discovered that it was a completely new and different concept all together, I was keen to try it out!  The NIVEA In-Shower Body Moisturiser is a time-saving, convenient way to nourish and hydrate your skin, whilst enjoying your regular daily shower.  Simply wash as normal, then slather all over your body, rinse, dry as usual and you're good to go!  It features glycerine, sea minerals and caring skin oils, which are water activated and prevent the skin from becoming dry.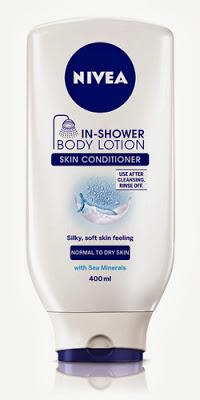 It's presented in a large, white and blue 400ml flip-top bottle that typically represents the NIVEA brand and fits perfectly in my shower caddy.  It boasts the standard crisp, clean 
NIVEA
 fragrance that isn't too bold or overpowering and would appeal to both men and women alike.  The moisturiser itself is white in color and has a fluid-like texture, with a medium consistency, so it isn't too runny.  The creamy formula is however quite difficult to spread, so I realised that I needed to use a large amount per application to work it all over my slippery wet skin, but as long as I've got enough product it does glide on with ease.  It rinses straight off with water and absorbs well, leaving a silky protective film on my skin.  Afterwards, my body felt smooth, soft and comfortable and the lasting moisture seemed to lock in all day long.


I don't have overly dry skin, so after using the moisturiser for the past month, I'm pleased that it provides my body with the essential hydration it needs each day and as a result my skin is definitely looking healthier.  I have sensitive skin and the dermatologically proven formulation didn't cause irritation and in fact I found it very soothing and relaxing instead.  I am really impressed with my experience using the 

NIVEA In-Shower Body Moisturiser,

 as I have often neglected my body and skip the daily moisturising step, especially if I were short on time or just couldn't be bothered having to wait around for the lotion to dry, but this handy shortcut only takes an extra minute when I'm already wet and in the shower, so it keeps my skin healthy and happy!  The only thing I would change about this product would be to introduce a variety of fragrances, which would definitely make it even more appealing to me as I do love indulging in beautifully scented body products.  Otherwise, it's brilliant and makes the ideal, effort-free alternative for those who are always in a hurry and don't give their bodies the attention it deserves.




Ideal For: Anyone with a busy lifestyle would benefit from this time-saving, hassle-free body moisturiser.




TIP:

  Be sure to wash your hands properly with your normal hand wash after using this product to completely remove the film left on your skin, because if you accidentally touch your eyes or mouth it can be quite uncomfortable or even irritating.


Rating:

5/5


 So, what do you all think?  Does this sound like it would be a product that would make your life easier or is it just another gimmick???  Have you tried it yet and if so please share your thoughts!




Cheers xxx ooo