Howdy once again fellow beauty lovers!  Here's another product that was sent on to me to trial and review from 

Tammerly

 over at 

Spoilt.  If you read my previous post about the Clearasil Daily Clear Vitamins & Extracts Wash then you would know I had reservations about this range, but I must admit when it comes to new skin care, as always, I was still eager to try!


This facial exfoliator is a part of the new range from well-known anti-acne brand 

Clearasil.  With a skin conditioning formula, the Clearasil Daily Clear Vitamins & Extracts Scrub (

can't seem to find this product on the Australian website at this stage??

) is enriched with Avocado and Vitamin E to nourish, along with the antioxidant benefits of Pomegranate, plus hydrating Glycerine to help retain moisture.  Unlike the existing Clearasil

 line-up, this range has been designed with a lower content of Salicylic Acid (a powerful pimple-fighting ingredient) to make it kinder to the skin, yet still efficient enough to target and prevent breakouts, delivering a deep-pore cleansing action that sloughs away dead skin cells and removes impurities, to unblock pores and encourage cell renewal, without drying or stripping the skin.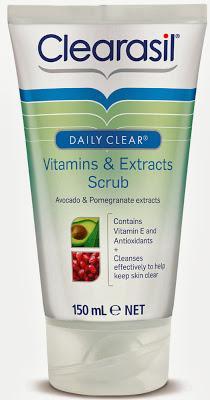 I usually shy away from granular exfoliants myself, based on the advice of my therapist that my sensitive prone skin will end up red, raw and angry after using an abrasive skin care product too often.

On the rare occasion that I do use a facial scrub, I'm armed with the knowledge that I must carefully avoid the fragile/delicate areas around my inner cheeks and nose to prevent any further aggravation.

I still exfoliate, opting for non-abrasive chemical exfoliants, with the potential to clean deep down, minus any inflammation to the surface.

This particular scrub has the dual–action capabilities of a physical + manual exfoliant, due to the Salicylic Acid, which is incorporated into the formula, along with microbeads, giving it the power to work twice as hard to dissolve dirt, oil and bacteria from my skin.

As long as I use very light pressure, I am able to gently apply this scrub and benefit from a thorough cleanse, without it causing irritation or upsetting my skin.

The actual grains in this formulation are only sparse, which suits me better, as they don't scratch my skin or provoke facial redness, instead I'm left with a clean, smooth, soft complexion.




The scrub has an ultra thick, glossy, pearlescent texture and is pale green in colour, speckled with random dark green beads that I imagine would be too abrasive if they were in abundance.  It also spotlights the same refreshing fruity fragrance as the cleanser in the same range, which stimulates my senses, yet isn't too overpowering and doesn't linger once it's rinsed off.  While the instructions claim this scrub can be applied twice daily, I don't think my fragile skin is suitable for such frequent exfoliating.  Not to mention, my research has lead me to believe that over-exfoliation can compromise and damage the protective barrier, disrupt the pH balance, trigger inflammatory and/or sensitised skin conditions and even accelerate premature aging.  Therefore, I only exfoliate a couple of times each week and would stress, depending on the individual skin type, the need to be cautious at the beginning before determining how often to use this scrub.


Over the past month, I've incorporated this scrub into my regime twice a week and have determined that whilst it's one of the better physical exfoliators I've ever tried, I don't consider it a crucial to my skin care plan and regard the partnering cleanser, which is infused with the same ingredients, bar the beads, delivers the same results with no risk of any side effects, as a better option for my needs.  However, I'm confident these two products adequately targeted my pimples, cleared congestion and removed bacteria, so my skin is now looking buff and bright and any new pimples are becoming few and far between.  I would recommend the Clearasil Daily Clear Vitamins & Extracts Scrub to people with resilient, breakout prone skin, as it's ideal for all budgets and readily available at supermarkets and pharmacies Australiawide.  Especially those who are fond of manual exfoliants, then it's worthy of a test-drive, promising instantly cleaner, tighter, firmer and smoother skin, that's nourished and conditioned, rather than dried out or robbed of moisture.


Presented in an easy-to-squeeze upside-down tube that boasts the same green and white color scheme across the range with eye-catching Avocado and Pomegranate images decorating the front of the packaging, it's chic and modern, appealing to both men and women of all ages in lieu of the typical teenage audience that 

Clearasil

 usually attracts. The tube has a large opening so lots of product comes out at once when dispensing, which is not only messy, it also results in using more product than needed, so it runs out quicker than it should.  The snap-shut lid is quite flimsy and needs to be handled with care to avoid breaking it off altogether.  On the plus side, the lower half of the tube graduates toward being translucent so it's easy to see how much product is left before it's finished.


TIP:  Instead of wasting any incompatible facial scrubs, try using them on your hands and feet to eliminate unsightly rough, dry skin and to keep them super soft and supple.  The invigorating properties can help stimulate circulation to revive and nurture stressed out, overworked hands and feet after a long, tiring day and makes for the perfect way to relax and unwind.


Rating:

I am rating this exfoliating scrub with 3 stars out of 5. It loses 1 star for being, in my opinion, an unnecessary addition to the range, delivering the same results as the cleanser, but with added granules.  Also I'm not certain why anyone would need to scrub their skin twice a day, so I'm taking off another ½ star as I'm concerned that over exfoliating could damage already sensitive skins.  The final ½ star is subtracted due to the poor quality packaging.  I will continue to use this product for the time being, but only as an occasional scrub, to effectively maintain problem skin such as pesky pimples and congested pores.  I am sure it would make a great addition to any bathroom beauty arsenal, for anyone wishing to benefit from the reliable zit zapping qualities, although I doubt that I will purchase it again for myself, as it doesn't meet my current skin care requirements.


Well, no doubt you have heard of 

Clearasil

, but have you ever tried it yourself?  Do you think the products have come along way from the first Clearasil products that were on the market years ago??  Please comment with your thoughts and opinions!

Cheers guys xx oo