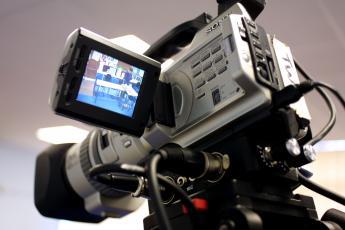 In my previous post i have briefly told u about basic shots with videos. Those are must and now i am going to tell u about some more shots which can make your film more dynamic and cinematic. U should have sound knowledge about these shots which can be helpful in your shot division process. These two posts are very crucial and can make so much of difference to your film making style and script writing too. Because when u are writing your script u should be able to visualize your idea and should be able to keep on the paper and for that u must know the terminology of each and every shot u are going to shoot. So lets get into the topic. 
 Dolly Shots
Tilt Shots
Handheld Shots
Eye Level Shots
Panning Shots
Areial Shots 
Pedestal Shots
Tracking Shots
Crane Shots
Zoom
Rack Focus
Bird's Eye View Shots
Oblique/Canted Angle Shots 


All the above are the camera movements which are necessary to be known for a script writer or a wanna be directors. when i have started this blog an year back i am only interested in scriptwriting and story construction for a film. But now, my interest have expanded in such a way that i am feeling to know each and everything related to film making. In this process, i have come across so many new topics related to camera,scriptwriting, rules to follow while u frame a scene, shot division etc., but the thing is that if u search the net u will get all the topics related to scripting but all the other things like shot division, cinematography related topics are very less when compared. So, i am planning to present all the topics which i have come across but it might take time because of my personal issues.. please do follow the blog it will surely help u to do better ur script and film making abilities. 




Okay, now i shall be teaching u each and every shot i have mentioned above:




Pan Shots:

This kind of shot will be useful when u want to show distance between two objects or when u want to follow the subject.If u want to be a good panner just get a Tripod and practice the pan shot many times at different speeds. Tripod helps u in smooth movement of camera camera.




Camera Movement:

The camera movement will be

Horizontal

from left to right or vise versa. Don ever get confused with a Pan and a Tilt. 


Tilt Shots: Tilt shot will be just like a pan shot like following the object or subject and the added advantage of a tilt is that u can able to show the height of an object to.
Camera Movement: A pan shot need a horizontal movement of the camera where as a tilt need to be

vertical

that is the only difference.
Pedestal Shot: It will be just similar to a Tilt but not exactly a Tilt shot. Just moving the camera up and down to get the perfect height. For example if u want to show a child then u will adjust the height of yoyr camera to the same as the child. Are if u want to show a tall guy who is 6'6 height then u will adjust the height to his level. This kind of shot is known as pedestal shot.

I will be posting remaining shot details in my next post. Keep going. And don forget to comment that will help me to improve and to write better. Any suggestions are advices are welcomed. please write to me on my contact form. i will get back to u.