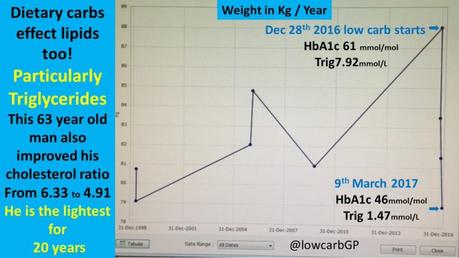 Here's yet another proud patient of Dr. David Unwin. The 63-year-old man went low carb and practically reversed his type 2 diabetes, normalizing blood sugar, dramatically improved his cholesterol and lost 6 inches (15 cm) off his waist.
Of course he's proud, and rightly so.
More
How to Reverse Your Type 2 Diabetes
Get started
Do you want to try what this man did? Sign up for our free 2-week keto low-carb challenge.
Alternatively, use our free low-carb guide, or for maximum simplicity try out our new low-carb meal planner service - it's free to use for a month.
PS
Do you have a success story you want to share on this blog? Send it (photos appreciated) to andreas@dietdoctor.com, and please let me know if it's OK to publish your photo and name or if you'd rather remain anonymous.