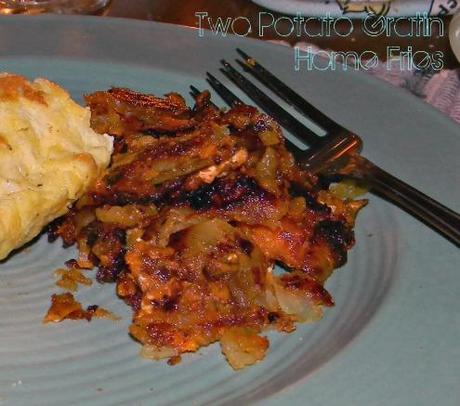 Getting used to this new posting format has resulted in a slew of half finished posts on the public all this week. Everyone must think I'm hitting the hard wine sauce.
Please except my apology for not paying attention to all those new buttons, my bad.
This was a week of booboos and although not discouraged, nothing cooked worked out right. I can now see why professional cooks will sometimes prepare recipes 10-20 times before getting it just right.
Since The Nudge's confession that if he can, he orders omelets for lunch and is upset when Rupert's does not put them on the Special's Board on Thursday (I have my answer to why he schedules most business lunches on Thursday). Tonight, since he did not get one for lunch, I am making him an omelet for dinner.
Spinach, pancetta and fontina omelets to be exact and wanted to make a potato side that was different from the usual. I was going to make a sweet potato hash but when I saw this I immediately changed my mind. That gratin was a thing of beauty and totally different, mine was different but totally horrible. This was definitely one of those dishes that you make as is and by messing with the ingredients, left me with a baking pan of something that was not so good. I should have just made the hash.
What to do 30 minutes before The Nudge was expected. Since my original idea way back when was to make home fries, I cut the gratin into four sections, smashed them into a frying pan and made them nice and crunchy. They turned out better than I expected. Already cooked in a flavorful stock, I did not have to add a thing except more salt & pepper.
My blog should be about leftovers because that seems to be where most of my successes lie.
I will post the gratin recipe as written and when you have leftovers (and you will) you can make my home fries. It's a win-win for everyone.
Two-Potato Gratin
Adapted from Cooking Light
serves 8

2

medium baking potatoes, peeled and cut into 1/4-inch-thick slices (about 3 cups)

 

2

medium sweet potatoes, peeled and cut into 1/4-inch-thick slices (about 4 cups)

 

2

quarts no-salt-added chicken stock (such as Swanson)

2 tablespoons

canola oil

 

3 tablespoons

all-purpose flour

 

2

garlic cloves, crushed

 

1 1/2 cups

2% reduced-fat milk

 

2

thyme sprigs

3/4 teaspoon

kosher salt, divided

 

1/4 teaspoon

freshly ground black pepper

 

3 ounces

aged Gruyère cheese, shredded (about 3/4 cup)

Cooking spray

 

2 tablespoons

chopped fresh chives, divided

1 1/2 teaspoons

chopped fresh thyme

1 ounce

fresh Parmigiano-Reggiano cheese, grated (about 1/4 cup)
Preparation
1. Preheat oven to 350°.
2. Place potatoes in a large stockpot; cover with stock. Bring mixture to a boil; cook 4 minutes. Remove from heat. Carefully remove potatoes from pot using a slotted spoon, reserving cooking liquid. Arrange potato slices in a single layer on a jelly-roll pan; set aside. Strain cooking liquid through a fine-mesh sieve over a bowl; reserve 1 cup cooking liquid. Discard solids and remaining cooking liquid.
3. Heat a medium saucepan over medium heat. Add oil to pan. Sprinkle flour over oil; cook 1 minute, stirring constantly with a whisk. Add garlic; cook 2 minutes, stirring frequently. Combine milk and reserved 1 cup cooking liquid. Gradually pour milk mixture into flour mixture in pan, stirring constantly with a whisk. Add thyme sprigs to pan. Bring mixture to a boil; cook 4 minutes or until slightly thick, stirring frequently. Remove from heat. Strain mixture through a fine-mesh sieve over a bowl, reserving sauce; discard solids. Stir 1/2 teaspoon salt, pepper, and Gruyère cheese into sauce.
4. Spread 1/2 cup sauce in bottom of a broiler-safe 2-quart ceramic baking dish coated with cooking spray. Arrange a single, flat layer of sweet potato and then baking potato slices over sauce. Over flat layer, alternate baking potato and sweet potato slices, in shingle-like fashion. Sprinkle evenly with remaining 1/4 teaspoon salt, 1 tablespoon chives, and chopped thyme; pour remaining sauce over potato mixture. Sprinkle with Parmigiano-Reggiano cheese. Bake at 350° for 1 hour or until potatoes are tender when pierced with a knife.
5. Remove gratin from oven. Preheat broiler to high.
6. Place gratin in oven. Broil gratin 3 minutes or until browned. Sprinkle with remaining 1 tablespoon chives.
Two-Potato Gratin Home Fries
Startwith cold potatoes. Use of a cast iron skillet will give you the best results. Make sure it is screaming hot (preheat at least 5 minutes).
Coat the bottom with vegetable or safflower oil.
Smash leftover gratin evenly in the skillet.
Saute on one side until the edges are browned. Flip over and repeat. Place in an oven and sprinkle with a small amount of grated cheese of choice (I used cheddar).
Broil to reheat right before serving.
Review: Perfect example of something good coming out of something bad. You have got to make these. I think the next time I want home fries I will cook the potatoes in infused milk.They were excellent and a step up in the home fry arena. Tuck this idea away the next time you find yourself with leftover potato gratin.