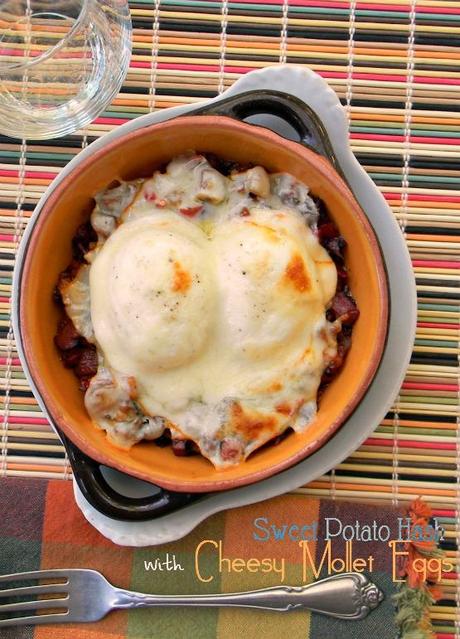 Somewhere in the deep recesses of my demented mind, I remembered buying two corned beef briskets when on sale in March, so I went hunting in my freezer. BINGO, I actually found it. Hey, I wanted a Reuben.
I pulled out my slow cooker, made a flavorful braising sauce and set the timer.
One Rueben Panino later I still had more than half a cooked brisket.
Let's face it, not many dishes can be made with a corned beef, even one braised in BBQ sauce.
Yes, I went the hash route.
What I love about this preparation of the topping, is that it can all be prepared in the morning while it's cool, placed in the fridge and plopped under the broiler for 5 minutes to melt the cheese sauce and heat the dish.
Yes, I am melting cheese over hash, sue me but it's dinner and I wanted something more substantial than a breakfast.
If you don't have a corned beef, ask the deli guy at your local market to cut you a 1/4" slice (#7 on my store's slicer).
If you want to keep it Vegetarian, deep six the beef.
This was yummy, not overly cheesy, very filling and because we had our chimney being cleaned and certified, easy to broil on a two minute notice (we are installing a new furnace).
Hash is that type of dish, even though I adore it, is something you can eat only a few times a year.
It's a good dish to make when you have odds and ends in the fridge. A potato and a few veggies, a poach or fried egg and you're good to go, literally.
Sweet Potato Hash with Mollet Eggs
Prepared in the minuscule kitchen of Wish Upon A Dish with inspiration from Jacques (the MAN)
Prep time: 30 minutes
Cook time: 8 hours + 30 minutes + 5 minutes
Yield: 4 servings with 2 eggs each
* 1 large sweet potato, peeled and diced
* 1 sweet onion, diced
* 1/2 red pepper, diced
* 1/2 frying pepper, diced
* 2 cloves garlic, minced
* 1 pound chopped corned beef
* 1 tablespoon fajita seasonings
* Canola oil
* 1/4 cup beer
* 12 slices Swiss cheese or Muenster
* 8 eggs, soft boiled for 6 minutes
1. Put a saucepan, large enough to hold the 8 eggs, covered with water, to boil. Once boiling, lower to a simmer and set the timer for 6 minutes. When done, remove, drain, bounce the eggs gently inside the pan to crack the shells and fill with cold water. Set aside.
2. Pour enough oil into a saucepan so that it coats the bottom of the pan. Bring it to a smoke point and pour the sweet potatoes into the pan and stir it immediately to coat the potatoes, then leave it be for 5 minutes.
After 5 minutes, if the bottoms look caramelized, flip as many over, repeat and crisp the edges. Remove to a bowl.
3. Add another teaspoon oil to the same pan and add the onion, peppers and garlic. Saute until tender and add the beef and seasonings. Stir to incorporate. Add the beer and turn off the pan. When the beer stops bubbling, add the sweet potatoes and set aside in a covered container in the fridge until ready to assemble.
Assembly:
Spoon a quarter of the hash into four oven ready ramekins or au gratin dishes. Make an indent in the middle to nestle the eggs. Peel the eggs and place two on top of the hash. Top with 3 slices of cheese, arranging so that all of the hash is covered.
Set the oven to broil on HI and place the dishes under the broiler for 5 minutes or until the cheese starts to brown. Remove and serve.