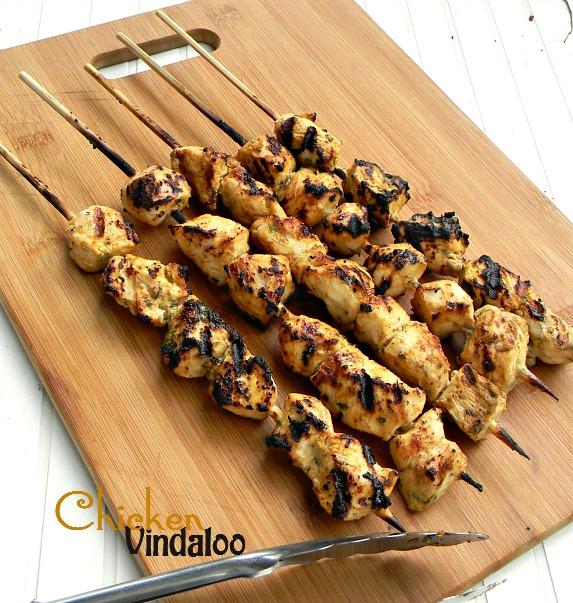 Yay! I finally was able to grill our dinner last night.
Oh, how I have missed my grill.
The heat finally broke, and although still not happy about standing over hot coals, I was happy I planned a quick 10 minute meal. This newest weather pattern, while still not normal, has been better than another day of air conditioned jail, so I grabbed a chicken breast out of the freezer, a carton of Greek yogurt and a tablespoon of Vindaloo spice mixture. Most yogurt based marinades usually require a 24 hour soak (for dark meat), small chunks of white meat can get enough time with a mere 6 hour dip.
Yogurt is not just for eating, the process that turns milk into yogurt also acts as a tenderizer and in the Middle East, is used on every piece of protein they cook (especially a tough goat or lamb). If you have never tried a yogurt marinade, I beg you to try this rendition. Loaded with flavor, but not over the top, it makes the best chicken, especially those pieces exposed to extreme heat.
Even in the winter, it gets a blast from the broiler.
If you have been exposed to those subtle hints that the store must have sold you tough, dry white meat, this will make you a rock star. If you can get over the fact that those blackened edges are flavor, and need to be there, you will appreciate the fact that for once, the blackened parts are a good thing. Yes, you have permission to burn the toast!!!
A quick side of diced mixed vegetable couscous and dinner is on the table in 20 minutes.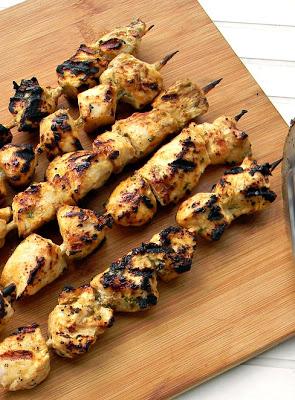 Chicken Vindaloo
Adapted from Diary of a Foodie, 2008
* 1 cup plain yogurt (not low-fat; preferably Greek-style)
* 1/4 cup chopped fresh mint leaves
* 1/4 cup chopped fresh cilantro
* 2 tablespoons vindaloo paste (preferably Patak's or Pensey's brand)
* 1 teaspoon salt
* 3/4 teaspoon black pepper
* 1 large or 2 medium boneless chicken breasts
* 1 tablespoon Franks Hot Sauce (optional)
1. Cut chicken into 2" pieces.
2. Stir together all ingredients except chicken in a large bowl until combined well.
3. Drop chicken into a large zip bag and add the yogurt mixture. Refrigerate minimum 6 hours and up to overnight.
4. Soak wooden skewers while preheating grill.
Broiler: Transfer skewers to a large sheet pan and broil for 3 minutes on one side, flip over and repeat. Edges should be blackened.
Grill: Heat the grill and spray the grate. Soak wooden skewers while the grill heats. Poke 5-6 pieces (with a space between them) of chicken on each skewers and grill over a high heated grill for 4 minutes on one side and 3 minutes on the other.