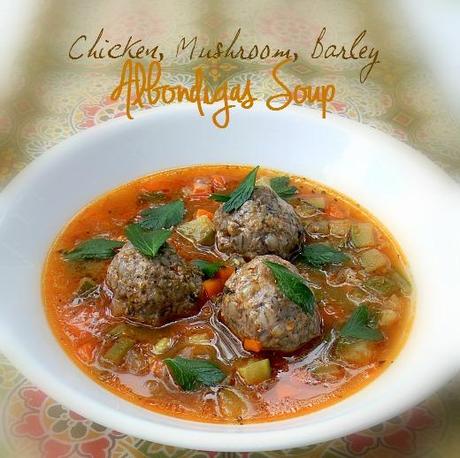 Ever eaten a porcupine? The Nudge had no idea what I was talking about. Do you? I will give you an "A" if you know.
My Mom must have made them at least once a month, the other half month she simply turned them into stuffed peppers. I loved them both.
OK, got you curious? Porcupines were meatballs that had rice sticking out of them so they looked like 'lil porcupines in the pot. Kids love em. Make bigger porcupines and stuff it into red peppers. Yup, that's right. Might as well make a double batch at the git go.
Since rice is not at the top of my list of things I can eat and I was craving a meatball in a tomato broth, I decided to make a very diappropriate version as well as keeping it gluten-free, very low carb and low fat.
Instead of rice, I used barley. To add a meaty quality to the ground chicken, I used a mix of dried and fresh  mushrooms.
Why call this an Albondigas Soup? 
Albondigas is just a Spanish word for meatballs but the broth is the star. A light, spicy and loaded with flavor broth that the meatballs finished cooking in. This reminded me of a wonderful Albondigas Soup I had in Vegas and to tell you the truth, with the addition of the mushrooms, you would never know they were made with chicken.
First,  I simmered the meatballs in salted water until they floated to the top and then strained the poaching liquid to use in the broth. Why waste all that meatball flavored water?
A very satisfying and healthy dinner. You could even serve a cornbread wedge or muffin.
I have to admit, these were much better than I thought they would be but I did learn one thing. When you use ground chicken, you must double the spices and herbs you think you need and when you do this you will remember this post and thank me.
Now I will give you an even better tip. Before you cook the whole batch of chicken meatloaf, burgers or meatballs, take a small amount and fry it in a pan. Taste it for seasonings and make the necessary adjustments.
I froze half the meatballs to use in another recipe down the line. I was thinking of a Creamy Basil Sauce or better yet, a curry coconut sauce. Yum.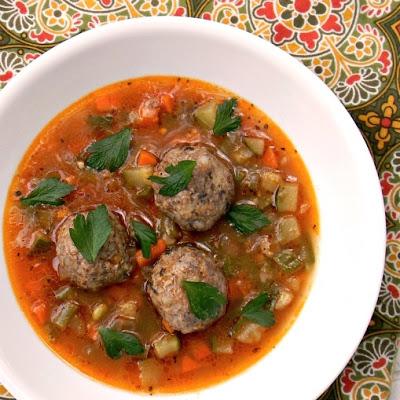 Mushroom, Barley & Chicken Meatballs
Yield: 40 (2oz) meatballs
* 1 tablespoon extra virgin olive oil
* 1 cup minced onion
* 4 ounces fresh mushrooms, minced
* 1 ounce dried porcini mushrooms, soaked in hot water for 20 minutes, water reserved
* 2 teaspoons fresh garlic, minced
* 1 tablespoon vinegar
* 1/2 cup dried barley, cooked in 2 cups salted water mixed with porcini soaking water
* 3 mozzarella snack sticks, diced (or 1 ounce Biazzo, tiny dice)
* 2 eggs
* 1 pound ground white meat chicken
* 1 teaspoons Italian Seasonings
* Salt and pepper
1. Sauté onions, mushrooms, and garlic in olive oil. In a large bowl, mix remaining ingredients with cooked vegetables, make a small patty and cook to taste for seasonings.
Using a 2 ounce ice cream scoop, make meatballs and carefully drop into a pot of simmering salted water. When they float, remove and reserve to cook. Run the poaching water through a strainer lined with cheesecloth & save for broth.
Lite and Spicy Tomato Broth
Yield: 1 quart
* 2 tablespoons olive oil
* 1 large onion, chopped
* 1 large clove garlic, minced
* 1/2 cup tomato sauce or 1 tablespoon tomato paste
* 1 chipotle in adobo sauce, mashed
* 1 tablespoon minced parsley
* 1 teaspoon chopped cilantro
* 1 quart chicken broth or 1 bouillon cube dissolved in the meatball poaching liquid
* 1/2 pound green beans, cut into 1" pieces
* 2 large carrots, diced
* 1 zucchini, seeds scraped out and cut into small dice
1. Saute onion, garlic and chipotle in olive oil.
2. Add broth and tomato sauce.
3. Add parsley, cilantro, carrots and green beans and simmer for 20 minutes.
4. Add zucchini and meatballs and simmer for 10 minutes more.
5. Garnish with extra cilantro, parsley, basil or mint.