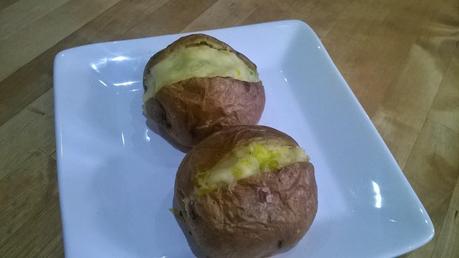 Ingredients
Potato, leek, butter, cheddar.
Preparation:

 2 hours
Cooking the perfect baked potato is an art form, and filling it is an exercise in creativity that I never get tired of. Twice baked potatoes are glorious - a crispy shell filled with fluffy potato overlaid with gungey, creamy swirls of yumminess. I love the combination of leek and cheddar in so many dishes and it's scrumptious here.

1) To make the perfect baked potato.

2) Slice the leek and sautee in a pan with a knob of butter. Slice open the potato and scoop out as much of the potato as possible without compromising the integrity of the structure. (Oh yes, I went there!)



3) 

Grate the cheese and stir into the potato along with the leek, and spoon the filling back into the potato.



4)

 Bake for a further 10-15 minutes and serve.