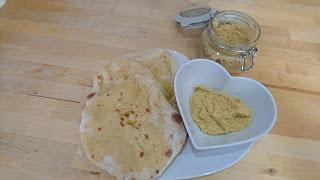 Ingredients
500g plain flour (I used spelt), 5005 strong white bread flour, 10g yeast, 20g salt, 2 tbs olive oil, 325ml yoghurt, 325ml warm water.
Serves:

 10-15 

Preparation:

 2 hours
Turkish style flatbread is fabulously versatile. Stuff (pitta style) to make cold sandwiches, hot pressed sandwiches, use as a vehicle for dips or top them pizza style with whatever you fancy. They are simple to make and keep well in an airtight container for about 5 days or can also be frozen to use later (though ideally for toasting as the texture will be affected somewhat.)
1) Stir the flours and salt together, then add the yeast to the yoghurt. Add the yoghurt to the flour and add the warm water. I highly recommend using a dough hook for mixing this - after the mixture begins to come together add the olive oil and then keep mixing for at least 10 minutes until the dough is smooth and silky. If you're mixing by hand... good luck with that!!
2) Flour your hands and shape into a round before transferring to a clean bowl. Cover with cling film or a plastic bag and leave to rise until the dough has doubled in size. This takes about an hour at room temperature.
3) Knock the dough back and leave it, covered, to rise for a second time. Purists will repeat this process for three or even four rises but truly I couldn't tell the difference in the finished flatbread so unless you want to spend all day in the house making flatbread I'd get it cooked at this point!
4) Dust your work surface generously with flour and tear off lemon sized pieces of dough (you can make these smaller or larger if you wish - if you have a big enough pan then you can make 10 good sized flatbreads) before rolling them out to 5mm thickness. Leave them to rise for at least 5 minutes.
5) You can make these with a frying pan and grill, or a griddle and grill. Heat your pan as high as you can and drop one piece of dough into it. If the pan is hot enough, after about 30 seconds you will see bubbles begin to form. Use a fishslice to just lift the dough and check for little spots of color forming. Transfer the pan carefully to the grill (about 15cm from the heat, so middle shelf for most grills) and watch the flatbread bubble and then balloon! Drizzle with oil and serve or save.
Top tip. When it begins to char, it's ready. Just in case you're a bit nervous, here's a vine of my flatbread rising. Don't panic - it's supposed to do that!