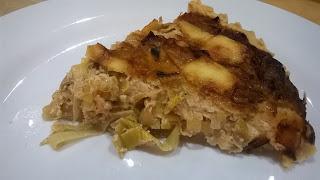 Ingredients
Pastry: 4oz plain flour, 2oz butter
Filling: 3 eggs, 1 large leek, 2 tsp French mustard, 100g Lancashire cheese.
Serves:

 4-6 

Preparation:

 X
My husband loves a good tart. Fnar fnar... And he has very exacting standards, so when I say that this tart made it into the top 5 meals that I have made for him during our years together, that should tell you just how savoury and scrumptious it is. It aint so much to look at, but it really tastes like heaven.

1) To make the shortcrust pastry, cut the butter into small cubes and drop along with the flour into a food processor until the mixture resembles breadcrumbs. Drip in 2-3 tablespoons of cold water until the mixture quickly forms a ball. Wrap this in clingfilm and put in the fridge for 15 minutes. Once chilled, roll out and press firmly into a buttered pastry case. Bake blind for 10 minutes and set aside to cool.

2) Slice the top and tail from the leek, slice in half and then slice thinly. Sautee in a pan with a little knob of butter until soft.



3) 

Whisk the eggs and mustard together and crumble in half of the cheese.



4)

 Spoon the leeks into the tart case and pour over the egg and cheese mix, adding the remainder to the top then bake in a pre-heated oven at gas mark 5 for 30-40 minutes. The tart should be solid, rather than wobbly in the center with a golden surface.



5) 

Serve hot or cold.