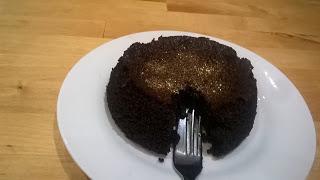 Ingredients
150ml coconut or olive oil, 50g raw cocoa powder 100ml boiling water, 2 tsp vanilla extract, 150g ground almonds, ½ tsp bicarbonate of soda 1/4 tsp salt, 200g coconut palm sugar, 3 large eggs
Serves:

 (whoever you love enough to share it with) 

Preparation:

 1 hour
Whether we like it or not, food intolerancy is a thing. A very big thing. Whether you believe that it's through years and years of poisoning our bodies with chemicalised and processed foods or some sort of voodoo, we all know far more people these days who have to be careful about what they eat.  
This recipe is adapted from a gluten and dairy free Nigella cake to make it sugar free and a little less moist than her slightly flabby flourless cake. It is absolutely DELICIOUS and the texture is FABULOUS. For any gluten free person who has made you eat a polenta cake or some other mad textured cake, do share this and tell them to put down the xantham gum because all is not lost.

1) Pre-heat the oven to gas mark 3 (170 degrees) and grease a 9 or 10 inch springform tin with a little oil. I have also made this split into two mini 4 inch cake tins and it works perfectly.

2) Sift the cocoa powder into a bowl and whisk the boiling water and vanilla extract in until you have a smooth chocolate paste. Try not to eat it immediately, you get to lick the bowl after...



3) 

Measure out the ground almonds, bicarb of soda and salt into one bowl and the sugar, oil and eggs into another, then whisk the latter thoroughly for 3-4 minutes until you have a thickened, aerated and emulsified liquid.



4)

 Add the cocoa and vanilla paste and beat thoroughly, then add the almond mixture a little at a time.



5) 

Don't panic about the consistency, this is a liquid batter. Make sure your cake tin base is in the right way round (we've all done it but this cake is considerably less delicious when eaten off the floor of your oven...) and pour in the batter. Bake for 45 minutes or until the sides are set and the very centre, on top, has a bit of a wobble to it. I usually give the oven door a bit of a kick and if it wibbles alarmingly, give it another ten minutes or so. When you stick a skewer in it should come out with a few sticky crumbs clinging to it rather than a smear of batter but be warned, this cake rises up beautifully and then sinks back a bit so if you skewer it before it's ready, it's going to sink faster than the Titanic! The good news is that this cake is FABULOUS eaten hot with ice-cream, or leave it to cool in the tin until you're ready to scoff it.