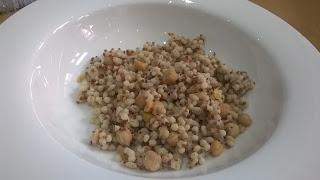 Ingredients
1 can chickpeas, 1 cup pearl cous-cous, 150ml coconut cream, 1/2 tsp thyme, 1/2 tsp cumin, 1 can puy lentils.
Serves:

 4 

Preparation:

 20 minutes
It is a truth universally acknowledged that coconut is one of the best things ever. In a world where I do not give my family refined sugar and limit dairy products; coconut palm sugar, coconut blossom syrup and coconut oil, water and milk are constantly on our grocery list. When I was pregnant I consumed so much coconut water that I am not remotely surprised that my son is hopelessly addicted to it. That and it tastes like breastmilk.  
ANYWAY! This salad is subtle and lovely, an extremely lazy nod to rice and peas (one of my favorite dishes at Soul Kitchen - my review here) and super quick to make. Do excuse the slight gray tone of the picture, it was a VERY gloomy day!

1) Add the pearl cous-cous to a pan along with the coconut milk, cumin and thyme.
2)
Bring to the boil and after about 8 minutes, turn off the heat, stir through and add the drained puy lentils and chickpeas.



3) 

The liquid should have cooked off, leaving just a gloss of coconut but if not, drain through a sieve before serving. I like to add a little black pepper and salt