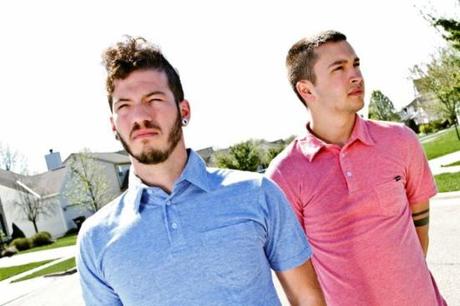 This American duo from Ohio have been together since 2009 and consist of college friends Tyler Joseph and Josh Dun. The guys have released two independent albums; the self titled 'Twenty One Pilots' in 2009 and 'Regional at Best' in 2011. They signed to Fuelled by Ramen in 2012 and the track Fake You Out comes from their first label album Vessel which presents their quirky mic of Rock, Indietronica and hip-hop.
Fake You Out is a very upbeat, almost Electro Pop track, It reminds us here at TWSH of the likes of The Pinker Tones and, Men, Women and Children, but they're not quite as in your face. The opening of the track is quite calm in comparison to the chorus which is very upbeat and busy. The vocals have a Pet Shop Boys edge with indie elements and the track has quite a generic  layout of verse, bridge, chorus; that is until the mini hip-hop or Eminem/Nicki Minaj moment in the middle, finishing with a hint of screamo.
This track to us is very much one of those irritatingly catchy tracks that you don't want to like but it gets stuck in your head anyway. Therefore the verdict is: not a massive fan but can't help but keep listening.
-TWSH
Download Fake You Out and Vessel
Find out more about Twenty One Pilots
Facebook Twitter Website YouTube