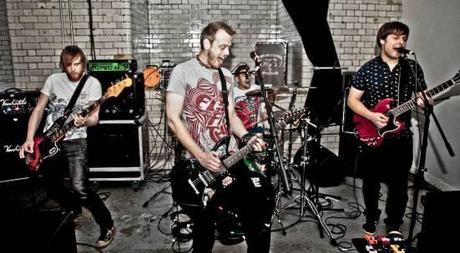 Super 73 are a melodic, multi textured alternative rock band hailing from Middle England. They formed in late 2012 and consist of duel guitar slingers and vocalists Mark Whinkless and Steve Potter, Andy Winfield on Drums and vocals and Rob Ellis on bass and atmospherics.
Remember. Bulletproof is their first EP and consists of four songs – five if you count the radio edit of There or Thereabouts, for which a video has recently been released. There or Thereabouts kicks off with an infectious punchy guitar riff before bringing things down for the verse. Singer Mark Whinkless delivers with effortless soul – at times edging into raw screams. (Though don't be put off. This isn't 'Screamo')
A Local Hero has a cool intro that is guaranteed to get you nodding your head. For the verse the band kick into a funky riff before going back to the heavy chords for the chorus. The follow up track, Let It Go, continues the high energy rock with a catchy clean tone melody throughout, adding to an interesting dynamics within the band's song writing. The track also contains some impressive vocal harmonies within the mid-section.
Untitled (What Matters?) is a mid tempo rocker that clocks in under three minutes and has a lot going on both musically and vocally. There's some cool harmonies as well as a raw screams towards the end.
Super 73 take influences from a wide range of artists, including Led Zeppelin, Pearl Jam and Placebo. With the various textures within their song it can be hard bringing everything together into a coherent package but they pull it off well. This band has a lot of potential and the four tracks on this EP work well to whet the appetite. I'll be interested to hear a bigger collection of songs on their debut full length album due out later this year.
-Dave
Find out more about Super 73
Facebook Twitter ReverbNation