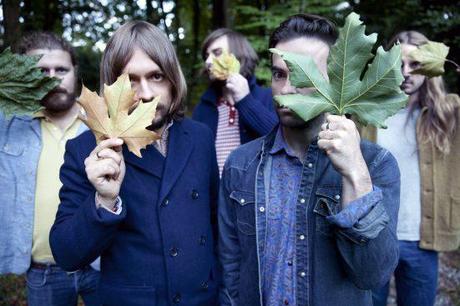 And now for something delightfully chirpy… From the band that established themselves as feel-good folk/pop songsters in 2008's Under the Pavement and further developed their signature style on 2011's Screaming is Something comes The Travelling Band's third LP in 6 years. Time well spent for the aptly named group from Manchester. The evolution continues on The Big Defreeze.
All of the key ingredients are still there: the enchanting melodies, beautiful harmonies, jaunty guitars and the all-round folksy feel. There's something more though, a fifth element that has been slowly progressing with each album. Their reputation as a scintillating live act preceding them, life on the road has brought them together as a tight-knit recording outfit.
In a recent interview, lead songwriter and vocalist Jo Dudderidge has stated that being on the road for so long has enabled them to gain a really good understanding of each other as a collective. Absolutely this comes across in the studio. When you listen to The Big Defreeze, you are listening to a lovingly crafted set of songs. Carefully constructed and well written, everything is done with glorious purpose. The warmth of the music seems to embody a heartfelt expression of gratitude to the fans, who pledged funds to make the album possible (in fact, as a tribute, the band played intimate shows in those fans' homes).
'Passing Ships' sets the tone and showcases the brilliant song writing on display. This is storytelling that draws you in, at its masterful best. Once in, you are taken on a dream-like journey of unrequited love, missed opportunities and self-discovery. 'Garbo' is the band's nod to the Kinks written for fellow band member Adam Gorman, '25 Hours' is a breezy sing-along in the same vein while 'Quicksand' is a cautionary tale of a lost summer. The most intriguing tracks though, are also the most ambitious ones. '78.8%' is a slow-burner that builds to a stirring climax just when you think the song's over, perfect for a festival. My personal favorite however, that best highlights the band's diversification and progress, is 'Borrowed and Blue'. It works well within a controlled studio setting, but you get the feeling it is a caged beast, waiting to be unleashed on an unsuspecting live audience. Given room to breathe, the song moves through measured peaks and atmospheric troughs, before it reaches its stunning chorus, only to be reigned back in for the last 30 seconds. How's that for a tease? A surprising but compelling ending that gives the band a sense of mystery and exciting unpredictability.The contemplative 'Sticks and Stones' continues on a mellower, wistful vibe contrasting the anthemic 'Hands Up' which concludes the album on a thunderous note.
Drawing from their experiences on tour, the Travelling Band have delivered the most focussed, diverse and complete album of their career. After their 2008 debut, the lads from Manchester could've rested on their laurels and stayed a simple folk band with a penchant for catchy melodies. Instead they're proving they want much, much more than that…and we are all the more richer for this driving ambition. The Big Defreeze is out through Sideways Saloon/Republic of Music on August 25.
-Sean
Find out more about The Big Defreeze:
Facebook Twitter YouTube Website