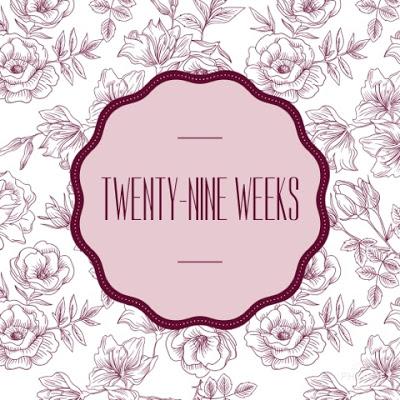 How far along? Twenty-nine weeks and six days. 
Baby's size? Baby is the size of a pineapple. When I told my husband our baby is now the size of a pineapple, he said, "A pineapple?! Pineapple's are big!" I said, "I know, she's getting bigger every day." I just laughed. I think he's starting to realize that we'll have a tiny human in our house very soon. 
Baby's nickname? 
Baby girl and her daddy and I call her by her name. 
Maternity clothes?
Yes, I got a couple new tops for my birthday and I'm loving them. Now that the weather is warming up, I'm having to add in some short sleeve maternity tops. 
Exercise?
 Very little again thanks to rib pain and a cold. I've gone my entire pregnancy without getting sick and I've finally caught a cold. 
Sleep: Sleep is getting a little better. I've been trying to stay on my side but I tend to move to my back. Stephen tells me I snore more when I'm on my back, maybe that means I'm more comfortable. 
Best moment this week: Getting baby girl's room organized. And celebrating Stephen's birthday! I also went to see my midwife this week and everything still looks great. Her heartbeat is 140 beats per minute and she kicked the midwife when she was checking her heartbeat. She gave me my date for maternity leave - April 20th. It's coming so fast! 
Miss anything?
Right about now, I'm missing cold medicine. 
Movement: Lots and lots. She moves all the time. It makes me happy every time I feel her. 
Food Cravings: I have been wanting ice cream for days now. Since Saturday. And I bought some from Trader Joe's but I haven't touched it yet. The first few days I didn't have the appetite and now I'm sick. 
Anything making you queasy or sick:
 Only sick with a cold.
Gender: GIRL! 
Symptoms: Rib pain has been so much better this week! My Ovia app said this morning that she may be starting to drop into the birth canal. I'm hoping that's true because I am so over the rib pain. 
Wedding rings on or off? Wedding ring is always on. I only wear my engagement ring when I get dressed up and go out though. 
Happy or moody most of the time? Happy! 
Looking forward to:
I am very excited for my brother, sister-in-law and Nash to come home this weekend! And I'm looking forward to may baby shower on Sunday. That's why I need to get over this cold ASAP!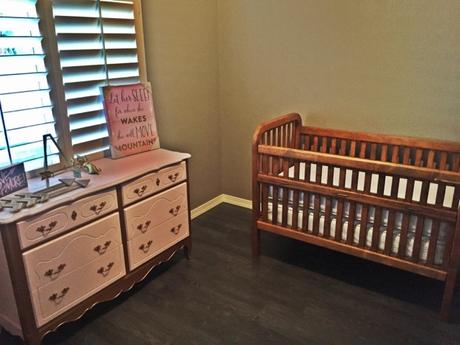 Here is her room so far. Her crib was built for her daddy when he was born - thirty-two years ago this week. My in-laws kept it all these years. Him, his brother, our niece and nephew have all slept in it. Now it's our baby's turn to lay her head in it. And the dresser was given to me by my grandparents when I was a baby. I knew one day I'd want to pass it down to my daughter so I hung onto it. Same with my vanity, which will go to her when she's a little older.