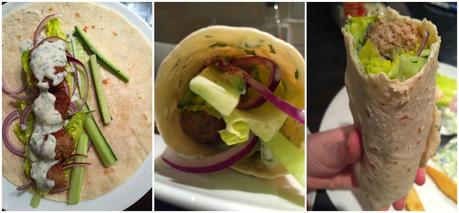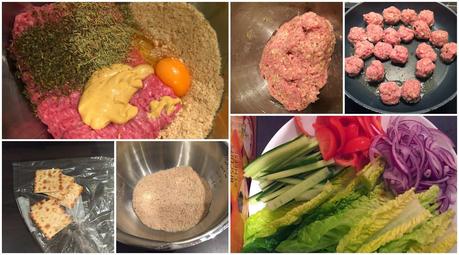 For the Mission Deli Recipe Challenge I made turkey mince meatball wraps. 
Mint yogurt sauce is my favorite at the moment, it is so easy to make and tastes light and refreshing. For this dish it tasted great as a base sauce within the wrap, and I had a bit on the side to dip my salad it, it really brought the dish together.
This is the first time I've made meatballs, and hubby and my boys loved it. It was so easy to do and I enjoyed making them.
For the meatballs:
4 x tablespoons of olive oil or sunflower oil
14 x Jacob crackers
1 x egg
400g Turkey mince
2 teaspoon dollops of Dijon mustard
Rosemary
Dried oregano
For the sauce:
Yogurt
Cucumber
Mint
Lemon
Method:
- For the sauce, I poured the Greek yogurt into a bowl, chopped up the mint leaves, sliced up the cucumber very thinly, and mixed altogether - finishing off with a squeeze of lemon and seasoning.
- For the meatballs, first I put the crackers into a freezer bag, and smashed them with a rolling pin. Jacob done this with me and had loads of fun.
- We added the mince in to a mixing bowl with the cracker-crumbs, the Dijon mustard and the egg. I added the finely chopped rosemary, and the dried oregano. I seasoned the mix and then with my hands, mixed it thoroughly together. Once I was happy with the mix, I shaped lots of little balls (I want them slightly smaller as they will be going into a wrap), and then I allowed them to rest for 10 minutes.
- I heated the oil in my frying pan over a medium heat and turned the oven on to preheat at 200C. I browned the meatballs in my frying pan and then transferred them to a baking trap and cooked in the oven for 12 minutes. 
- I got my Mission Deli wraps out, and built our wraps. First I smothered my mint yogurt sauce over the wrap, then I laid some lettuce, cucumber, red onions, and tomatoes. And finally, I added my meatballs and rolled it up.