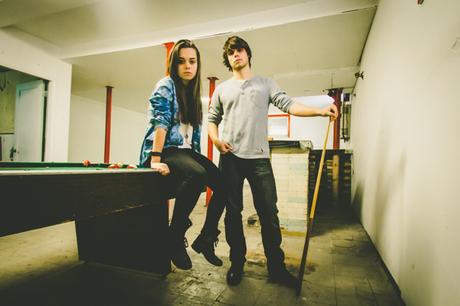 I don't know how many times we've been doing an interview and somebody asks us how we balance music, and school, and everything else we do.  It's frequent enough that we've both had a lot of time to think about it.  Honestly, I feel like it just boils down to "we get pretty damn busy."
There's definitely a bit more to the story than that; we played almost 125 nationwide shows in 2015 alone, while recording an album, going to Harvard, doing our best to call our parents at least once a week (okay, maybe we could've done a little better in that area), getting our laundry done, and doing all the other normal-people things that are always overlooked in movies about life on the road.  I'm not normally one to toot my own horn, but looking back, I'm pretty impressed I managed to eat at that many rest stop fast food restaurants and survive.  I think there are two things that make it possible for us to do all the stuff we do: first, we both get bored really easily, and second, we absolutely love our job.
Being so easily bored makes it really hard for us to sit still.  I really don't know what I'd do if I wasn't this busy.  We've pretty much been working non-stop for a few years now; it feels like no matter how many things we check off our to-do list, there's always something else there.  For the first year or so I often found myself throwing a little pity party for myself and wishing we got more time to relax.  But once I realized how lucky we were to be able to travel the country and play our own original music to receptive audiences on stages with artists like The Black Keys and Robert Plant and Gov't Mule and the Gin Blossoms and Grace Potter, etc., something clicked—I just didn't want to stop.  "Time off" took on a whole new meaning when we realized that doing our job was more fun than watching Netflix and waiting around for mom to tell us to mow the lawn.  (That said, I did just binge on Daredevil's season 2, and it was worth every ounce of sleep deprivation it caused.)  Now that we've gotten used to life on the road and in the studio, I don't think either of us would really want more than the standard week-long family vacation to see the grandparents.  We wouldn't know what to do with ourselves.  Most of the time when I don't have anything to do I go try to write a song or just jam out or something.  It seems like the only natural option.
It would also be impossible to manage our time if we didn't really love what we do.  Music is, without question, our greatest passion.  It just wouldn't make sense for us not to take every shot we can at turning it into a career.  In high school, we made a band and played out as much as we could.  Then we met David Bourgeois, our manager/producer/drummer/angel from the heavens above who has basically made our career in music possible.  He always tells us how impressed he is with how hard we work, but I'm not sure he knows that when he comes to us and says something like "Hey guys, I know you're super swamped but would you be up for taking a few weeks to tour to California and play a show at the Viper Room," we don't feel like he's given us a particularly arduous workload.  We love everything we do for music.  Even going to bed after a show at 2 in the morning and waking up for a 6 AM morning show appearance makes us feel grateful, if a little grumpy.  David and the rest of the team keep us super busy, and it's the only way we'd want things to be.  Homework is pretty easy to do when you know that you're going to get to hop on a plane and go to Nashville for the weekend afterwards.
If there's one other thing that helps us keep our lives together, it is the way the music community supports us.  Obviously our management team is amazing, but even beyond that, it seems like everyone we work with is just really really nice.  We were lucky enough to get musicians like G Love and Gov't Mule's Danny Louis to play on our album, Edges.  Working with someone like that is a pretty nerve-wracking experience; imagine what it would be like if your professional idol decided to take part in something you created.  We had no idea if they'd be jerks, or if they'd think our music was bad, or if they just wouldn't like us for some other reason.  But working with them was an amazing experience from start to finish.  They were totally awesome people who legitimately cared about the quality of the end result, and were willing to put in hard work to make it as good as it could be.  We had G booked for an hour, but he went pretty far past the hour because he liked jamming to our music so much!
When people like G Love and Danny Louis enjoy playing your music and working with you, it just feels really right.  I don't know how else to say it.  And since the album's release, we've had a large amount of radio success as well—we charted nationally on AAA radio at #151 and on the jam band top 30 at #17!  Combine that reception with the amount of passion we have for this work, and balancing it with the other parts of our life is no longer an issue.  It's hard to complain about working a lot when you love what you're doing and people around you seem to like it too.
I don't mean to say that there are never any times when we get a bit tired of what we do, or when we feel overwhelmed and stressed out, or that our life is literally complete happiness 100% of the time.  Like everyone, we have our moments where things feel like they kind of suck.  As a matter of fact, as I'm writing this the clock on the wall says 12:57 AM, and I have to be up at around 3:15 for a trip to NYC.  That's going to suck a whole lot, at least for the first few minutes.  But then, we'll get to play acoustic shows for Baeble Music and Z100 and the Huffington Post, do a bunch of interviews, have a meeting about a guitar sponsorship, see the city for a few days, and live a life that most people dream about.  In my book, that certainly outweighs the fact that I'm going to be really damn tired.  And until that changes, I don't think I could live a life that isn't like this one.
Filed under: Guest Blogs Tagged: Guest Blogs, jocelyn and chris arndt, students, tunes and term papers