Good afternoon Beautiful,
IT'S FRIDAY!!! Oh my goodness, it's finally here. We are officially the furthest away from Monday possible, yet, for some reason it will always come back so quickly.
This week, has been productive in terms of my job and my work, but not so much in terms of my workouts and my nutrition. I don't know why… I mean yay for being productive at work! That is what I'm paid for after all, but this week work trumped workout whenever possible. I've felt lazy all week, somewhat groggy and I know it's all a vicious cycle when it comes to my nutrition and diet. I haven't been super strict when it comes to my paleo this week and I can tell. I've been bloated for 3 days, I can't concentrate, I need to force myself to be productive and I just feel lazy. I've cheated a lot this week, and the bloating in itself is enough to stop cheating all together. I've had beer (quick note about beer, I don't normally drink beer. I don't really enjoy beer, however they had a Bud Light Lime Mojito launch party in my building last night and everyone got two beers for free, and I wanted to try it) which is full of gluten and wheat. I've had rice, I've had soup made in a restaurant (who knows what's actually in that), it just hasn't been good.
My workouts haven't been as intense as I would like either. The only somewhat intense workout I did was the crossfit workout where I had to do double unders and whipped and bruised myself with the skipping rope. I did two other workouts but one was with a friend and I barely worked up a sweat during that workout, and I did one today where I did sweat, but I definitely went at my own pace and didn't push myself a lot. I love it when a girl has a nice, toned back. Especially when wearing a halter top/dress or a strapless top/dress. I like when a girl puts her hands on her hips and her arms are super toned and you can see the muscles pop in her back. So lately, my goal in the weight room has been my arms and my back. It's getting good. I have a picture of what my back looks like when I'm flexing hard, but I can't post it because, well, I refuse to post anything where I'm topless. That is for my eyes and comparison only.
Today my workout went like this:
3 sets on the Hammer Strength incline press with 25lbs on each side (Hammer Strength machines allow you to set the weight for each arm, rather than 1 weight stack for the whole machine).
3 sets of rows on the cable machine with 25lbs (I adjusted the pulley so that it was about shoulder height so that when I rowed, it was focusing 100% on my posterior deltoid muscles, the back of the shoulder for non-anatomical people, because they're my favorite muscles to show when you move your arms)
3 sets on the Pectoral Fly machine with 55lbs
3 sets of Lat Pulldown with 50lbs
3 sets of bicep curls on the cable machine with 22.5lbs
3 sets of tricep press downs on the cable machine with 25lbs (triceps used to be my favorite muscle to work, tricep is behind the arm, the muscle responsible for "the Oprah wave" if you don't know, because well, I do everything I can to avoid said Oprah wave).
3 sets of lateral raises with 10lbs dumbbells. I had to bend my elbows near the end to make the exercise easier (due to lever's, my long arms, etc…).
This workout obviously wasn't the most creative, or the most intense, or anything really, but I can tell you that my arms are STILL feeling like jelly, and my workout was 4 hours ago. Sometimes I just enjoy working out at my own pace because I get to hang out with myself. I think it's super important that everyone has personal time with themselves. Seriously! When I'm working out, I'm one of the few people that most of the time enjoy working out alone. Don't get me wrong, I think a workout buddy is an amazing idea if you don't think you can hold yourself to getting your workouts in, or even working out properly, but I went to school for working out (haha yes, I did…) and I've been in the fitness industry for almost 8 years. 8 years is a long time for a 23 year old, no? However, I thoroughly enjoy working out with someone who is:
Way above me in terms of their fitness. Someone who is capable of a lot more, and is a lot stronger than me. It gives me something to try and compete with, therefore getting in a better workout.

Someone who has a wider range of exercises than I do. I do have my set of exercises that I enjoy, but I love learning and I love learning new exercises that I can add to my repertoire.

Someone who is both of the above and giving me their undivided attention, aka A trainer. I don't have a trainer, and probably won't anytime in the near future, but I've had workouts with trainers and I love them. Especially when the workout is something specific like Kettlebells, or boot camp.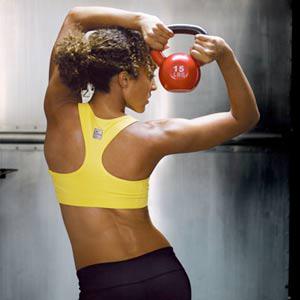 The red thing is a Kettle Bell. She also has a tonned back.
Case and point.
I'm committing to one workout this weekend. I want to be able to commit to two, but I know I won't be able to because of my family function tomorrow, so my only realistic option is Sunday, which I'm ok with. My focus tomorrow at my family function is going to be sticking to my diet because frankly, my family likes to, well, overindulge when it comes to food. There is ALWAYS so much food at my family functions; it's really a true test of my will power. I lose most of the time.
My Lululemon Wunder Under crops came today! I put them on as soon as I got home, and they're so cumfy. I love them. They feel less, vinyl-y than my running capris. They feel more like the pant-material Lululuemon uses which I really like. They're nice and thick, AND the best part, they were cheap! I will be buying more of these for sure… they're like heaven on my bottom half.
Also – I got my hair done yesterday. I'm now a blonde again! It's so great to finally be back in action. I missed my blonde hair so much, and I felt like I looked like I was 16 with my brown hair... never again! It was an experience at the hair salon however. My hair dresser is one of the ones that's way more "pro-healthy hair" than "I'm going to let you do what you want with your hair". I wanted to go a bit lighter with my hair, but to quote her "I'd rather see you with darker highlights and healthy hair."… ok fine. I get it, my hair is dry and brittle. But now that I'm blonde, I don't need to color it again! I've been there; done the dark, now I'm staying with the blonde. I stopped using my hair straightener on full blast so my hair isn't getting AS fried, and I'm using a hair mask daily to try and repair the ends as much as possible. Don't worry hair dresser, I won't let you down!
I'm off to date night with C! We've order pizza (mine is gluten free!), I have paleo ice cream to nibble on when I'm done my pizza, and we're going to Grace O'Malleys here in Toronto tonight! It's live music tonight which is always fun and we usually meet someone cool at a live music event. I can promise that I will only be drinking vodka soda because my stomach cannot handle any more sugar of gluten. Unfortunately I don't think I'll be able to blog tomorrow due to being out of the city all day, so I hope everyone has a safe weekend! Wish me luck with my eating tomorrow… I'm going to need it!
Stay sweet.
xoxo