The most popular travel destinations are warm countries with white sand and azure sea and I knew nothing better than lying on the beach under a thick layer of suntan cream. However, this year I decided to break the stereotypes of vacation and visit some completely new place – Norway.
My acquaintance with Norway began with Alesund – a city which is situated on several small islands connected with tunnels and bridges. Some call this place the Northern Paris, the others – Norwegian Venice. In 1904 this wooden city has burnt to ashes and within three years it was recreated in the modern style. Simple shapes and lines are combined with rich décor of the buildings. Alesund is famous for its fish industry and different ways of cooking sea products. The most famous dish is klipfish. The cod is cut, tied tail to tail and left to get dry. With time extra moisture leaves the fish and the dish is ready. You can also visit the biggest Aquarium in the North Europe. When designing it, the Norwegians just separated a part of the Atlantic Ocean.
Norway is famous for its fjords and I was eager to see them. My expectations to meet something great and unique were totally justified – fjords are awesome! They present an excellent example of severe Northern beauty. The most picturesque of them is, in my opinion, Geiranger fjord. The rocks in this place are about 1400 meters height and waterfalls with romantic names cascade from their tops.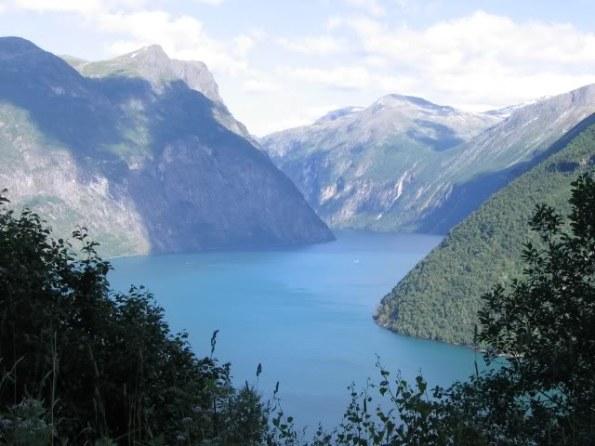 Do not miss the opportunity to climb extremely high glacier Jostedalsbreen which is situated in the Jostedalsbreen National Park. The age of the glacier is between 4000 and 6000 years. It is piercingly blue and you will feel like a hero of some fantastic movie on its top.
The best souvenir you can have in Norway, except great impressions, of course, is troll. It is said that the first people who have arrived in the country have discovered that the land was already inhabited by some creatures with four fingers, tangled hair and long noses which can be seen only at night as with the first rays of the sun they turn into stones. If you meet a troll you should not say your name to him, or drink and eat anything he offers you. There is no chance you leave Norway without the figure of this original creature – take the one which will give you a wink.