It feels like forever since I've blogged! I'm sorry girlies, I have been super busy this week juggling work and family commitments. Ironically, the #bblogger conversation Sunday was about time management,
whoops.
I do have a lot of planned posts on the way, I brought a
gorgeous
and cheap trench coat from New Look a few weeks ago which I'm just dying to show you.
I'm also preparing my birthday outfit for my birthday soon! It's the 3rd October in case anyone was interested... I have to take the original dress I brought for the occasion back today as it is a lot shorter than it appeared in the changing room... And this girl likes to be able to have a few cocktails and dance safely in the knowledge that I'm not showing the world my bum cheeks!
But for now I'm going to quickly show you an amazing bargain I picked up in TKMaxx yesterday. I had a lovely trip to Cheltenham to visit a friend of mine from university who has been unwell. Natraully a part of three girls ended up shopping and eating. I've been hearing a lot about the wonders of TKMaxx in the blogisphere recently, I was particularly interested in finding Jeffory Campbell shoes for cheaps, but alas, there was none to be found.
However this beautiful piece caught my eye: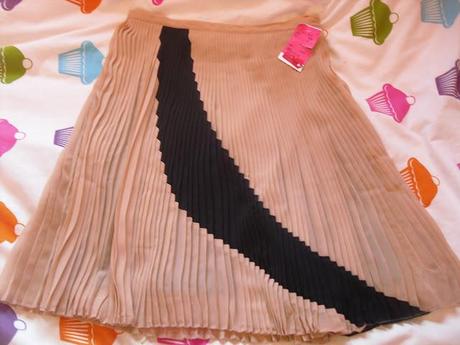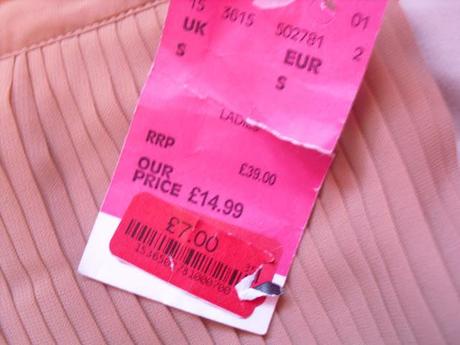 It's a gorgeous camel color that lends itself to pink. It reminds me a lot of the Essie nail color 'Eternal Optimist'. It high waisted, knee length and oh-so-falttering. There is a black underskirt that clings to you a bit like spanks making your legs look shapely. Always a bonus. I've been on the hunt for a pleated skirt for so long, and I love the fact that I've found one, I would have brought this for original price let alone £7!
I'm sure I'll do an OOTD post wearing it soon.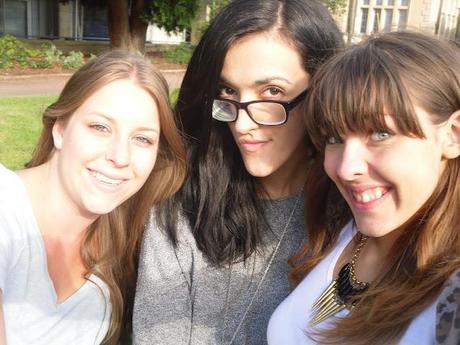 After many attempts this was the only good one of all of us, and I still hate the way my teeth look here...
I had such a lovely time yesterday in Celthenham with the girls, it's a shame that I'm back to reality now, although I have some coffee dates lined up and I'm taking a guy friend out with me Friday to go shopping! I have been asked personally by him to take him out clothes shopping and find him something to wear. I think it's time to dig out my thick rimmed glasses and channel my inner Gok Wan. To say I'm looking forward to it is an understatement!