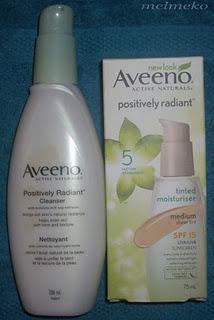 Hi there peeps, this here latest post is featuring my tried and testedreviews of the Aveeno Active Naturals products that were sent to me from
Beauty Heaven
as part of their
Trial Team
.Ireceived the Aveeno Positively Radiant Tinted Moisturiser and the Aveeno Positively Radiant Cleanser, from their Positively Radiant line, which spotlights the benefits of their unique processing of the active ingredient, namely Soy that
Aveeno
claims has many benefits that target skin tone and texture.The Aveeno Active Natural website describes the Positively Radiant range as:
"A lineof facial products that utilises the naturally active benefits of soy to evenout skin tone and texture and reveal skin's true radiance naturally."
I am well into my 30's now so skin tone and texture is generally a major concern, so I was excited to see how this range would perform on my problematic, maturing skin,
hehe
  ;)) Here is my complete rundown on the products that I used and my thoughts on each of them.

Tinted Moisturiser
Aveeno Positively Radiant Tinted Moisturiser
Considering I live in
Innisfail
, located in the far northern tropics of
Queensland
, this time of the year it's pretty hard to keep a heavy foundationin place, so I prefer something lighter, such as a tinted moisturiser.After years of neglect my skin is showingsigns of sun damage and premature ageing, so I like to keep my skin covered atall times, not only to disguise my imperfections and mottled skin tone, butalso to protect it from the damaging rays.Due to this, I prefer a tinted moisturiser with SPF, so when Beauty Heaven presented me the opportunity to trial the Aveeno Positively Radiant Tinted Moisturiser (
which is SPF15
) inconjunction with the Cleanser in the same range, I was '
peachy keen
' to give them a whirl.:)
I have oily skin, so the odd drama when it comes to findinga tinted moisturiser that is suitable for my skin concerns is not unheard of,especially when it has sun protection on board, because most sunscreens justdon't gel with my skin and bring about even more oil.:-OPresentedin a sturdy lockable pump top dispenser, the Aveeno Positively Radiant Tinted Moisturiser comes in two shades, '
Fair to Light
' and '
Medium
'.I opted for the later, which turned out to bea perfect match to my skin tone.I was abit concerned that the formula, with its texture being thick like a foundation that included light-reflecting particles would only accentuate my oily skin even more…..andunfortunately it did!:-/
Tinted Moisturiser Texture (No Flash)
Along with the makeup-like consistency, which actuallyblended like a charm, the first thing I noticed was the sunscreen-typefragrance that I am not overly partial to.:|It is quite subtle though and thescent soon fades away to nothing after it's applied to the skin.It initially promoted a sheer,natural-looking coverage that impressed me, as it evened out my skin toneconsiderably, masking any flaws, particularly the usual redness and blotchinessthat my skin manifests during the hotter months.So, as well as hiding the '
badbits
' it complimented my personal skin colouring exceptionally well toachieve a '
barely there
' existenceand a refined, polished-looking complexion.
:) 
The finish felt nice and lightweight on my skin, which I was thinking has to be a good sign, as whilst the dewy, glow looked acceptable after I had finished setting it with my normaltranslucent powder, those instant admissible results were sadly short-lived.:-S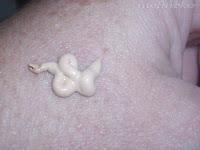 Tinted Moisturiser Texture (Flash)
After going about my normal morning activities, I stopped toreflect on my appearance in the mirror and at first, I couldn't tell if my skinwas starting to look shiny or if it was just the shimmery
Mica
particles thatwere included in the ingredients.Although, before the morning was over, I touched my skin and this time, it was welland truly feeling greasy, so in hope, I applied some more translucent powder to try and helpreduce the shine.[-o<  By mid afternoon, withthe day getting warmer, that coincides with the addition of humidity, I was looking like I had just jumped out of the deep fryer, covered in an oil slickof sorts. #-o  To top it off, as well all thatthe excess oil, my face was literally glistening (
think shimmer
,
eww
  [-( ) that also emphasised myproblem.
:( 
My face also looked quitepatchy and the majority of the original flawless coverage had basically just separatedand settled into any lines and crevices or had melted away entirely.Some of the remnants clung onto a couple ofdry patches on my skin that I didn't even know existed until they were broughtto my attention by the unsightly flakiness that highlighted the fact.:-O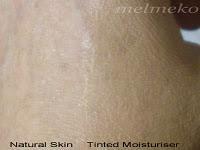 Blended on right side only (No Flash)
Not one to give up so easily, I tried it again the followingday, this time with a primer underneath.*-:)  While it didn't make a '
huge
' difference by the end of the day, I did noticethat the coverage lasted longer and wasn't as greasy as the previousapplication.I continued using thetinted moisturiser (
only collaborated with a primer
) for a period of five days, however on the third day, Inoticed a small pimple surfacing on my cheek, followed by two more the nextmorning and finally on the fifth day there was another one, this time right on mynose.
:-O 
That was the last straw!~X(
Ifound it to be quite overwhelming, because it certainly wasn't '
that time of the month
' when I
AM
inclined to get the odd hormonal blemish and considering other than this Tinted Moisturiser and the associated Cleanser, I have not added anything else or changed my standard, particularly strictskin care regime. :-< I immediately ceasedusing the products, but when I am feeling braver, I might try introducing themone at a time, to determine which one or if both could possibly be the culprit. :-tEventhough I am convinced, knowing my own skin very well and not being one whobreaks out too often, that most likely this particular formulation is just toorich for my oily skin.Whilst theproduct claims to be
noncomedogenic
, because my skin wound up so greasy, it's myopinion that the excessive oil production is what also contributed to mybreakouts.It's not all bad though, aswhile I do have oily skin, I am also blessed with sensitive skin and I canensure that these products didn't cause any irritation or skinflare-up's, so it is gentle and didn't upset my skin at all. #:-S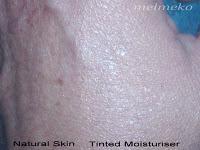 Blended on right side only (Flash)

With its mediocre price range, this product comes up trumpsin terms of being economical, seeing as I only needed one pump per application,I dare say it will last for ages.Takinginto consideration my skin is already oily and the weather is rapidly heatingup, it would be safe to determine, these were the contributing factors to my '

not so pleasant

' experience and theoverall performance of this product in my case.:(While, I wouldn't feelcomfortable recommending this to anyone with oily skin, we are indeed, alldifferent, therefore what works for me (

orwhat doesn't work in this case

,

LOL

:)) ) could actually be pleasantly surprising for other oily skinnedbeauties, so take it in your stride and if you are comfortable to give it a shotthen go for it. :)>- I am of the belief that the Aveeno Positively Radiant Tinted Moisturiser would be more suited to those with normal to dryskin types, as the initial results I encountered, would have a far greaterpossibility of endurance to prevail a flattering, dewy, radiant-lookingcomplexion, rather than one that resembles a luminous, disco ball. L-) It's got plenty of potential.....but

ONLY

for theright person. :p

  

Cleanser
Aveeno Positively Radiant Cleanser
Beauty Heaven also sent me this Aveeno Positively Radiant Cleanser to trial, in addition to the Tinted Moisturiser in the same range.I used both of these products over a five dayperiod and whilst I didn't have much luck with it's partner, the Cleanserseemed to do basic the job at hand.:)
Packaged in a durable plastic lockable pump top dispenser,just like its counterpart, it makes for ease of distribution and less chance ofwastage.The first thing I noticed whenI dispersed the Cleanser for the first time was actually the smell, whichreminded me of something familiar.:-?It has a distinct lemon fragrance and I amnormally really fond of refreshing citrus scents, but this smells a bit like
Sunlight
dish washing detergent to me and it isn't particularly appealing whenused on my face. :-&  The perfume,fortunately, doesn't linger on my skin once it's washed off, so it didn't trigger anyreactions, although I would have preferred if it were less prominent or completely unscented.:-"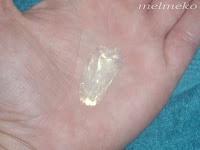 Cleanser Texture (No Flash)
The thick, creamy formulation is of a pearlescentappearance, with tiny traces of
Mica
included, which I found to be a bitstrange for a cleanser. :-? Were theseparticles added intentionally, to somehow gently exfoliate the skin, or arethey purely cosmetic? :-?Is that supposed to be the basis of the '
radiant
' part maybe? :-?Thatby imparting shimmer particles to the skin it may suddenly appear moreilluminated??:-?:-?Whoknows, but I do find it rather bizarre!
:o)I only need one pump, to achieve a gentle,lightly foaming lather, which is enough for my whole face and neck.It cleans my skin without leaving it feelingtaught or dry, removing most makeup, other than my waterproof mascara, whichjust streaked under my eyes.But, thatis normal with most cleansers though anyway, so I find use an oil-basedcleanser to combat stubborn waterproof makeup.;)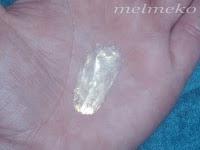 Cleanser Texture (Flash)
While I can't say I noticed my skin looking any moreradiant than usual during the short time I used this Cleanser,particularly as the glittery bits wash off with water anyway, but my skin does feel clean and comfortable.I am uncertain if this product contributed to my skin beingexcessively oily during this trial or not, but in the future I will useit again, this time without the addition of the Tinted Moisturiser to hopefullyrule out that conception. [-o<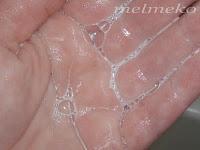 Lightly Foams (No Flash)
Overall, I am still a bit '
on the fence
' about this Aveeno Positively Radiant Cleanser becausewhile it is exceptionally good value for money, at the end of the day I find itis just an average cleanser and '
nothingto write home about
'.It does removedirt, surface oil and the majority of my makeup, yet the scent is a bit off-puttingand at this stage, I can't see any improvements to my skin tone. :-L  I guess this product would be the ideal Cleanser foranyone who wants a normal '
run of themill
' cleanser that is budget friendly and won't break the bank.B-)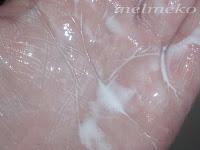 Very Creamy (Flash)
Final Thoughts
Gee, I am rather disappointed that I couldn't share a morepositive experience in this post, but I have learned to take the bad with the good, considerably so when dealing with oily skin issues I often come across more bad than good.:-<  It is just a way of life that I have gotten use to overthe years and it always helps to remember hey, we are not all the same, so it's only natural that our experiences with beauty products will differ from person to person.That is what keeps the beauty industry inbusiness, the fact that we are all unique and are constantly trying one product after the next on the hunt for '
Holy Grail
' products that perfectlyaddress our personal skin concerns.
;) 
So, as for the Tinted Moisturiser, wellit's back to the drawing board for me this summer, while continuing to keep my eyespeeled for new SPF products that are suitable, especially at keeping the oilies at bay!If all else fails I do have a small tried and tested selection that I posted about in my
Sun Protection - Staring 'Oily' Skin
post, that I know I can always rely on. #:-S As for the Cleanser, I will keep you posted ifI do try it again and have something more to add.Have you tried any
Aveeno
products before?What about either ofthese Positively Radiant products?
  Have you had any bad experiences using tinted moisturisers before or have you found something perfect?  I
f anyone happens to know of a good '
NON-GREASY
' tinted moisturiser with reasonable coverage, thenplease, please, please tell me more :)
All images in this post are my own.