Destination: The Yucatan Pensinsula – Mexico's eastern arm, which curves into the Gulf of Mexico and the Carribbean Sea.
Itinerary: Riviera Maya (1 night) – Valladolid (2 nights) – Merida (3 nights) – Campeche (2 nights) – Tixkokob (1 night) – Riviera Maya (3 nights).
Duration: 13 days
Approx cost: £2900 including flights (£1150 for two people with BA). Booked independently.
Accommodation standard: Mid-range and luxury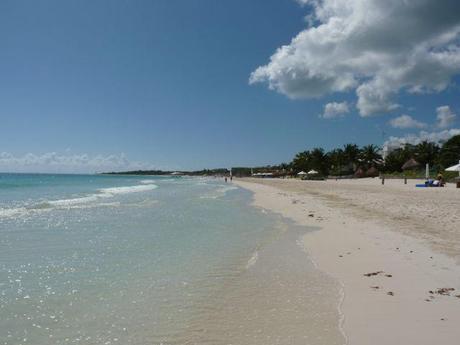 Maroma Beach, Riviera Maya
The Yucatan Peninsula was on my very long list of potential destinations for our honeymoon, so I was really excited that we were able to head there for our big holiday this year. And it was fantastic – beautiful beaches, charming old cities, delicious (if somewhat heavy) food, incredibly friendly people, and glorious weather.
We began with a splash-out night at Maroma Resort & Spa, an easy 35-minute drive from the airport, on the Caribbean coast. Maroma was, with no exaggeration, one of the nicest places we've ever stayed, on a really beautiful stretch of white-sand beach, and its luxurious rooms were really welcome after our long flight. Come back on Friday for my full review of the hotel.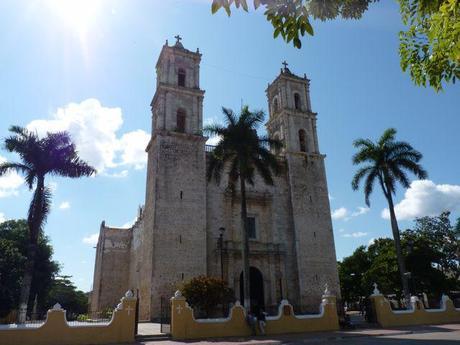 Cathedral, Valladolid
From Maroma, we headed up to Valladolid, a small colonial town about two-and-a-half hours' drive into the heart of the Yucatan. I'd chosen Valladolid mainly to break up the journey to Merida, so I didn't have huge expectations, but this ended up being our favorite town that we visited. We stayed at the sweet Casa Quetzal, situated about five minutes' walk from the town centre, near the striking Iglesia de San Bernardino de Siena. The hotel was very sweet, with handicrafts such as embroidered pillows adding a bit of character to the rooms, and a lovely lush courtyard with a small pool, though we found our room a bit too dark.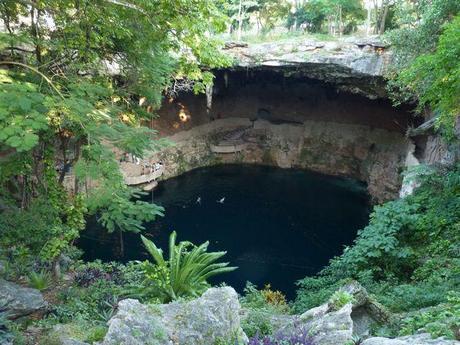 Cenote Zaci from above, Valladolid
There's not a huge amount to do in Valladolid – part of the pleasure of visiting the town, which feels very un-touristy, is in just strolling around, soaking up the lively atmosphere, and then retreating to the shady Parque Principal when it gets too hot. By far the town's highlight is Cenote Zaci, one of a number of caverns and sinkholes in the region where you can swim – it was a truly magical experience floating beneath the stalactites, among catfish, and was undoubtedly one of the best things we did on our trip. I'd really recommend heading to the restaurant here to try the Mayan speciality panuchos - tortillas stuffed with black beans, fried, and then topped with pork or chicken. Delicious.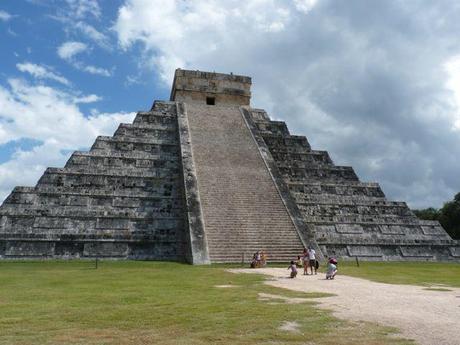 Chichen Itza
After two nights in Valladolid, we headed to Merida, stopping on our way at the ancient Maya ruins of Chichen Itza. The site is undeniably impressive, but it does get very busy with tour groups bussed up from the coastal resorts – more annoying though was the constant cry of the jaguar whistles on sale at the numerous hawkers that lined almost every path. If you want to avoid the crowds (and the glaring sun as much of it is unshaded), it's best to get there early, either by staying at one of the nearby hotels or in Valladolid.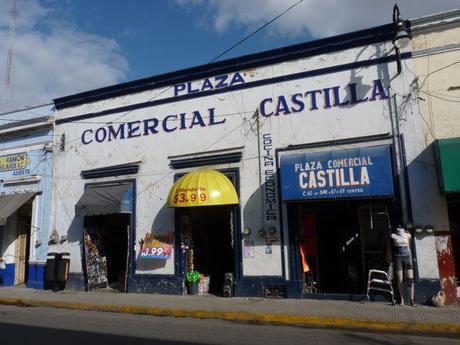 Street, Merida
From Chichen Itza it was just a couple of hours to Merida, another old colonial gem. Like our previous stop, the city is crammed full of brightly coloured buildings, and has a really great, relaxed charm – even though it's one of the most popular tourist destinations in the region, it never felt terribly busy. One of the highlights of a visit to Merida is that the city has free events, or parties, on almost every night of the week, which are held with locals rather than tourists in mind – on our first evening, a Saturday, it was Noche Mexicana in Paseo Montejo where there were street stalls, music and dancing from all over the country. Sunday is the day worth making sure you're in town for, however, as much of the center becomes car-free, with handicraft and food stalls setting up along central Calle 60 and more music and dancing in the plazas. These alone make a visit to the city worthwhile.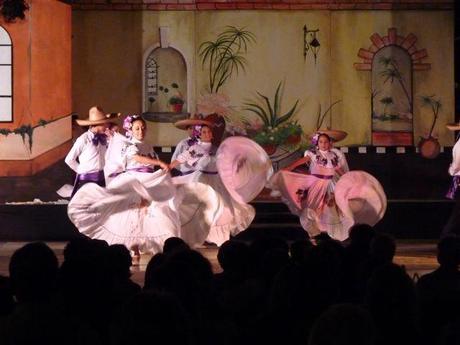 Dancing at Noche Mexicana, Merida
In Merida we stayed in the small but fabulous Hotel Julamis; our room, El Ramon, was an absolute bargain at just $59 a night, decorated with glass star-shaped lanterns and overlooking a garden. Though there are undoubtedly more luxurious and expensive places to stay in the city, I'd really recommend staying here – it's in a great, quiet location, rooms come with the added perk of fridges, complete with free mineral water, beer and soft drinks, and the owners, Erid and Mel, are incredibly helpful and friendly.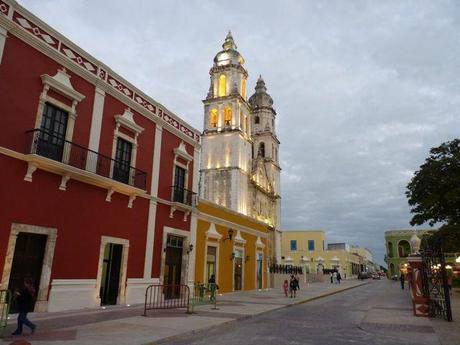 Campeche Cathedral
From Merida, it was a long (thanks to lots of roadworks) and rather dull drive down to Campeche, scenically situated on the Gulf of Mexico. The historical heart of the city is absolutely picture-perfect, full of canary yellow churches and high pavements that lead to a paint-box assortment of coloured buildings. Though we had a number of great seafood meals here, we didn't quite love Campeche like we did Merida and Valladolid – which I don't think was helped by the fact that it seemed that most of the gorgeous old buildings were now shoe shops blaring very loud, very cheesy pop music. In Campeche, we stayed at the Castelmar, a bright blue building that had once been the army barracks; the hotel had a certain pretension of grandeur, and though the courtyard and interior certainly made a great first impression, the room was just a bit dull and uninspired inside.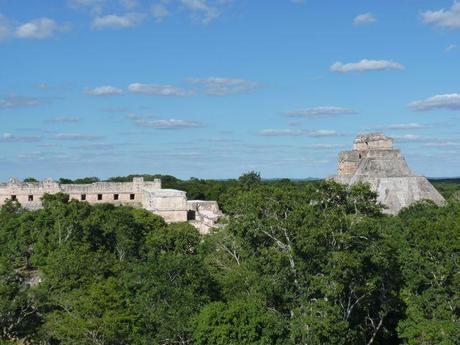 Uxmal in the jungle
After Campeche, we started making our way back towards the coast, breaking up our journey on the first day with a few hours at the Maya site of Uxmal. This was another highlight of our trip – we found the site to be a lot more atmospheric than Chichen Itza, with the buildings rising from among the jungle, lizards crawling along the rocks and scurrying up walls, and a rather tangible sense of the past about it. I'd really recommend heading out here – it's only about an hour-and-a-half from Merida, so easy enough as a day trip.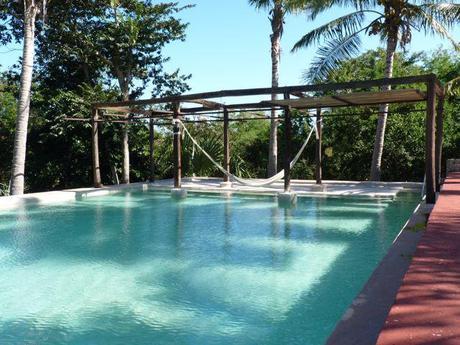 Pool, Hacienda San Jose
After Uxmal, we headed to our overnight stop, Hacienda San Jose, a beautiful traditional hacienda that has been turned into a luxury hotel (which I'll also cover in a later review). There's a number of these hacienda hotels in the Yucatan, which offer a atmospheric (if expensive) alternative to staying in a city, while all being close enough to explore them.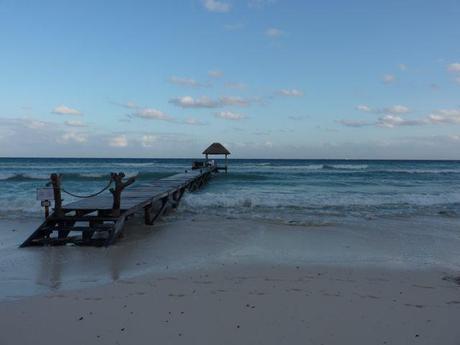 Pier, Tides Riviera Maya
We finished our trip with three nights back on the Riviera Maya at the very luxurious Tides Riviera Maya, where we rewarded all our traveling with a couple of days of doing little more than swimming in our private plunge pool, soothing our weary muscles in the spa, and drinking just a few rather potent margaritas. Not really being the kind of people to spend all day sunbathing or on the beach, this was just the right amount of time for us here, but the resort lifestyle was undeniably seductive, and we could understand how people could lose whole weeks there. My full review of The Tides will be up on the site next week
All in all, it was a fabulous holiday, with just enough traveling that we felt like we'd seen a lot, without feeling like we were on the go all the time. It's certainly a great destination for a honeymoon – if you want two weeks on a beach then there's some really fabulous beaches here, and if you're after more of an independent honeymoon then it's a really easy place to travel around, and though its sights are fairly low-key compared to other destinations, there's plenty to keep even the itchiest of feet occupied for a few weeks.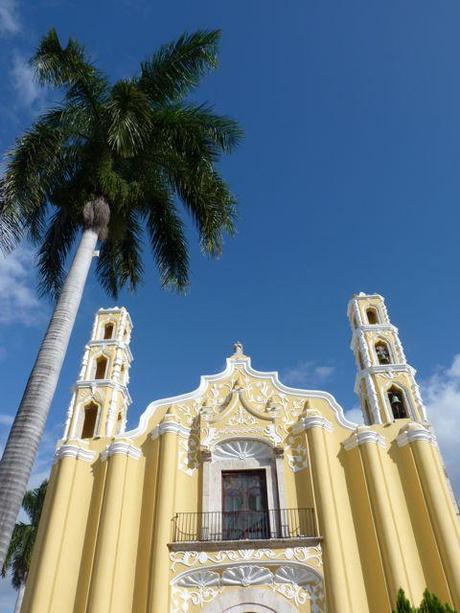 Yellow church, Merida
Need to know:
Airport: Cancun; reached by direct flights (11 hours) from the UK on British Airways, Thomson, and, from 2012, Virgin Atlantic.
Go packaged: A huge number of companies offer package holidays to the Riviera Maya (and beyond), including Thomson, Virgin Holidays and First Choice. Tour operators that can put together an itinerary for you include Rainbow Tours, Cazenove+Loyd, Scott Dunn and Journey Latin America.
Car hire: We hired our car from Easy Way, a local company who met us up from the airport and drove us to their lot (conveniently located on the road into Cancun) – we had to wait about twenty minutes for our pick-up to turn up, but they were very friendly and helpful, offered us cold drinks (including beer!) for the journey, and had the most competitive rate we came across; we opted for all insurance, which I'd highly recommend you do if you hire a car. They also speak excellent English and have 24-hour assistance, which is greatly reassuring when you're driving around a strange country.
When to go: The Yucatan Pensinsula has a tropical climate, so you can expect temperatures to hover around 30ºC throughout the year. The rainy season runs from the end of May until October, which, on the Caribbean coast, leads into hurricane season during September and October. The winter season – running from December until about April – is usually the busiest time of year with tourists, and prices rise accordingly; there may still be a small chance of rain up until February, though this won't be too much – we had a bit of rain and it was over and done with before we knew it.
Costs: We found Mexico to be cheap – it cost us about £20 to fill up the car, mains in restaurants generally ranged from £3 to £5, and local beers were generally about £1.50. Prices in resorts are obviously a lot higher – that said, we found they compared favourably with the equivalent level of establishment in the UK or US, with cocktails only around £6/£7.
All photographs © The Honeymoon Project