The bridal tradition of having "something old, something new, something borrowed, something blue" is said to bring luck to the bride-to-be and stems way back into the Victorian era. Each part of this poem with its British origins signifies different parts of the bride and her step into a new chapter of her life. "Something old" represents the connection between the bride and her family history, "something new" is a representation of good feelings and excitement for the future, "something borrowed" is a show of the faith in the support of friends and family of the bride and "something blue" is said to signify the faithfulness of the bride to her groom as well as purity; in the Victorian times, brides donned blue dresses instead of white ones as the color was strongly linked to purity.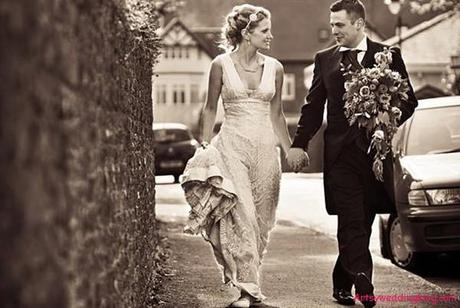 Even if you're not one to believe in superstitions, this little poem serves as a great and fun way for you when finding accessories for your big day. You could even work around this olden day tradition when putting together your outfit, while bonding with you and your bridesmaids as all of you get into the hunt for something old, new, borrowed and blue.
To help you out while you incorporate this tradition into the planning process of your wedding, we bring to you the latest and prettiest accessories and jewelries from trend reports of fall/winter 2011.

(L) to (R):
Vintage Chanel Golden Fringe Earrings / Vintage Chanel Golden 80s Oval Sun Long Necklace / Vintage Christian Dior Poured Glass Snake Brooch / Vintage Diamond Engagement Bridal Ring / Vintage Alcozer & J Cameo Brass Ring / Vintage Miriam Haskell Legacy Flower Closure Bracelet
With reminiscence of retro ringing in high on trend alerts this season and style baubles being deemed the bigger the better, vintage is a great way to celebrate the "something old" part of the tradition. Vintage jewelry and accessories have almost always given off a more dramatic and dreamy vibe since they've been seasoned well and usually make use of costume jewelry as design inspiration. If you're not up for big, chunky necklaces for fear of it being too outlandish for a romantic affair, then head towards shoulder grazing earrings. Family heirlooms such as lace embroideries, that can be sewn onto your wedding dress, or veils are also other lovely options that you can pick from and don on your big day.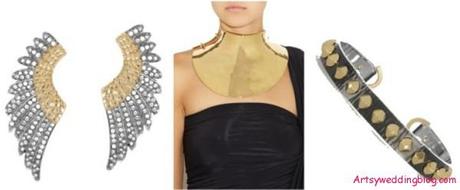 (L) to (R):
Roberto Cavalli Gold-Plated Swarovski Crystal Wing Earrings / Aurelie Bidermann Athens 18-karat Gold-Plated Collar / Philip Crangi 14-karat Gold-Studded Blackened Steel Cuff
Obtaining new things will always be a delight so scouting for "something new" should definitely make for added fun atop all the stress you're coping with from other aspects of your wedding. Covetable accessories this season adopt design aesthetics that are more structural and masculine so if you're up for taking the term "new" to a whole new level, what better way to do so than by adding touches from the latest accessory collections of fall/winter 2011? Alternatively, hop on over to Etsy, an online store which boasts new and upcoming jewelry designers cum entrepreneurs and happens to be a treasure trove of new takes on jewelry designs.
The third part of the poem, "something borrowed", is not as tough as it may seem for those looking for fashion forward accessories to team up with the bridal outfit. The key to finding such an item lays in the hands of a fashion conscious friend/bridesmaid. With your wedding being one the most important days in your life, your friend/bridesmaid would be more than willing to lend a helping hand or rather an item from their jewelry box.

(L) to (R):
Yves Saint Laurent Opyum Suede Pointed Pumps / Tiffany & Co Charms Collection / Nicholas Kirkwood Metallic Peeptoe Heels
The last bit, "something blue", would have most brides immediately thinking of a certain tiffany blue box. Tiffany & Co is constantly coming up with new and interesting collections to suit any occasion. Even though the tiffany blue color of the box may be visually appealing, purchasing something that is not blue does not count so opt for some blue in your jewelry choice as well such as the usage of gemstones like sapphire or topaz. You could also choose to inject some blue into your entire look by slipping on a pair of blue stilettos or pumps. Go for lighter shades of blue as they're dreamier and hence would be perfect for when you're saying "I do" then change into a darker shade for a more dramatic flair for your wedding party.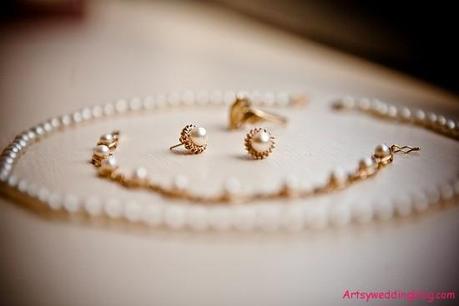 There are plenty of options available and there are definitely no hard and fast rules that you have to strictly adhere to when choosing an item for each category so feel free to think outside the box!