My skin is pretty dry and body butters are my saviors when it comes to tackling dryness throughout the day.
I had picked some Tree Hut stuff back from my US trip last year for gifting purposes and had kept this body butter and a body scrub for myself.
Everyone to whom I had gifted Tree Hut body butters raved about it and my review is also going to be on the same lines.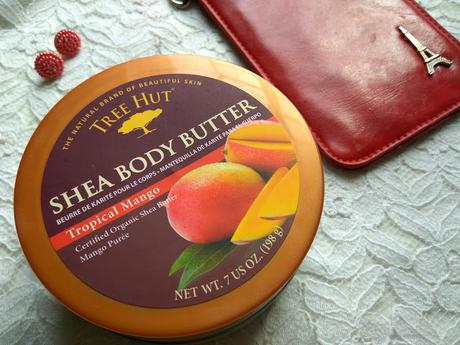 TREE HUT SHEA BODY BUTTER WITH TROPICAL MANGO
"Experience Tree Hut Body Butter with the exotic scent of Tropical Mango. Real Mango Puree helps prevent the formation of wrinkles and naturally nourishes aged and tired skin. This extra thick body butter, infused with Certified Organic Shea Butter, Cocoa Butter, real Mango Puree and Safflower Seed Oil, was designed to soften rough skin, provides a deep hydration to those problem areas that surface over time."
As claimed this is a thick body butter when compared to other body butters that are generally creamy. It has a nice mango fragrance to it.
Though thicker in consistency, it melts when it comes in contact with skin thus gliding and absorbing smoothly into it.
If used more than required, it does leave a slimy, oily feeling.
The hydration stays put for easily more than 10-12 hours over the day until I repeat application in the night. It plumps up my skin nicely that has gone dry being in air-conditioned environment whole day.
It also helps soften my elbow skin which is a wee-bit hard. Mango puree, Shea body butter, cocoa butter and safflower seed oil - all make a great concoction as one in this body butter!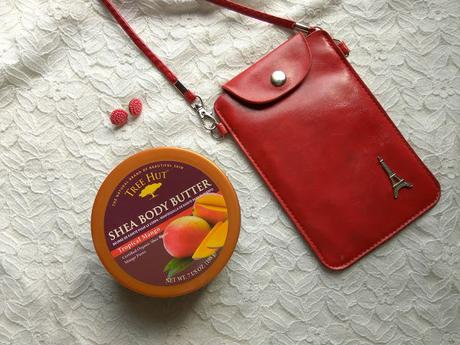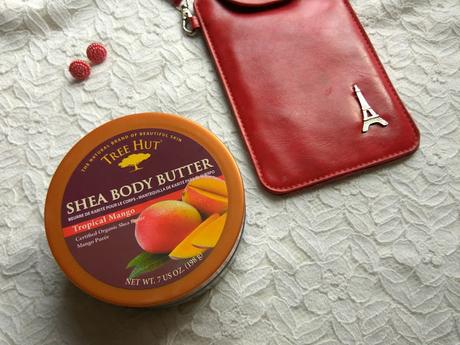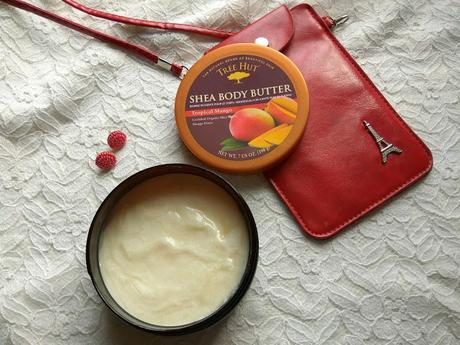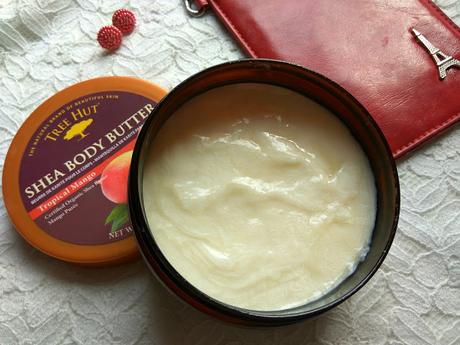 All of Tree Hut's products contain Certified Organic Shea Butter plus natural fragrances and are manufactured in the USA. This product is paraben-free and not tested on animals too.
I pat my back myself for saving one of these body butters for me! Stay tuned for the body scrub review from this brand soon.