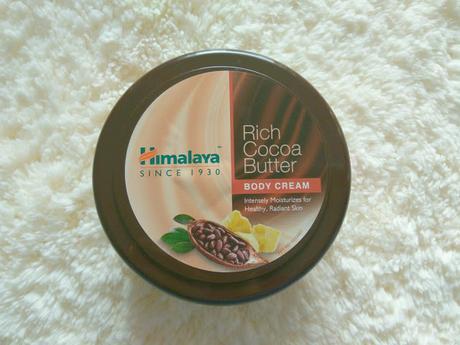 PRICE - INR 270 for 200 ml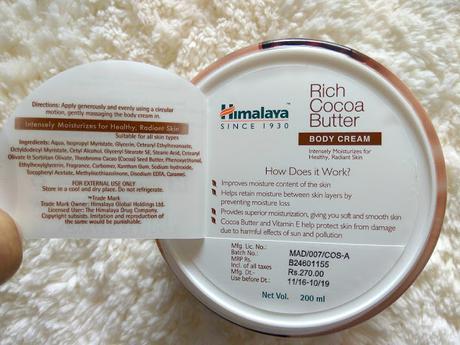 My dry skin loves body butters, particularly ones that sink in easily and doesn't leave behind a greasy feeling. I have been a big fan of the The Body Shop body butters, but a little more can leave behind greasiness with them.
This is where Himalaya Rich Cocoa Butter fits the bill perfectly for me!
Its such a light and airy product - like a mousse. Himalaya doesn't market this as a body butter, but a cream for the same reason. Nonetheless, its nothing short of one!
The packaging is a simple yet pretty tub with an inner lid to prevent mess. I recently travelled with this huge tub, with no mess, thanks to the inner lid!
Details on price, quantity, how to use, complete ingredients list and others are mentioned on the back label.
I am astounded at how easily this cream sinks into my skin in a jiffy, leaving no greasiness behind. The fragrance is the yummy cocoa butter one, similar to their Intensive Cocoa Butter Body Lotion .
It keeps my skin hydrated for kinda the whole day, before I repeat in my night-time ritual.
It also imparts a soft glow to the skin, making it look well nourished which is another nice thing about this cream.
Cocoa butter is known for its hydration and anti-aging properties to the skin and is loaded in this cream.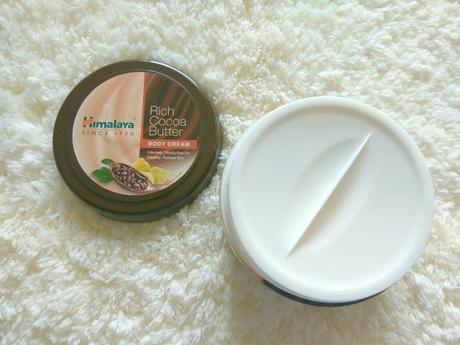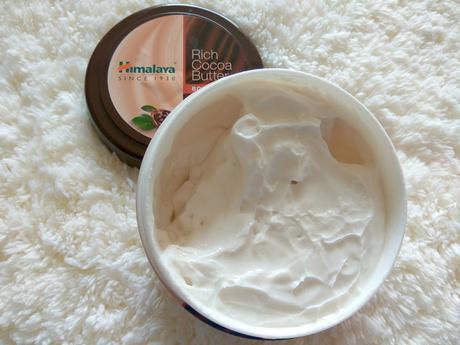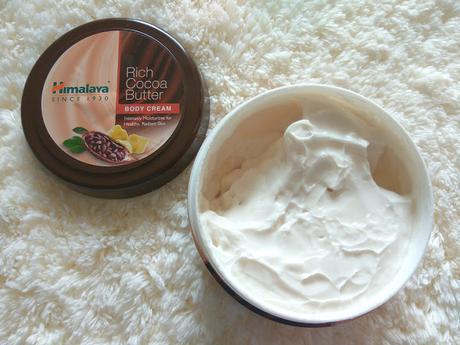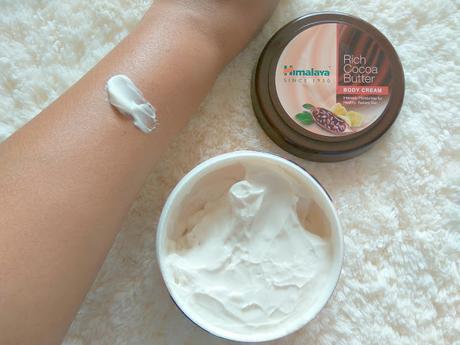 At just INR 270 for 200 ml, it does everything a la TBS Body Butter, at just 1/5 of the price!!!
I love everything about this body cream which is perfect for me this winters! I think I can battle dry skin woes throughout summer too with this, probably with a lesser quantity applied than now.
One tub used twice daily, would last easily for 2 months. Great value for money there!
I only wish Himalaya introduces more variants in this body cream like Rose, Jasmine, etc. to match my floral fancy :D