Hi therebeauty lovers,:-h this post is one of the last, concluding aseries of manifestos, divulging my entire beauty prescription, including thespecific products currently featured in my exclusive, personalised Serious Skin Careroutine.Thence, as to not confuseanyone,
:-/
the existing posts in this sequence, focusingon my daily beauty ritual, are showcased in a progression of blog posts,designated as Cleansing,Toning, Moisturising, VitaminTherapy - Topical Vitamin A and C,SunProtection, TreatmentProducts - Uneven Skin Tone and Pimples.Finally, this post proffers a fundamentalelement of my weekly skin care program, implemented to compliment my dailyregime whilst accenting the ongoing correction of my individual skin concerns;this topic has secured the title of TreatmentSkin Care Masks.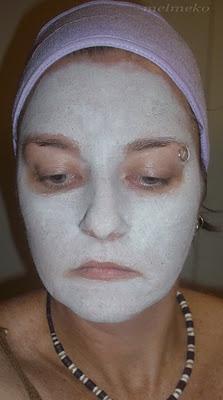 The Skinceuticals Mask in action.
I have anumber of different Masks that I suitably employ to treat those distinctive skincare demands, but it all depends on how my skin is behaving, [-Xasto which one I need or want to use. ;) If you are not already aware, my skin istypically oily and sometimes sensitive, however, even though it's oily, itdoesn't mean that it can't get dehydrated too :-? (

This, evidently, is NOT the same as havingdry skin

).Therefore, as well as tryingto keep excess oil production at bay and eradicating hormonal spots, I intermittentlyneed to deal with, my normally oily skin, brandishing the irregular, crippling affectsrelated to surface dehydration.Thedehydration is partially caused by obvious neglect, (

yep,yep, I'm afraid I AM guilty

L-)

noteto one self -  remember to consume more fluids,especially during summer, d'oh!

  
#-o
) whichcan implicate the misuse of harsh, incompatible/conflicting skin care products (

A reason why I always pronounce, NEVER toself-diagnose and determine your own 'professional' skin care products, withoutbeing appropriately informed, it's so easy to get it wrong and whiles symptomsmight not surface for some time, the damage can already be developing deepdown!! EEK!

  

:-O) or, even over-exfoliating.Nevertheless, dehydration can also beprovoked by numerous other triggers, such as certain medications, illness,prolonged periods in air-conditioning, (Whichis virtually unavoidable here at this time of the year), vulnerability toextreme elements and constant sun exposure (tsktsk[-X) as well as lifestyle factors and an inadequatediet.
I utilisethe benefits of these Masks, primarily to keep my skin balanced and to target congestionand unwanted zits, whilst ideally, I ultimately need a good 'SOS' Mask to combat the telltale signsof dehydration. o-+I also fancy using a Mask, mostly for cosmeticpurposes, ;;)to boost my complexion and to encourage radiancefor a healthy natural glow, which comes in handy before a special occasion orbig event. *-:) It's not unusual for me to occupy about four 'go-to' Masks, at any one time, that Ialternate weekly to completely satisfy ALLof my skin care needs.\:D/Masks perform varied functions, fromproviding a deep pore cleanse, sloughing away dead skin cells, drawing outimpurities, reducing the appearance of enlarged pores, absorbing and balancing excessoil, nourishing and rejuvenating the skin, although simultaneously Masks arerenown for rapidly evoking the effects of a brighter, clearer, moreenergised-looking complexion.>-)
Here's which Masks Iam using ATM:
DermalogicamediBac Sebum Clearing Masque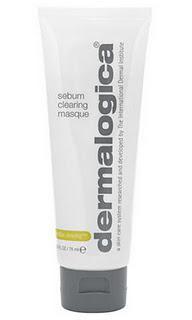 I havebeen capitalising on the remarkable benefits of this Mask for the past fewyears now and it has earned its place as a staple in my beauty kit.It's a Mask that I like to have on hand andcan always rely on to prompt a fast, efficient outcome, in case ofemergency.I was sceptical when I firsttried this Mask, because I don't suffer from acne, just hormonal spots and somereviews that I had been researching, claimed that it could be really drying tothe skin. Thankfully, I needn't havebeen concerned, because in true Dermalogicastyle, this Mask actively provides simply amazing results. It is a highly concentrated treatment Maskwith deep-cleansing clays, natural plant extracts, vitamins, minerals,antioxidants and powerful Salicylic Acid, which team together to pack analmighty punch. b-(  Due to it'spotency, it's not a Mask that I use often, however, when my skin goes crazy andfreaks out, 
:-&
from time to time, the anti-irritant,anti-inflammatory and anti-bacterial properties are very therapeutic to nurtureand relax my stressed out complexion. 
[-O< 
The cooling sensation helps to sootheirritation, while the calming botanicals significantly alleviate facial redness.I had to put this Mask to the ultimate testearlier this year, when my skin temporarily was out of control, 
X( 
impacted bystress, causing my skin to break out in random cystic-like pimples thatwouldn't budge with my normal skin care products or spot treatments.~X(ThisMask finally remedied the problem, when all else failed, thoroughly drawing outthe undesirable impurities from deep in the skin. 
TheDermalogica mediBac Sebum Clearing Masque always leaves my skin feeling refreshedand polished, whilst surprisingly it remains adequately hydrated.I guess I am blessed with having oily skin insome cases, as I am glad I don't experience any dryness when using this Mask,although I always use it in moderation.This healing, comfort Mask works first time, every time and I amconfident it won't let me down, when it comes to a bad skin day! :)>-
SkinceuticalsClarifying Clay Masque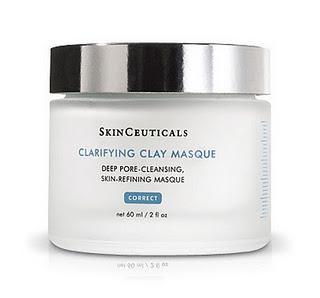 This ismy weapon of choice to eliminate pesky blackheads once and for all!B-)Itis also my fist line of defence when my skin starts to become congested orexcessively oily. It's basically a 'DIY facial in a tub.'(*) This deep pore cleansing, clay-based Maskfeatures a combination of oil-absorbing clays, powerful AHA's and a blend ofbotanicals that promotes instantaneous results.I tend to use this Mask the most, as it addresses my regular skinconcerns to perfection.In fact, if I werenone the wiser, I would believe somebody fabricated it using my personalstencil,
:-" 
he,he!
;))
Impurities be gone!Right before my very eyes, I watch the effectsof the dynamic AHA's in action, opening pores and drawing out the gunk, which isso firmly lodged it's hard to extract normally.This process is a real eye-opener, /:)asthe Mask begins to set, I can distinctly see all the crap lifting out from mypores.In my opinion, this Mask is atrue soldier when it comes to infiltrating blackheads and preventing theirreformation. o-> It's also worth noting, that unlike many otherclay Masks, the nourishing formulation doesn't leave my skin dry or feelingtaut, instead it delivers hydration, which prompts my complexion to look clearand naturally refined, whilst it feels replenished and ultra soft to touch.My sensitive skin is never an issue when usingthis Mask, despite the mix of several highly potent skin care ingredients, it trulyhas a calming nature, which decreases facial redness and soothes angry, inflamedskin.>:D<

  

The SkinceuticalsClarifying Clay Masque is seriouslythe bomb!While it may seem a bit priceyupfront, the evident, irrefutable outcome will absolutely conclude that this Maskis, in fact, merely an investment for more beautiful skin.It's definitely a keeper, that is worth everycent!
=D>
DermalogicaAGE Smart MultiVitamin Power Recovery Masque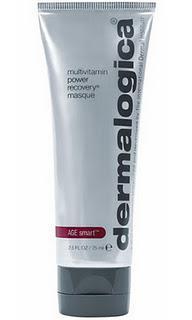 Asoothing, revitalizing, anti-ageing Mask that is not only great for mature skin,it also works a charm to remedy my skin when it is displaying the affects of dehydration.  It ensures rapid relief and an efficacious departure of the vexatious symptoms. #:-SThisprofessional skin care Mask is ideal for anyone who is serious about tackling prematurelyaged skin.It boasts an extremely nourishing,replenishing formula, enriched with an assembly of scientifically proven skinrecovery vitamins, including A, C, E, F and B5, in a blend of antioxidants andplant extracts, instigating a positive effect in helping the skin's ability toheal and repair, whist protecting against future free radical damage. When my skin is dull, tired or just incrediblyworn out, I use this Mask because it encourages an eminent improvement to theappearance of my complexion and assists in the correction of any ailments. :)Thethick, rich, creamy potion expels a delicate, citrus aroma that's heavenly toapply, reposing into a thick layer of butter-like emollient that snugly envelopesmy face. The finish stays moist ratherthan drying out, making it easy to remove with warm water, without emitting anygreasy residue on the skin's surface. The Mask doesn't aggravate my sensitive skin, orleave it taut and parched, instead it's completely reinvigorated, intenselyhydrated and feeling soft, supple and comfortably subdued. Whenever my skin screams that it's thirsty andstarts adopting signs of dehydration, I unleash this gentle, nurturing Mask to instantlyquench its thirst.>:/

  

It calms my impaired skin and reduces any redness;moreover, it boosts moisture levels and maintains sufficient hydration. :DThe DermalogicaAGE Smart MultiVitamin Power Recovery Masque efficaciously breathes newlife back into my skin. 
:O)
As well as promoting an immediate response, modestlyplumping my skin, smoothing the texture, restoring radiance and elevating optimalskin health, over time, this Mask is a competent armament to reverse the visibleappearance of aging skin. In addition, long-termuse of this Mask, on a regular basis, noticeably softens fine lines andwrinkles, diminishes age spots and pigmentation and reinstates elasticity, flourishinga more youthful-looking image.I absolutelydote on the regenerating capabilities of this Mask and can always be sure itwill produce swift, effective results.Iwouldn't hesitate to constantly recommend it to anyone suffering from dull,tired, or aging skin.
<:-P
MDFormulations Vit-A-Plus Illuminating Masque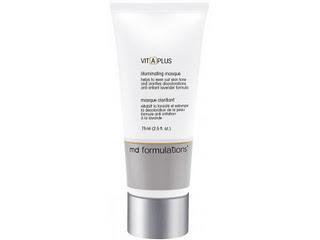 I keepthis Mask as my 'occasional' care Mask, touse prior to special outings or momentous affairs.This is evidently because it's extremelyexpensive and needless to say, you might call me stingy, but during these tougheconomical times, I need to stretch out my beauty products for as longpossible, :"> especially the costly ones conjectured as arare delicacy, as I just can't afford or even justify purchasing replacements on a regular basis.I am currently on my second 75ml tube (

see, it's even very diminutive in size, consideringthe outrageously OTT price tag it bears

:-O)of this Mask, however, regardless of the cost factor, when I put it to use, I am indubitably positive thatit will procure impressive results that are noticeable immediately.:) Thesuperior,
delightfully exhilarating
Mask, developed with three of the most preeminent active ingredientsavailable in anti-ageing skin care prevails to achieveoptimum skin health and a well-rested appearance.I-) AHA's, along with vitamin's A and C amalgamate with botanical extracts in a indulgent formula, which,despite the potency, is still complimentary and bolsters to sustain my fragileskin.The MDFormulations Vit-A-Plus Illuminating Masque effortlessly clears andbrightens my complexion, evens the skin tone, reduces pigmentationand remarkably boasts skin soothing properties that promise a gentle, non-irritatingexperience. :x It thereon rejuvenates my skin, producing asofter, smoother surface texture and a purely uniform complexion that instantlystimulates an all over, naturally luminous glow.It's my perfect pre-event Mask that quicklyrevs my appearance, revealing lustrous, radiant skin that is definitely the causefor a celebration. <:-PA+++ I guaranteed it never disappoints!
As any respectivebeauty enthusiast, incessantly probing through the broad array of skin carecollections currently saturating the market, will evidently perceive, there's a myriadof options readily available when it comes to choosing your ideal Mask.These specialty Masks, manufactured to cater for avariety of different and irregularly unusual skin concerns, adorn a mélange offormulations, suitably proposed to gratify the unique diversity of each primaryskin type.So, basically, it's just amatter of recognising your own individual skin type and establishing your target preferences,then selecting a Mask accordingly.;)

  
A weekly treatment Mask is an integral componentof any SeriousSkin Care routine, designed to reinforce a better-looking complexion and improve the overall health of the skin.\:D/Personally, I also enjoy thereposing qualities of a tranquilising facial Mask that incites me to relax and unwind. I-)I love applying a skin care Mask, then kicking back and 'zoning out' to relieve someof the built-up pressure and stresses associated with daily living,

ahh, bliss!
=P~
Haveyou found a treatment Mask, which meets all of your own skin care demands?Does your favorite performabove and beyond the capabilities of any other Mask you have tried todate?If so, please tell us all about it!How did this particular Mask come to gainyour respect and earn a coveted appraisal to secure supremacy, as your Number 1preferred facial Mask?
:-? 
If not, would youcare to share the journey, while you continue searching for a skin care Mask you can accoladewith a 'Holy Grail' status?
:-*
All product images in this post are generic, however the photograph featured at the top is my own.