Happy Hump-Day everyone! So, I receive tons of press releases throughout the week regarding this event or that menu change at Cafe XYZ. There are only a few that really catch my eye that I feel like would be beneficial to those of you who come to visit SD&S on a regular basis, and this is one of them.
As you may recall, the fine folks over at Finn & Porter and Newton O'Neill Communications set up a menu tasting for my husband and I this past February. It was during that exquisite meal that I was sold on all things F&P and Chef Maffei. 
With all that said, when this press release made its way into my mail box, I decided it was worth sharing. Plus, those crab cakes in the photo had me drooling all over my keyboard. So without further ado…
RAISE YOUR GLASS THIS MOTHER'S DAY AT FINN & PORTER'S CHAMPAGNE BRUNCH
Treat mom to a four-course menu created by Chef Maffei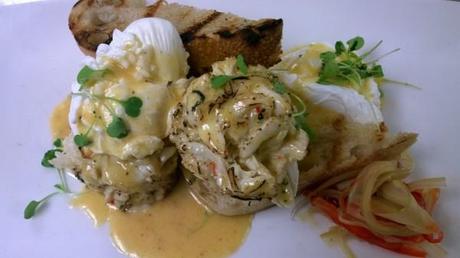 Finn & Porter, located in the Hilton Austin, celebrates Mother's Day with a Champagne Brunch on May 11th from 11am-3pm. The four-course prix-fixe menu, created by Chef Maffei, features a number of selections such as Cured Salmon, Roasted Corn Chowder, Brioche French Toast, Marinated Ribeye and much more. The brunch also features a complimentary glass of champagne, special pricing on house mimosas ($3), and a kids' menu complete with "mocktails."
Appetizer options include Cured Salmon on a bagel crostini with cream cheese, chive and dill, Bacon & Eggs from Richardson Farms with pork belly, quail egg, grilled onion topped with arugula and sweet chili BBQ, Baked Pancake with mascarpone cream and strawberries, or the Chilled Seafood Platter featuring oysters, gulf shrimp, Ahi tuna tartare, and scallop crudo.
The soup or salad course offers a choice of Prosciutto & Melon with snap peas, grilled watermelon, pickled cantaloupe and aged balsamic, Seasonal Texas Greens topped with a smoked pecan vinaigrette, Grilled Baby Lettuce with house-cured lardons, pickled tomato tossed in a buttermilk dressing, or Roasted Corn Chowder with potatoes, smoked bacon and Tabasco aioli.
For the main course, Chef Maffei has prepared something for the entire family. These savory and sweet options include the house-made Brioche French Toast stuffed with bananas foster and served with pecan streusel, Jumbo Lump Crab Cake Benedict with poached eggs, Old Bay hollandaise, red pepper slaw and grilled sourdough, Gulf Grouper with grilled radish, snap peas, salt roasted baby beets, and cucumber, Strube Ranch Beef Hash with sirloin, roasted corn, spring onion, chorizo, new potatoes and farm eggs, or Marinated Ribeye with Brussel sprout coleslaw.
If there is any room left, choose between the Greek Yogurt Parfait with house-made cashew granola, mint and seasonal berries, the Artisanal Cheese Board with a selection of local Texas cheeses, house-made chutney and crackers, or the Trio offering a tasting of desserts from the Spring Menu.
Mother's Day Brunch will be served from 11am to 3pm for $55 plus tax and gratuity per person. The kids' menu is $10. For more information and reservations, visit www.finnandporteraustin.com or call 512-493-4900.