Last month I took Chris to Prague. The second part to a weekend of surprises. I've already told you all about what we got up to, and the things which should be on your list to see. But what about what you need to eat? Well, here it is.. the food and drink edit. The food in Prague you definitely have to try.. and drinks too of course..
Home Kitchen
This was our first breakfast spot. Actually one Chris just stumbled across on Google.
Home Kitchen is a cute little independent with just a few branches in Prague, one not far from where we stayed. When we first arrived we were greeted by a lady behind the counter who was Czech, and we tried our hardest (each side) to understand and converse re menus and where to sit. Another team member soon returned (he'd popped out for more supplies) who spoke a little English, but this made us feel as though we'd picked a truly authentic spot which we liked.
The inside was cute and small. You could tell it was popular with some tourists from the hand-drawn postcards which donned the wall on one side. We sat along this bit and made one of our own whilst waiting for our food.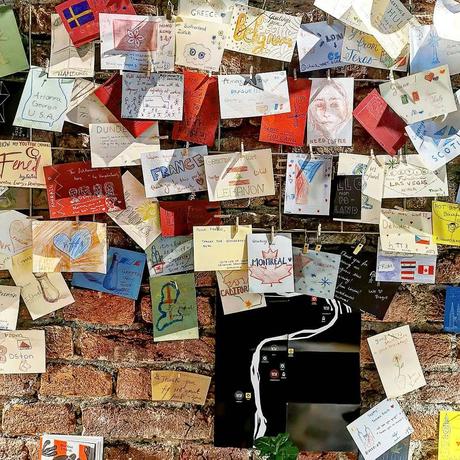 The menu is pretty small, but breakfast in Prague isn't that much of a big affair.
Traditionally it's a continental style meal with plenty of bread, cheese, ham and spreads. We opted for the goats cheese and spinach omelette (which I'd seen on menus at a few spots since), and a ham, cheese and egg toastie, with cake and coffee. Yes, Chris had a cake with breakfast.. well, it was his birthday trip!
Along with our dishes, we were served some freshly baked bread. It had more of a cereal bread texture and was absolutely delicious! There was plenty of it too! The omelette had plenty of goat cheese, and not too much spinach - a fantastic ratio. It was super creamy and rich. A dreamy breakfast.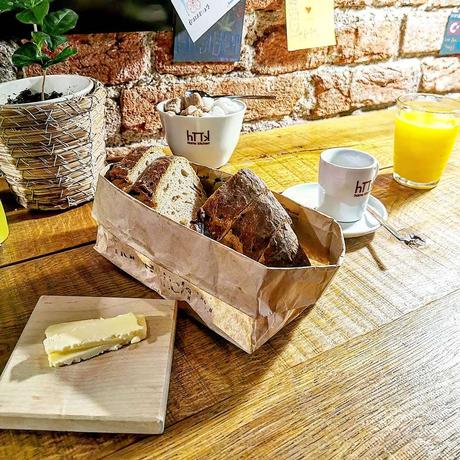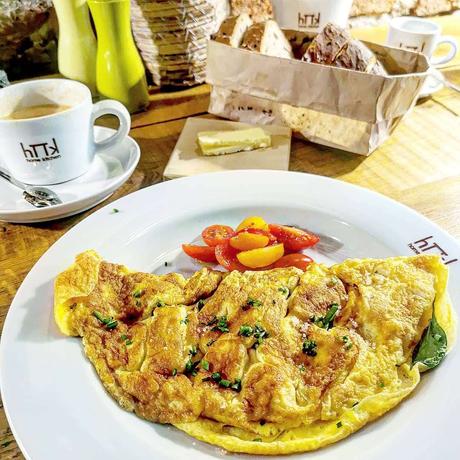 The ham, cheese and egg toastie went down well too, although there was a little food envy over my omelette. Both the flat white and the espresso were smooth and beautiful. The cake was like a no-bake chocolate number, and although rich, Chris devoured it easily post-toastie.
LT Coffee & LB Wine
Altogether we spent roughly CZK 600.00 which is roughly just under £20! You definitely wouldn't get a breakfast like that for £20 here in London.
This spot was just downstairs where we stayed - City Nest Aparthotel. LT Coffee & LB Wine serves breakfast and coffee by morning, cakes in the day, and is also a wine bar.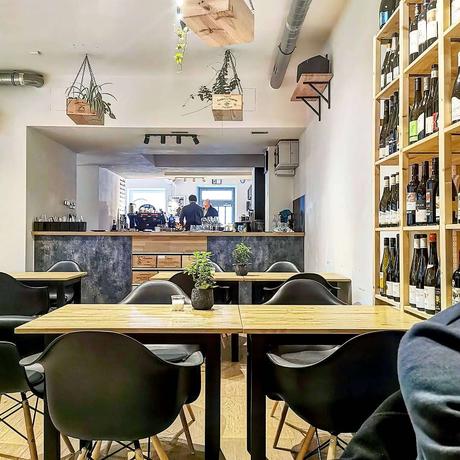 We headed down for breakfast on our second morning and had the friendliest welcome and service throughout. The team was so helpful and keen to ensure we had a great start to the day. It made us feel super important.
We were recommended the scrambled egg and the continental breakfast to share between two. After deliberating the menu we decided it would be best to go with that, alongside two capuccinos.. because caffeine is life in the mornings.
Coffee took a little while but was worth the wait - it wasn't too strong, was made beautifully and tasted delicious.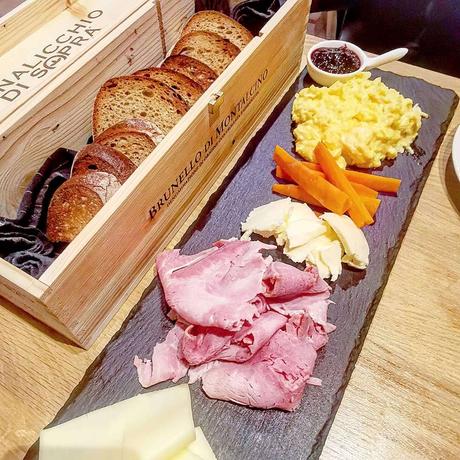 When the food arrived I couldn't quite believe it.
The bread arrived in it's own wooden chest, freshly toasted. Again, it was more of a grain-y, cereal style bread, with more flavour than many loaves of bread back here in the UK. The scramble arrived on the same board as the continental selection which consisted of ham, cheese, butter, carrots and jam. It was a breakfast feast at our table!
The cheese was mild and the ham really good quality. The scramble was really creamy and a great texture. We thought the carrots were a tad odd on breakfast but I still had a few. I finished my savoury slices with a piece of jam on toast. We were so impressed, it's made us think about recreating this at home so we can enjoy eating Czech-style again.
Lokal
This breakfast feast cost us CZK430.00 which is roughly £15! Again, an absolute bargain for the quality and quantity!
We'd seen this spot crop up in a number of round-ups and I was keen to see if it really lived up to the buzz.
Lokal serves beer and homemade traditional Czech food, which is cooked the slow, good old-fashioned way. Lokal is huge inside. The restaurant space sits behind the bar area, with an old-fashioned food hall feel, and plenty of covers. There's another bar further down the restaurant too where you can wait for your table. We were told there was about a 20-minute wait for a table for two, but it didn't take anywhere near that long.. in fact, we hadn't even got a drink by the time we were sat!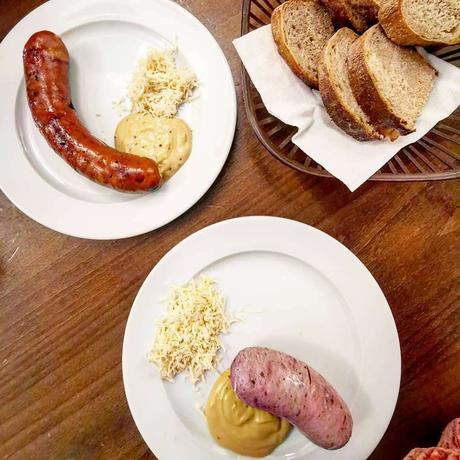 The menu features a range of traditional Czech dishes including sausages, soups, Pork leg schnitzel, braised beef in cream sauce and goulash. We started with the "Talián" sausage, with grated horseradish and mustard and the butcher´s sausage from "Přeštice" pig. Both were fantastic - in flavour and texture - and the mustard alongside was mild and creamy really complimented the sausages. The "Talián" just topped it as our fave, with a slightly deeper flavour and spiciness.
We both opted for the goulash, mainly because our taxi driver had said it was his favourite home-cooked dish and was a must-try.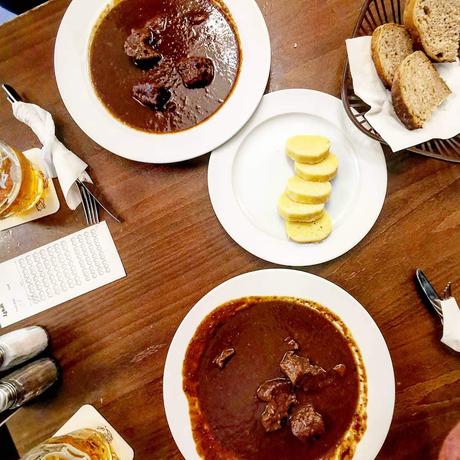 The beef in the goulash was slow-cooked and super soft, and almost melted in the mouth. The soup/sauce was extremely rich and aromatic, and absolutely delicious! There was also plenty of it.
The dumplings come bottomless when ordered. We were recommended to try both the bread and potato (potato are pictured). They were great with the goulash, soaking up the sauce and the flavour. The bread dumplings were just a touch better at doing so, as expected, and were delicious soaked in the soup. A real hearty meal! We could tell why this was a fave of the locals!
The beer was fantastic too. Light and refreshing, and perfect alongside the goulash. Both together filled us up well.
Czech Beer
Our meal, with starters and bread, goulash (x2), dumplings and two beers came to CZK816.00 which is roughly £27.42. We were so shocked at the cost of food out there, this really is a bargain for such good quality food, and service was pretty friendly too!
Ok, this is something you HAVE to have lots of. Responsibly of course. But Czech beer is delightful and so affordable. We were regularly getting two beers for about CZK145.00 or roughly £4.80! We had so many good beers, but the best obviously being that brewed by the monks in Strahov Monastery up by the castle. The whole experience up there was fantastic, from the walk up and the views, to seeing the brewery in the monastery and enjoying a brew on-site. It's well worth it.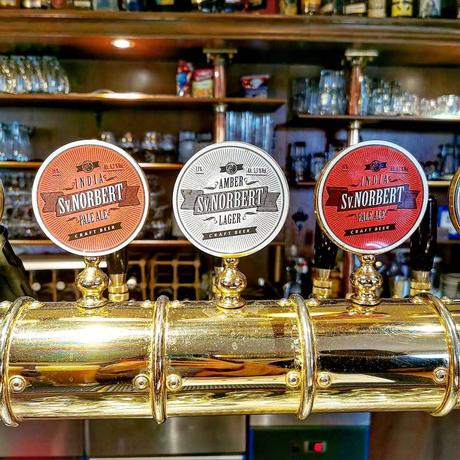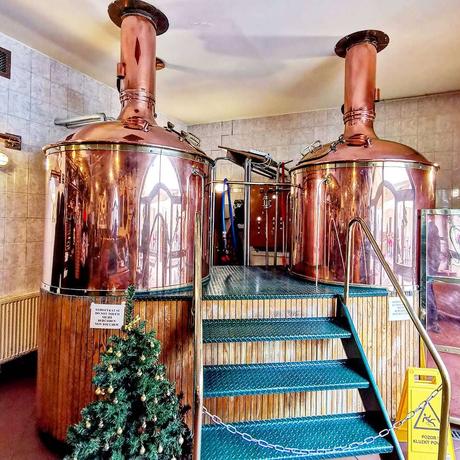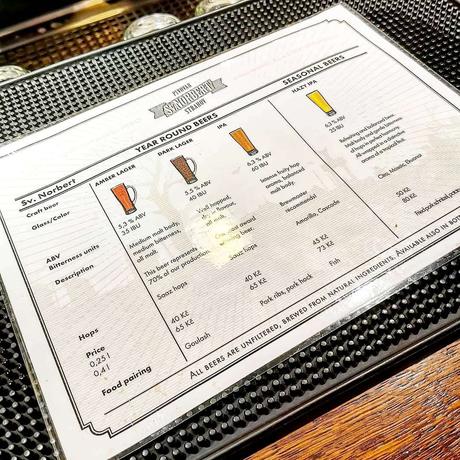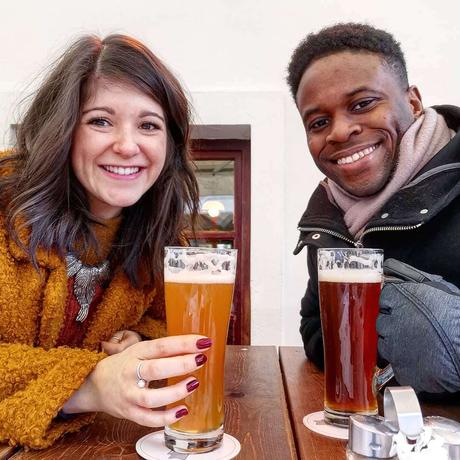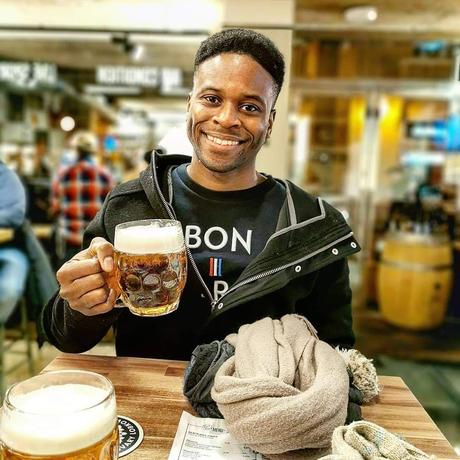 But we had some other great beers too! All light in flavour, super frothy (the sign of a good beer in Prague), and refreshing. We literally just stopped at any bar we fancied, and most had a good beer selection, often with a few options of local brews. The beer scene in Prague really is the one!
Obložené Chlebíčky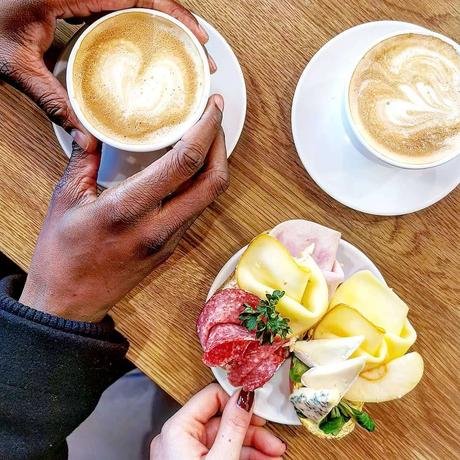 OK, this is more a type of food to try rather than a spot to find. Obložené Chlebíčky are small open-topped sandwiches with a range of toppings. We had a couple when we stopped for bite between walking tours, just in a cafe we stumbled across. They were piled high, and super delish. They seem to do them in many places, so just keep an eye out and order one or two if you get the chance.
Christmas market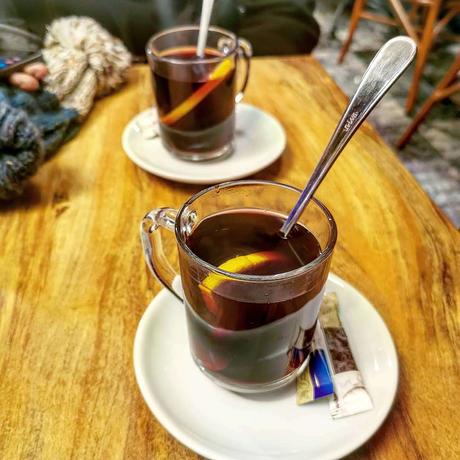 If you go at Christmas time (which I do highly recommend!), there's plenty of food and drink at the Christmas market too. Hot Wine is everywhere, and you could always take a break from the cold and enjoy a glass in one of the bars with heater surrounding the square. This is something we did do! But do be warned that some of these restaurants do charge much more for hot wine than others, and more than the stalls.
We didn't get to try much of the food at the market. However, we did try the Prague sausage. A paprika hot dog in a long bun, with ketchup and mustard on tap. Each Prague sausage was CZK95.00 which is just over £3! Ours were a little grisly, a bit like a bratwurst, but still very tasty! I really enjoyed it!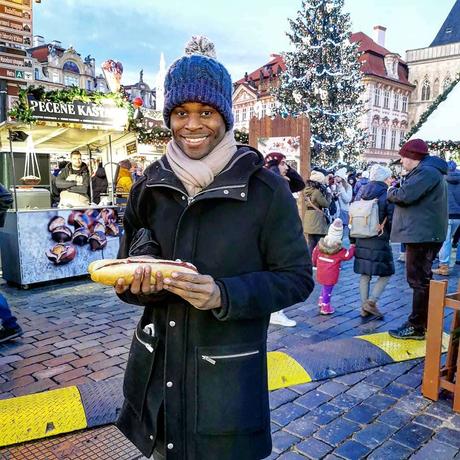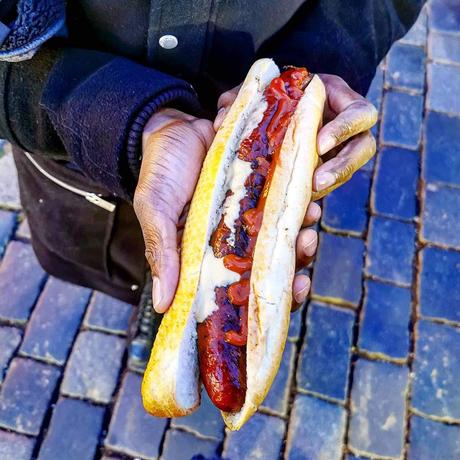 One word of caution.. most of the food and drink stalls only take cash, so get plenty out to last. If you're using the Euronet ATM machines around the square, don't accept their conversion rate. This will make your bank do the conversion which is A LOT better! Thank me later!
And there you have it. A few spots, foodie recommendations and drinks we tried which we highly recommend are on your list if you're visiting Prague!
We're off to Vietnam in March, but I'm dying to book more European breaks in. Where should we go?
Chloe xx