You might remember that in November, we took a four day trip to Barcelona. Of course all the food in Barcelona was going to be absolutely KEY for me - Alongside seeing all the sights, I can't resist trying all the local produce and cuisine. Literally as much as I can fit in. We tried a variety of food and drinks (well mainly sangria, coffee and vermut), but certainly had our faves. So here are our top picks from our trip...
Xuerria Trebol
Xuerria Trebol is quite well known for its churros. Sheila recommended we visit, and we were so glad we did. The small shop can be found not far from Casa Mila, offering the perfect opportunity to detour when visiting this must-see location.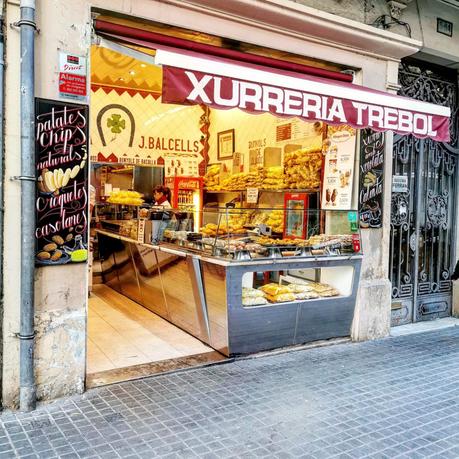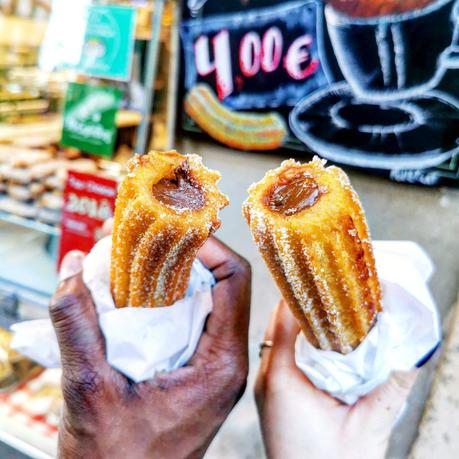 These fried, sugary churros were crispy on the outside and stuffed with chocolate or Dulce de Leche (Caramel). Both were absolutely dreamy, although i think the caramel was my fave. Only €2 each too, so perfect for an afternoon sugar pick-me-up whilst exploring.
Patisseria La Colmena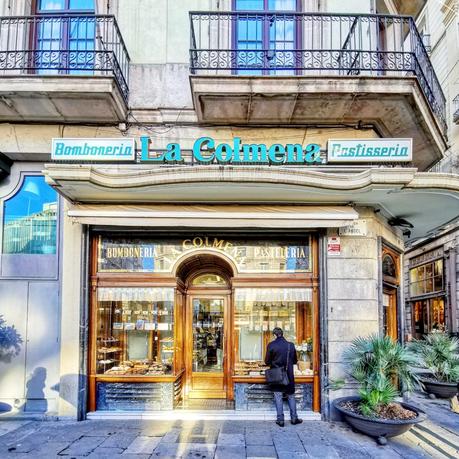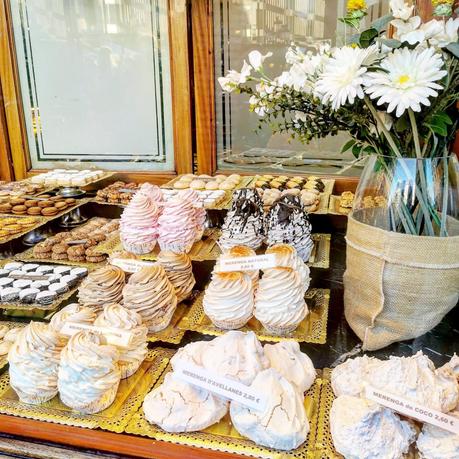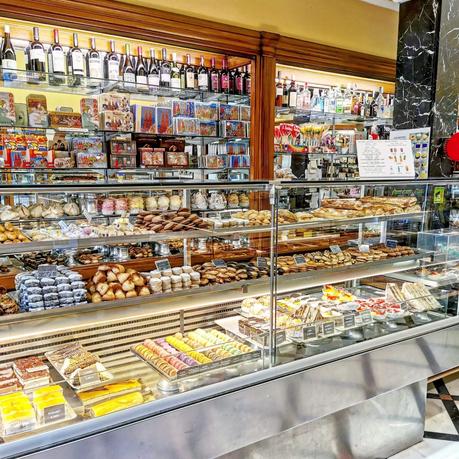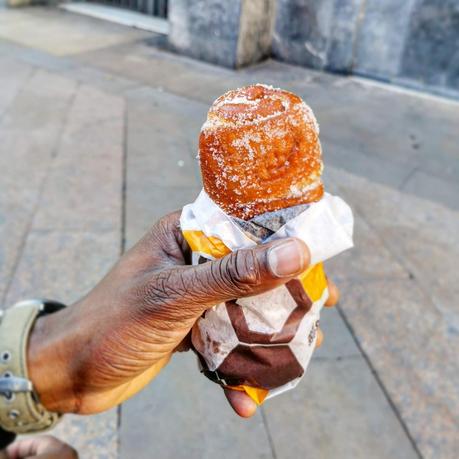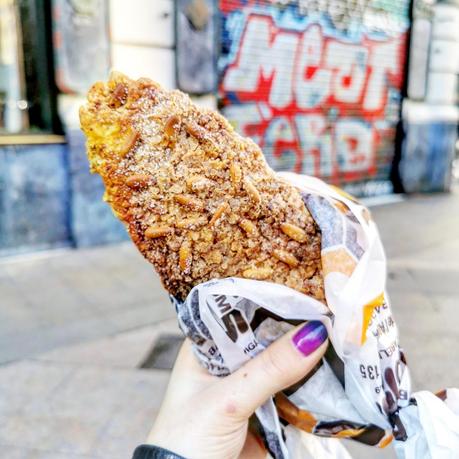 La Colmena is one of the oldest sweet shops and bakeries in Barcelona. It's located in Placa de L'Angel and has the most enticing bakes in the window.
Inside it's got that old-school traditional feel, and we couldn't help but buy a couple of bakes to enjoy. The Xoxa de Xocolata (~€2.50), a doughnut-y style treat oozing with chocolate in the middle was absolutely delicious.
We also tried a seriously flaky pastry with caramelised sugar and nuts (€2.80) - I forgot the name of it, whoops. It was a bit random at first, with the mix between sweet and savoury, but it did hit the spot! It sure satisfied the want to try more local delicacies, but the Xoxa de Xocolata definitely won this time. A top spot for sweet treats and food in Barcelona for sure.
La Boqueria Mercat
La Boqueria is one of the largest and most famous food markets in Europe. Just off the Las Ramblas, it's huge and a fantastic thing to see and wander through - looking at the many local delicacies, fresh produce, juices, and cooked cuisines ready to eat.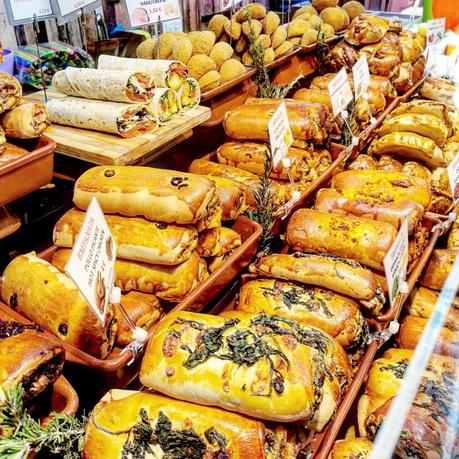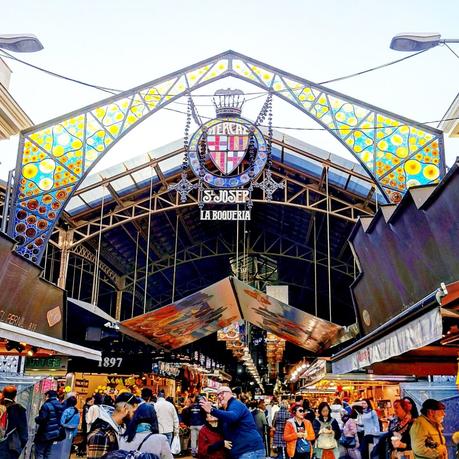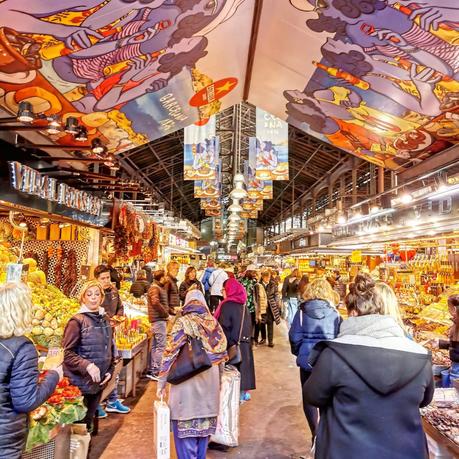 But I'm pretty sure I'm not the only one who can't just walk around a food market and 'Window Shop'. In fact, you really should come here HUNGRY!
There are quite a few stands selling empanadas. The Spanish ones are large, super doughy and stuffed with bold flavours. We tried a chorizo one. The flavours were fantastic, a little spicy, and the dough very soft and delicious. It was our best decision to try this, and it could actually be our fave thing all week! What's more, it's massive and only €4, so we could share and still have space for more.
We had to try the Bombas de Barcelona (2 for €1.80) as we were told they're a traditional food that are a must. Unfortunately, these disappointed a little, as were a little dry. Glad we tried them, but there are definitely better things here to eat!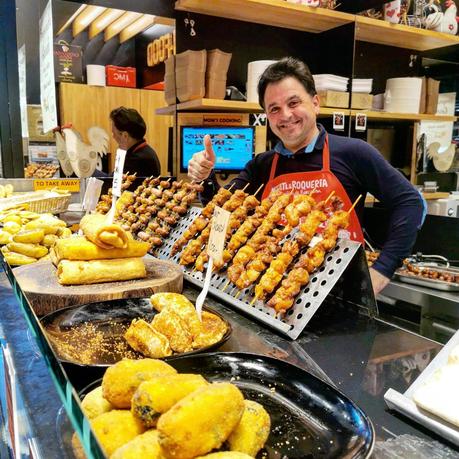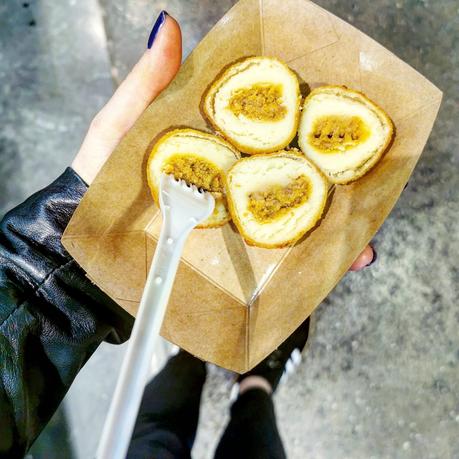 The Pinxtos (€3.50), some mini sausages, were, however, another fab purchase. It was more pricey for the size, compared to the other things we tried, but was very yummy.
We also tried a fresh juice (€1) each - we weren't very good at keeping hydrated but it's so easy here with plenty of juice stands. They were both refreshing and tasty.
There was so much more we wanted to try from frito mixto, to freshly cured Jamon and cheese. It's definitely THE spot for a foodie to visit if you're heading to Barcelona!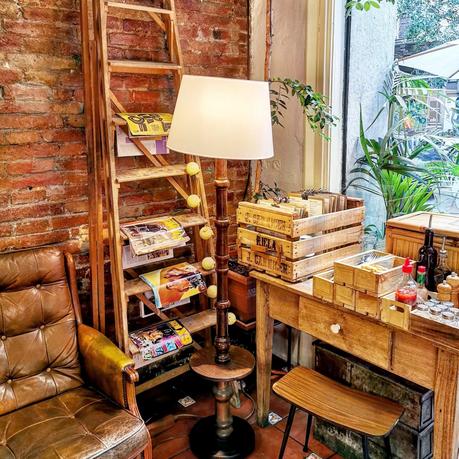 Billy Brunch
Billy Brunch isn't really a traditional Spanish brunch spot. It's more English. After a couple of days of meat and bread, I was dying for some fruit or a continental-style breakfast.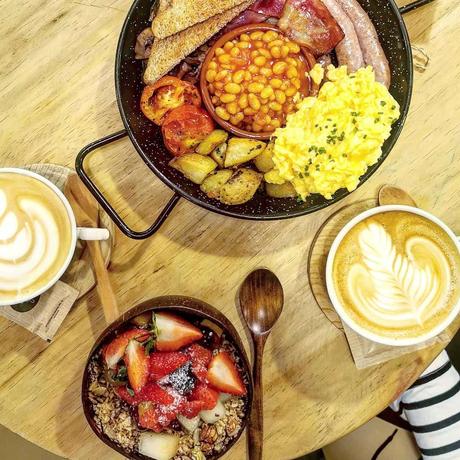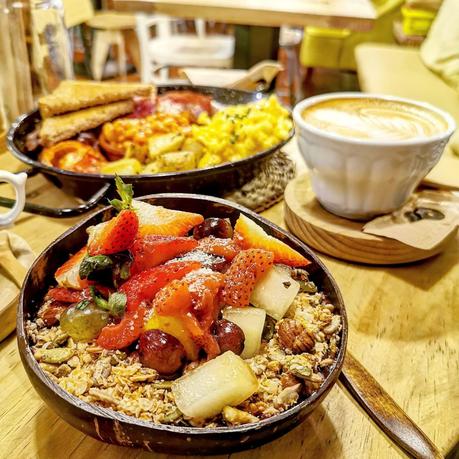 The inside of Billy Brunch is truly minimalist chic. It gives off a natural, rustic feel, with lots of woods, whites, plants and an open kitchen. The whole team were super friendly - they all said hello as we walked through to our table, the chefs chatted to us throughout our meal, and the waiting team checked back and ensured we were happy throughout.
The menu is pretty extensive, with hot and cold options, large and small, as well as plenty of soft drinks and hot drinks.
The Full English was the best Chris had had in a long time. The eggs were so soft and creamy, and the bacon was really tasty!
My Acai Bowl was super fresh and packed with flavour. I loved the crunchy granola and nuts atop.
The coffee was fab too, smooth and delicious. We really enjoyed our cappuccinos!
For the two breakfasts and coffees, it came to €24.90. If we'd have had more time, we definitely would have ventured back for another morning.
Nomad Coffee
This was another recommendation, this time by Allie ( Rush and Teal). From the outside, I could tell why Allie had suggested it - it had that boutique, edgy, Shoreditch vibe, with lots of plants. Inside it was very small, with space at the bar, and sharing marble benches at the side. Service was patient and pretty welcoming too.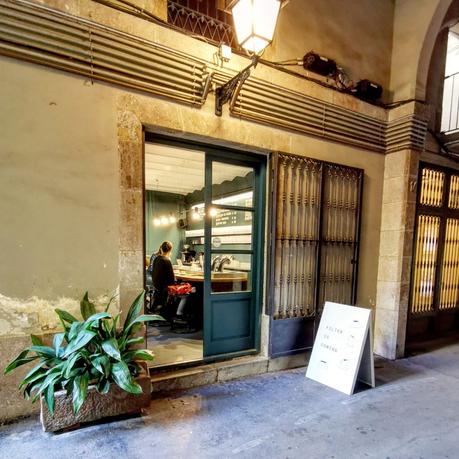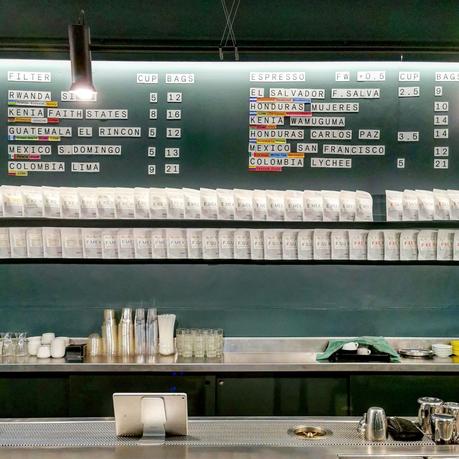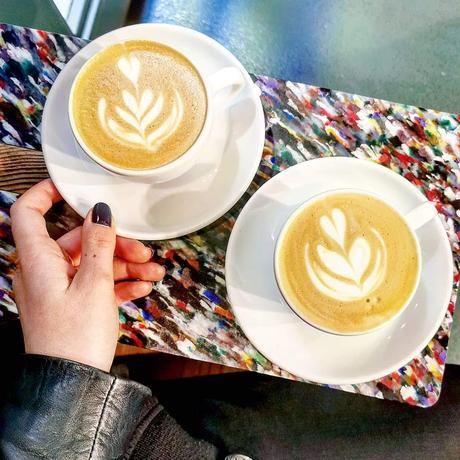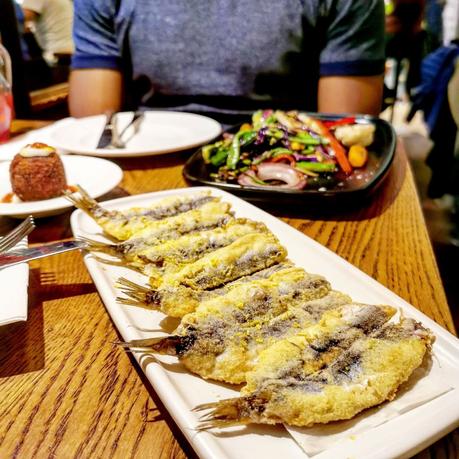 The menu featured a number of different types of coffee. So many we were a little overwhelmed. We decided to go for a cappuccino (can't beat one of those!), for which we had to have the El Salvador roast - they don't do lattes or cappuccinos with the other beans. It was a smooth and delicious roast, with hints of chocolate. Fantastic coffees and a great spot. A little more pricey than coffee in a standard cafe in Barcelona (€2.50 each), but worth it for a change.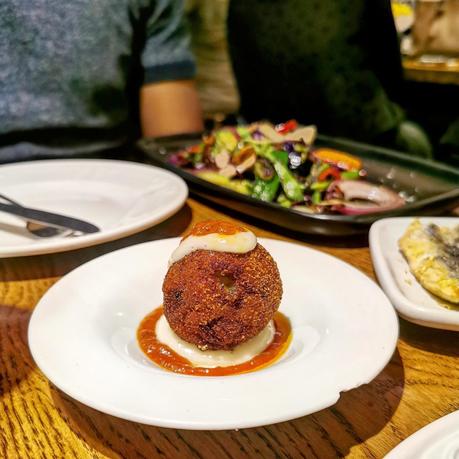 El Tapeo
This is a fab tapas spot on Calle Montcada, close to the main area of the city and a number of bars. It's relatively small inside, with tables against the side, and spots to sit at the bar, so definitely need to book even if a few hours before.
The Fried Mackerel was fantastic. Lightly coated and soft inside, it wasn't too oily and was beautiful in flavour. This was our favourite tapas dish here.
The Barceloneta Bombeta was a must try, as we were sure the ones we had at the market had to be beaten. This was super crispy on the outside, and was incredibly delicious. We just had one to try (following our disappintment at the market), but it's worth getting a couple rather than sharing.
We had to have the sauteed vegetables, dying for a bit of colour in our diet. They were served a la dente, a little oily, but fab all the same. Great alongside the other dishes.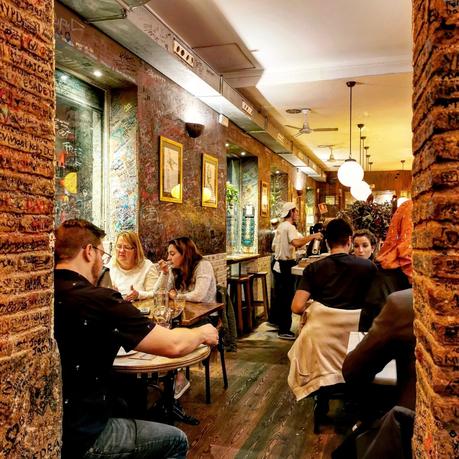 We also tried the wild sausage and mushroom cannelloni, which are a traditional Catalan tapas dish. A little surprised it's traditional for food in Barcelona, as it's pasta, I was intrigued. The cannelloni was in a creamy, rich sauce. The filling was soft and deep in flavour. It was one awesome dish.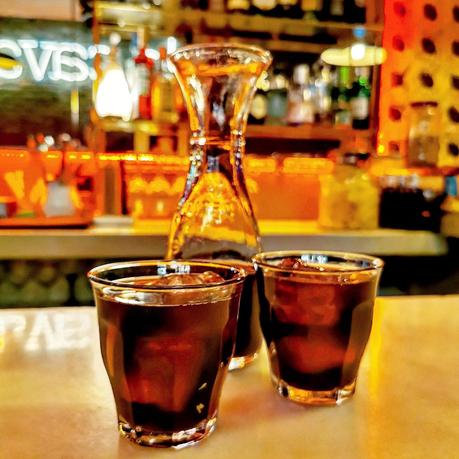 We had two other tapas dishes too (I didn't quite manage to snap a photo before tucking in). With a litre of sangria, which was fantastic as always, we paid ~€60. For dinner, that's probably about what we'd be looking at in London, however with the wine too, I thought it was pretty good!
La Pepita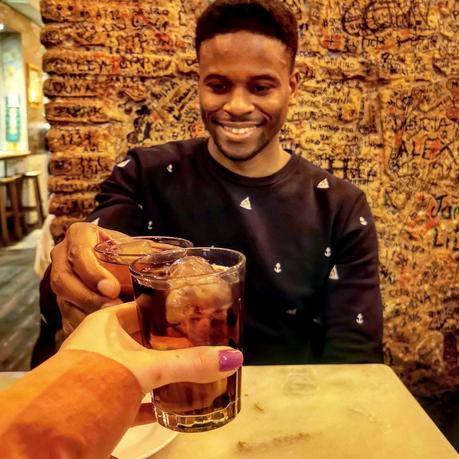 La Pepita was a recommendation by one of my work colleagues, who told me that everyone she'd suggested to try it out for an option for food in Barcelona, absolutely loved it.
The restaurant does get busy, but you can pop your name on the list and head for a drink in their bar, La Cava, a couple of doors down. Both La Pepita and the bar both have the same look and feel, with an edgy vibe through the writing which covers the walls, exposed brickwork and hanging frames. Service is pretty friendly and super-efficient. Everything arrived so quickly, we felt like dinner wasn't necessarily as relaxed and laid back, but still a very good experience.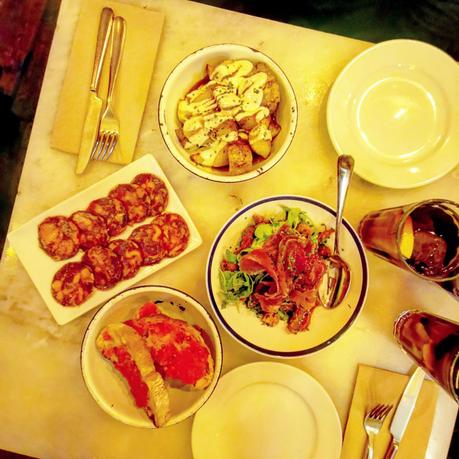 The bar was a little quieter, and here we enjoyed more Sangria before being collected for our table in the main restaurant. I quite liked the buzzy atmosphere in the main restaurant, with tables all enjoying their meals and chatting.
The menu was pretty long, and we struggled to pick just 5-6 dishes, but finally settled with a selection, as well as a vermut which is traditional to drink in Barcelona.
The vermut wasn't as strong as I thought it would be. It was larger in volume too, and more delicious than a standard glass of white. Definitely have one of these whilst in Barcelona!
The burrata and jamon salad, had more cheese and meat to leaves. There were croutons too. So many awesome textures and flavours in one bowl. Even though not as green as I thought it might be, it was certainly a fantastic tapas dish.
The tomato bread is a must - fresh, juicy tomato atop crunchy, bread, it's a great accompaniment. As are the patatas bravas, which were a great texture with plenty of sauce atop.
The croquetas were all crispy on the outside, super-soft in the middle with awesome flavours. The ones topped with Jamon were definitely a fave.
For the six tapas, 1/2l carafe of sangria and two vermut, we paid ~€47, making it a bit more reasonable than El Tapeo. But both were fantastic!
That finishes off my round-up of our top picks for Food in Barcelona, as well as a few drinks too.
Have you been? What were your faves?
Chloe xx