Last month Chris turned 31. Ok, so it's not a big birthday, but I missed his 30th due to being already committed to a best friend's 30th. So we were pretending he was 30 again. I managed to surprise him so many times, getting friends and family involved, which was amazing! To finish off the weekend, I had planned a 2 day trip to Prague. He couldn't quite believe it.
I know he'd been dying to visit another part of Europe, but it was probably also a little selfish as Prague was top of my list for winter breaks.
We had an amazing 2 days out there. We would have quite liked just one more day (think three days would have been perfect), but here are the top things we recommend if you're thinking about going to Prague...
Sandemans free walking tour
This is the one thing I ALWAYS start with now when I go on a European city break. It's the first thing I check to see if is available. We had such a good experience when we visited Barcelona, and I couldn't wait to do the Sandeman's Walking Tour in Prague too.
If you read my Barcelona post, you'll know that Sandeman's hold 'free' walking tours.. they're actually tip-based, so you pay what you feel. But they're amazing! They really help you get a feel for the city, get your bearings, and learn so much about the buildings, history and even what to watch out for as tourists.
The Prague tour was no different. It starts in the Old Town Square, where you learn about the gothic architecture surrounding the main area, and the tales from history. You get to learn about the Astronomical Clock and it's historical myths and stories too, before moving on, through part of the shopping area, and the Jewish quarter, and finishing by the river. We truly learnt so much, including that the reason the Jewish Quarter still looks so good after the war is that Hitler loved Prague, and wanted to use it as a memorial to the race he wiped out. MENTAL.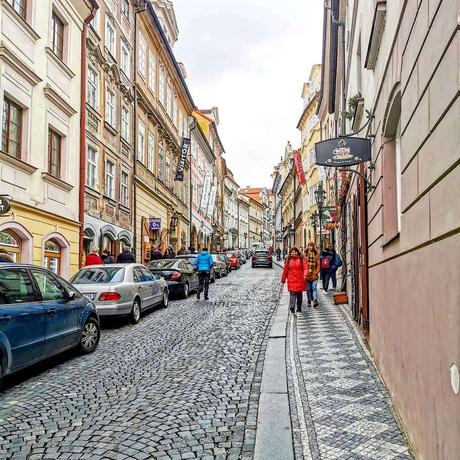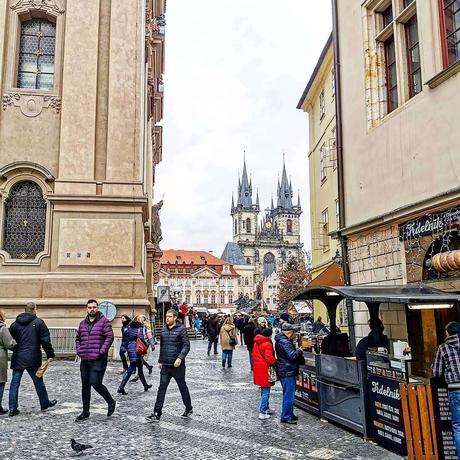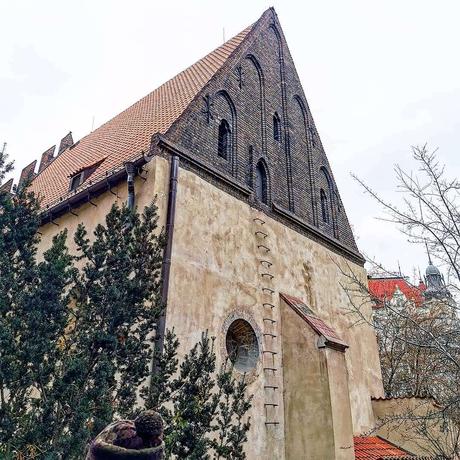 Our tour guide also gave us an email address to get recommendations for our visit, which we would have done had we had more time there. But also, he told us what to watch out for with cashpoints (how to avoid bad conversion rates) and to be careful with change/conversion shops too. He was so thoughtful and passionate about the city. We had such a good morning.
New Europe Tours Castle Tour
This is the same company as Sandemans, but this time you pay upfront. The walking tour of the castle starts at the end of the 'free' walking tour, each day at 2.30pm. So if you book onto the morning walking tour of the city, you can finish half hour before the castle, with just enough time to grab something to eat and drink. This is exactly what we did.
It's easy to find everyone at the meeting point, and you're soon on the way up on board the tram - this is the fastest route up to ensure you get into St Vitus Cathedral before closing at 3.30pm. You enter through security, and head straight up to the cathedral, with a couple of stories en route.
Part of the Castle Tour...St Vitus Cathedral is stunning. Truly beautiful.
To a level whereby, if you're like me, you're speechless inside. The stain-glass windows had been commissioned by businesses way back when, and you could see some of the companies mentioned within the artwork. The architecture was amazing. Although we couldn't peruse a lot of the interior, like we have been able to at other cathedrals we've visited this year, we still managed to get a good view and look around.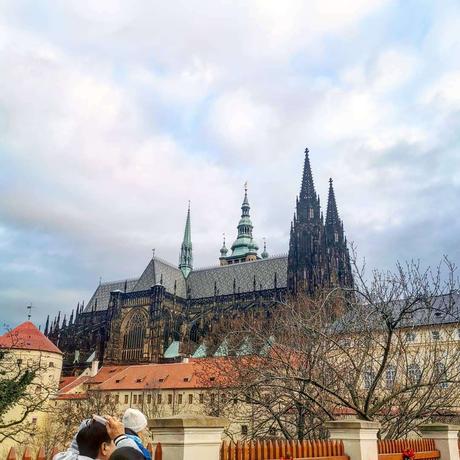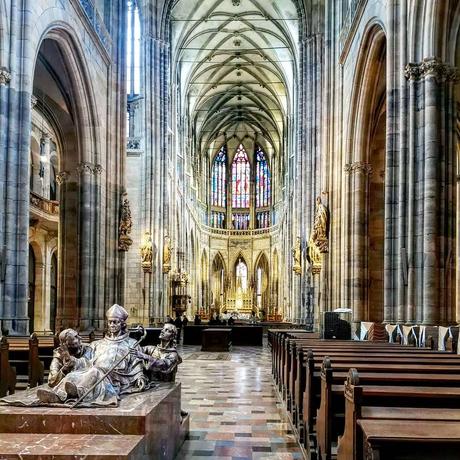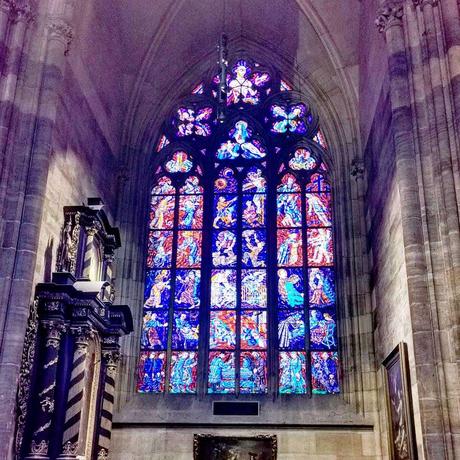 The rest of the castle is beautiful too, although the cathedral is definitely my favourite. The castle is actually more like an area of royal/presidential houses/buildings, rather than as you would imagine from a fairytale/war story.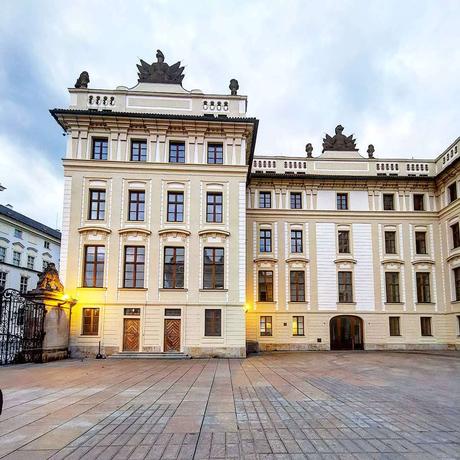 We got to see the change of the guards (which was awesome!), ruins from a church built in ~800AD (incredible!) and the cute Golden Alley, originally built in 1600s to house the guards, which is now home to adorable little shops.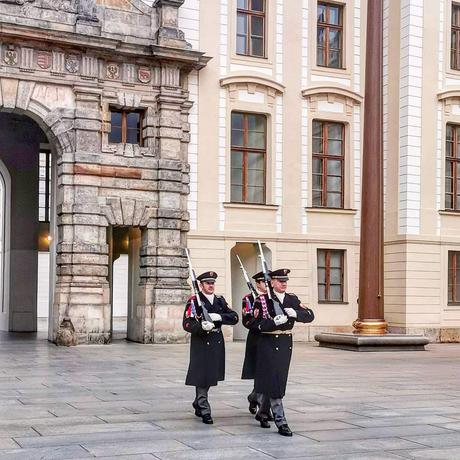 It's also gorgeous up in the castle when the sun goes down...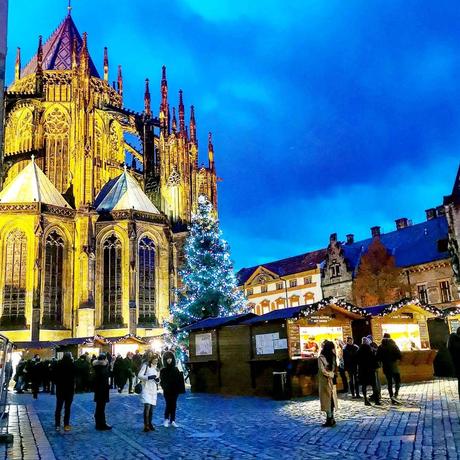 Again learning lots, we highly recommend doing this one too. It's CZK648.000 for two, which works out about £22, for the tour and the tram ticket to get up to the castle, which we thought it really good! In the winter it is really cold up there, so do wrap up!
Strahov Monastery Brewery
Yeah you read that right. A brewery in a monastery. It's really well-known in Prague, and quite rightly so. We wandered up during the day to check it out. It's quite a walk, but the streets are cute and the views when you get further up are amazing. When you get to the top, make sure you head for the Strahov Monastery Brewery (Klasterni Pivovar Strahov), opposite the restaurant. It's a small little bar, with the brewing cylinders by the door, and a little bar. There's seating outside too with heaters and blankets!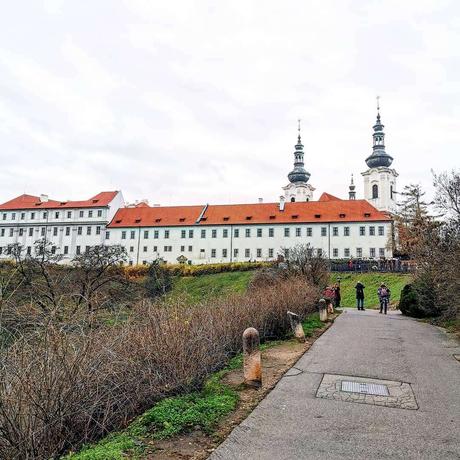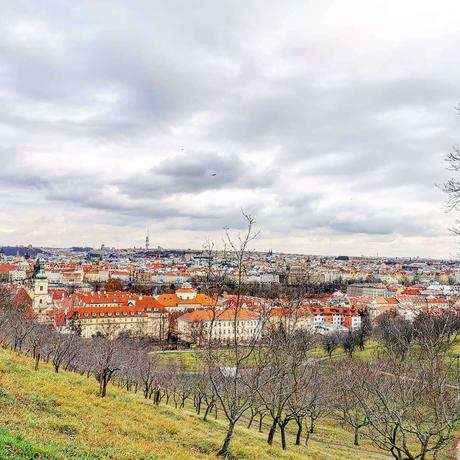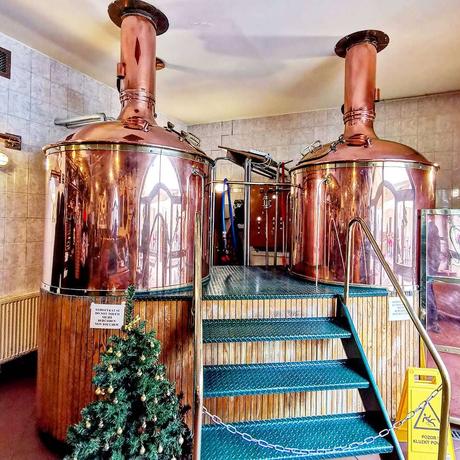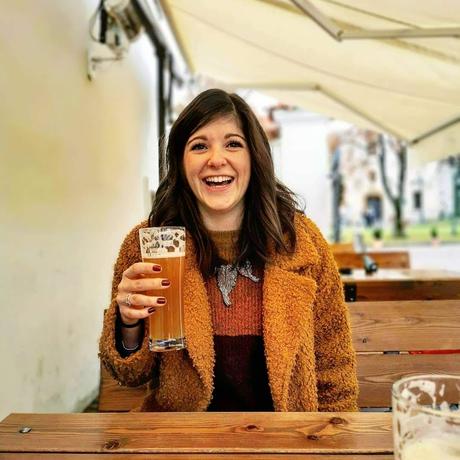 There are four beers on tap, and we tried both the Amber Lager (the most popular) and the Hazy IPA (the bartender's favourite). Both were superb. The Hazy IPA a bit more Hoppy. The menu itself actually has food pairing too, which we thought was cool and would have taken advantage of if we could have (had we been hungry).
It was CZK145.00 for our two beers, which equates to ~£4.86. Czech beer is so cheap, it really is the thing to have out there!
Charles Bridge
We were told by the guide on our second walking tour (the castle one) that this had to be on the list. It's pretty iconic. So we ventured here on the second morning after breakfast, in search of the lady and the dog. Apparently, so myth has it, one answers your wishes and gives luck, one ensures you return to Prague. It's also said that the dog could bring bad luck. So to be safe, we went to find the lady.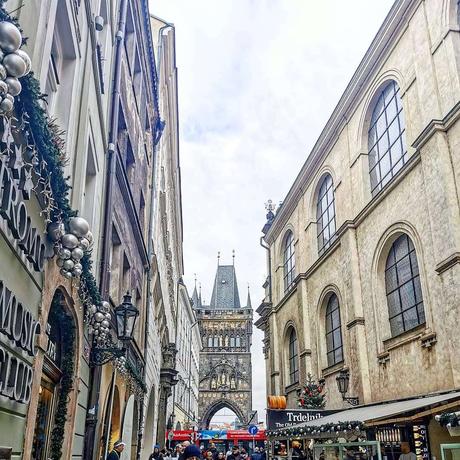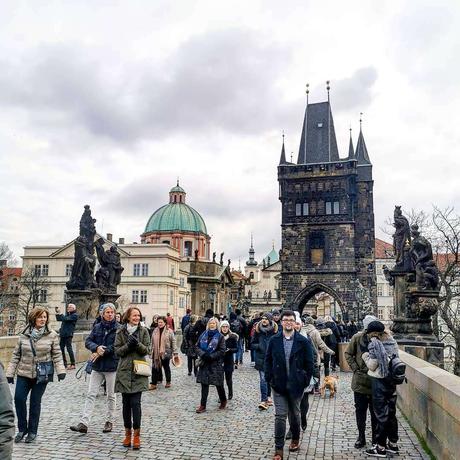 The bridge does get quite busy, but you can still enjoy it. It is another beautiful part of Prague, with various statues and monuments along the sides. The views of the city on either side of the river are superb too.
We found the lady and the dog, nearer to the other side of the river, and made sure we got our wishes in. We thought it was funny how we were so eager to touch a spot touched by millions of tourists. Still, would recommend doing it 🙂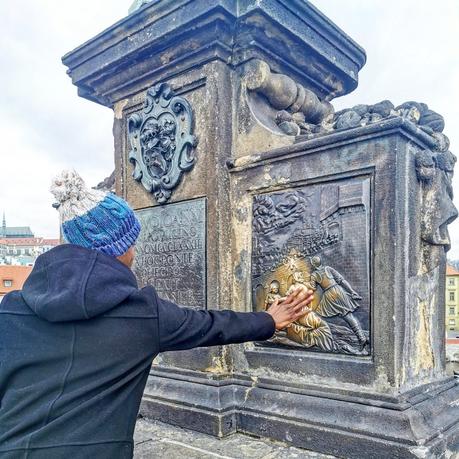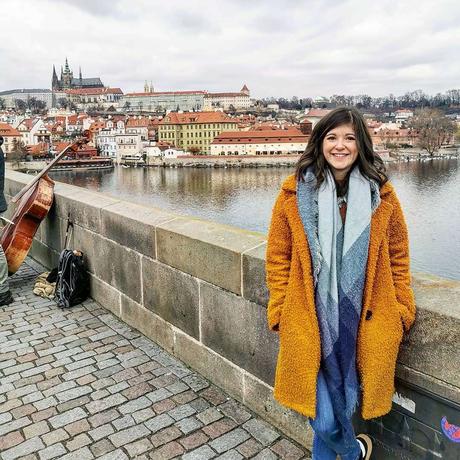 Old Town Square
This is actually a UNESCO site due to the number of classical buildings and gothic architecture surrounding the square. It's stunning, and definitely a sight to be seen. During the Christmas market, views can be a little obstructed. But you still get the bustle from the crowds and can enjoy the surroundings.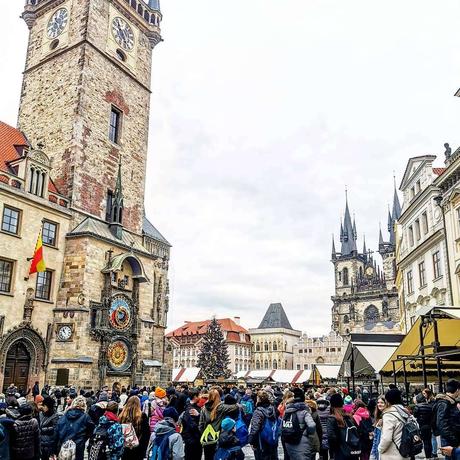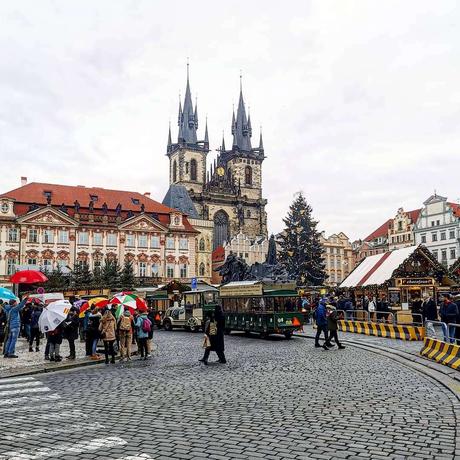 This is where the Astronomical clock is. It's beautiful and definitely an amazing creation for its time with the different dials and aspects it tracks. However, it's been named the second most underwhelming attraction in Europe for a reason. Every hour hundreds of people gather to watch the clock as it strikes. As it turns the hour, the two windows at the top open, inside a carousel turns with figures. On the outside of the clock, the characters shake their heads the tiniest bit, and then the cockerel makes a noise, and it's all over. It's quite funny to see, as everyone around you is waiting in anticipation for more to happen! Whilst it's not the most amazing action ever, it's still worth watching just once to say you've seen it.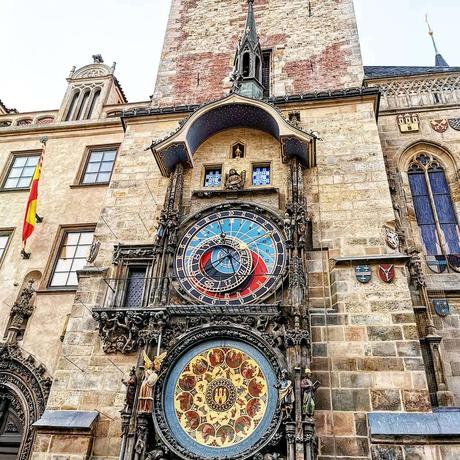 Perníčkův sen
Gingerbread is a traditional sweet treat in the Czech Republic. Perníčkův sen is a time-honoured shop dedicated to this bake. It's cute on the outside. Inside it's filled wall-to-wall with handmade, hand-decorated gingerbread biscuits. I stood inside in awe!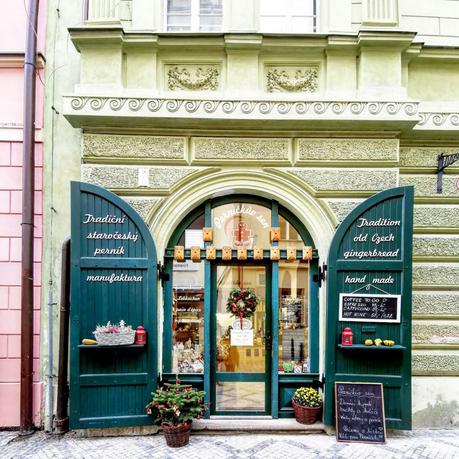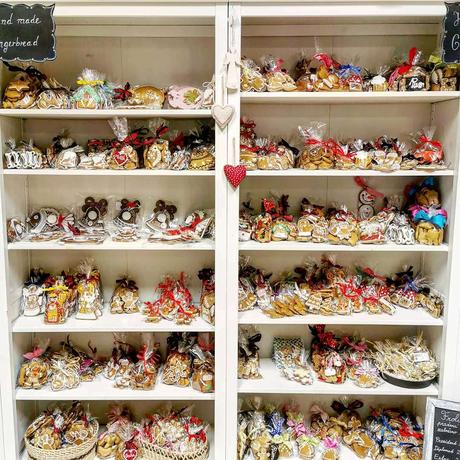 It was hard to pick our selection, and we quite easily spent nearly £10 on gingerbread, which we wouldn't usually. However, it's definitely a sight to be seen, and you just have to try the traditional cuisine right?
Dancing House
Finally, this funny shaped building is a must-visit. This wonky building was controversial of its time, not in keeping with the traditional baroque, gothic and other styles of building Prague is well known for. It's pretty modern. Which does make it a landmark in its own right, ever since completion in 1996.
If you go straight into the main entrance, past the reception and take the lift to the top, you can walk up the one flight of stairs to the glass bar, and if you purchase something (we stopped for coffee), you can access the viewing platform which gives some awesome views out over the river. Well worth it - especially as coffee was roughly the same price as elsewhere too.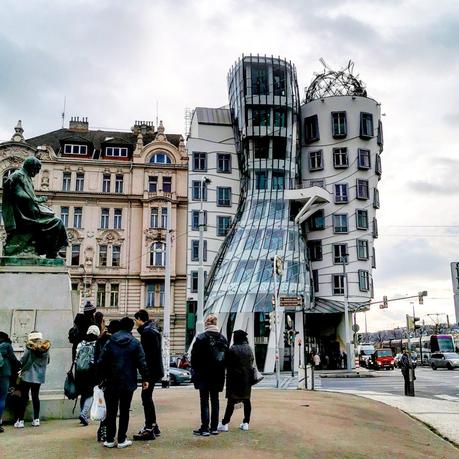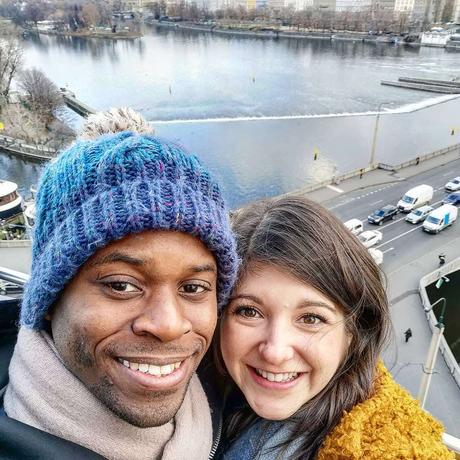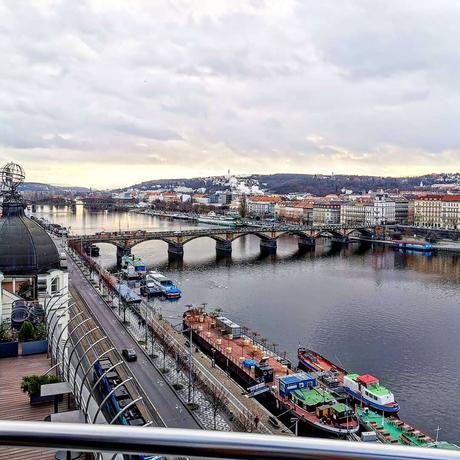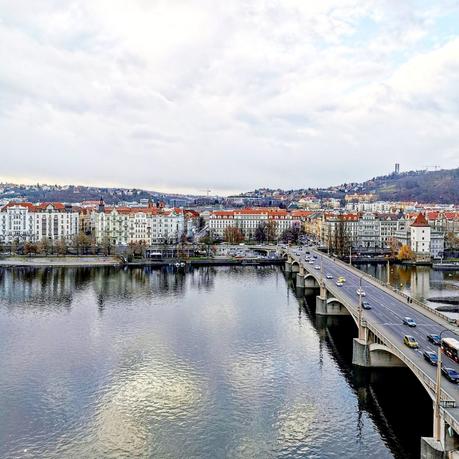 There you have it. Our fave things from our 48 hours in Prague. Food and Drink edit coming soon! What would be on your list? Where should we go next?
Chloe xx