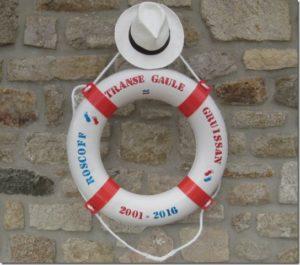 Friends,
Please find attached the final results of 12th Transe Gaule.
No Transe Gaule next year and not sure it will be back (mainly because gouvernment rules make it more and more difficult to organize this kind of event in France on public roads).
Anyway 12 editions was unexpected when the event was created in 2001 by Christophe Rochotte and myself.
277 runners from 26 countries have participated to Transe Gaule since 2001 including 89 of them who have participated at least 2 times.
Thanks & congratulations to the legend Don Winkley who participated 12 times (10 times finisher + 2 DNF).
P.S. Next year DEUTSCHLANDLAUF is back. https://deutschlandlauf.wordpress.com/
TRANSE GAULE XII – Aug. 09-27, 2016
Roscoff – Gruissan 1190 K / 19 stages
FINAL RESULTS
1 David Le Broch *° 105:26:58 11,228 km/h
2 Patrick Poivet **& 111:01:26 10,664
3 Jean-Louis Vidal * 112:12:55 10,551
4 Gwen Quéant ****!§ 126:22:15 9,369
5 Robert Miorin **!!!! 133:03:36 8,898
6 Erwin Borrias ***! (NED) 133:35:32 8,863
7 Jean-Louis Valderrama **& 133:58:33 8,837
8 Jennifer Bradley $** (GBR) 134:56:09 8,775
9 Thierry Michel *!§ 135:09:58 8,760
10 Angel Pallaruelo *** 135:34:45 8,733
11 Fabrice Viaud *********€&§ 136:13:59 8,691
12 Tristan Lacherest * 137:11:03 8,631
13 Philippe Mora * 138:26:12 8,553
14 Dimitrios Kechagioglou * (GRE) 141:01:19 8,396
15 Jean-Michel Frémery *****!!§ 142:35:38 8,303
16 Sylvain Pogam * 144:20:01 8,203
17 Marie-Jeanne Simons *****&* 144:41:34 8,183
18 Ching-Hui Chen ***€ (TPE) 145:02:16 8,163
19 Jannet Lange *° (NED) 145:59:31 8,110
20 Jenni de Groot *° (NED) 149:37:13 7,913
21 Fernando Ibarra Carbón * (ESP) 149:48:04 7,904
22 Shu-Yin Yu * (TPE) 151:00:21 7,841
23 Mimi Chevillon ** 156:55:18 7,545
24 Hans Lachmann *& (GER) 158:30:22 7,470
25 Yves Duquesne ** 161:31:38 7,330
26 Serge Bellenoue * 171:42:38 6,895
27 I-Kung Lee * (TPE) 176:31:59 6,707
28 Cornelia Feurich * (GER) 178:16:09 6,642
29 Jos Broersen *****& (NED) 188:08:11 6,293
30 Malou Lebas +* 188:56:17 6,267
31 Georgios Tziliaskopoulos * (GRE) 200:49:09 5,896
32 Xavier Mauban ***!§ 204:55:39 5,778
33 Gérard Denis ****!!€&§* 206:02:46 5,746
DNF12 William Guillot
DNF10 Henry Wibberg (GER)
DNF10 Vincent Bailly-Salins
DNF9 Isabelle Lambert
DNF9 Dominique Caillé*
DNF8 Saïd Kahla**§ (ALG)
DNF7 David Ardid
DNF6 Pierre Chanteclair*
DNF6 Marie Doke (GBR)
DNF3 Hwa-Shan Lai (TPE)
DNS3 Jean-Philippe Viguié*
DNS3 Tom Kuschel (GER)
DNS3 Philippe Gallou****
DNF1 Kao-Shen Tsai+ (TPE)
DNF1 Don Winkley$**********+& (USA)