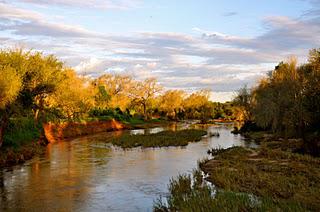 As many of you know, back in early February I was off to South Africa for a quick adventure. While I was there, I visited the Makuleke Concession, located inside Kruger National Park, where I stayed at a training camp for new safari guides. The camp was run by a company called EcoTraining, which has built itself a reputation for turning out the best prepared and most qualified guides in all of Africa, and as a result, their students are in demand in a number of countries there. Over the course of a week, I was lucky enough to observe that training, while getting to explore parts of Kruger. I shared some of those experiences this morning on a piece that I posted on Gadling that you can read by clicking here.
Essentially, EcoTraining gives anyone with the interest an opportunity to become an African safari guide. They teach them everything they need to know, and then some, and offer a number of extra course to help sharpen their skills and build more specialized experience. Most of the students take a 28-day course that gives them the basics, such as driving a safari vehicle while spotting game, identify the various creatures they see, learning to track those creatures on foot, and so on. They also learn how to handle a rifle (Very important when traveling on foot in the bush!), basic first aid, orienteering and navigation skills, and much more.
After completing the 28-day course, most of the students will head off to work as a guide somewhere, and while the have the basic skills, they still lack experience in the field. That comes over time of course, but they can also pick up some of that experience through EcoTraining's other course, which range in length from 4-7 days and focus on such topics as birding, advanced tracking, and so on. For those who want to go all out, there is also a yearlong course that will turn out a fully qualified guide, ready to start leading game drives in the African wilderness.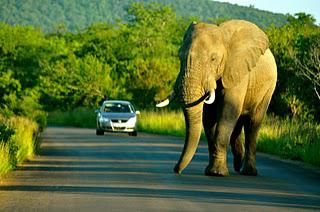 What I found interesting was the diversity of people who were taking the course to become a guide. There were an equal number of men and women in the camp, and ages ranged from as young as 19 all the way up to late 50's. They were each there for their own personal reasons, but they shared a love of the outdoors, a fascination with wildlife, and desire to see the natural wonders of Africa. The students were all very dedicated, studying hard when ever they had down time, but also had big personalities that would serve them well when dealing with their future clients.
One of the best aspects about the trip for me was getting to go on game drives with the students and their instructors. The wilderness treks on foot were especially fun, as you had the potential to encounter any number of creatures face to face. That put an element of danger in the situation which you don't get while on safari in a vehicle. On our walks we spotted buffalo, zebra, wildebeest, warthogs, elephants, and more. And while we heard lions around us, we didn't encounter one directly. They are common just outside of camp though, and one of the instructors came across a pride while on his daily run one afternoon.
As you can probably gather, the wildlife in Kruger is spectacular, and one of the highlights of any visit to the region. Elephants were especially in abundance, traveling in large breeding herds, and often acting aggressively to us infringing on their space. At one point, when were driving back to the camp from visiting a nearby village, we actually came across a big bull on the road. He was none too happy to see us, and actually charged the small van we were driving in. Thankfully, our driver was skilled enough to avoid him, but it was a rather close call.
Speaking of the camp, it made for quite a setting as well. It was extremely eco-friendly, with no electricity in our tents, although we did have running water, a shower, and a proper toilet. Those are luxuries on a trip like this one as far as I'm concerned, and while I'm use to going a few days without a shower, it was nice to be able to take one on a nightly basis none the less.
The tents were large and spacious, and propped up off the ground on a stilted platform. That allowed for animals to come and go without disruption, and it was not uncommon to hear things moving around us in the night. Our first morning there we were also awoken by the roars of lions not far off, which is the way every African morning should begin!
I intend to write more about the trip, both here and on Gadling, over the next week or two. There were a number of great experience to be had and would love to share them with everyone. Kruger is a fantastic destination and a top spot for someone wanting to go on safari. It was very different from my trip to the Serengeti a few years back, and if you've already been there, you may consider a second safari in South Africa as well.