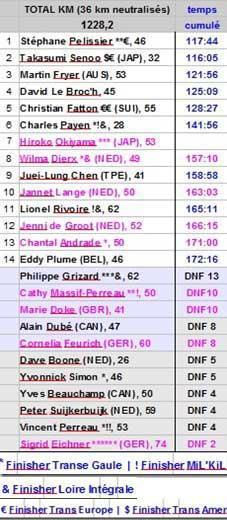 Stage 19: Saint-Laurent-D'Aigouze to Villeneuve-les-Maguelone, 44.2k, +80m/-65m.
The Tour de France Footrace 2015 latest news is from Stage 19 now in the mediterranean, David Le Broc'h won the stage a few seconds ahead of race leader Stephane Pelissier and Takasumi who are just 21 minutes apart in their cumulative totals.
Australian Martin Fryer, who is posting on Facebook as are a few of the runners, lies in third.
Leading the ladies or was, is Hiroko Okiyama. Her time for stage 19 was not available at  the time of posting the update as she got lost for at least an hour/10 km and will significantly close the gap for Wilma Dierx in second place.
Links
Race website: www.skyrun.orgFacebookTwitterRunners Facebook – Yvonnick SimonRunners Facebook –
Stéphane Pelissier
Runners Facebook – Martin FryerRunners blog –
Christian Fatton
About
The Tour de France Footrace began at Notre Dame in the center of Paris on June 28th 2015.
The 2,800 km race is split into 43 daily stages finishing back in Paris at the Eiffel Tower on August 9th.