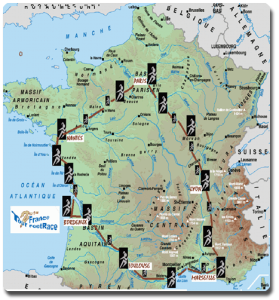 Thanks to Tristan Poirel for pointing out this event for next year, The Tour de France 2015 Footrace.
 The event begins at Notre Dame de Paris and finishes just down the road at the Eiffel Tower. 34 runners have already signed up.
From the website:
In 2015 there will be a first edition of the Tour de France footrace.
Departure: 28 June 2015 in Paris / finish: August 9, 2015 in Paris.
2675 km (1162 miles) in 43 stages, which will make a daily average of 62.2 kilometers (38.6 miles) per day with no rest days.
Sky Run organized by Organization (Thierry Poupard).
Website race: Skyrun.org
Tour de France Facebook Footrace: Facebook.com/tourdefrance.footrace
Contacts organizer: tourdefrance_footrace@yahoo.fr / 07 86 01 81 91
From Multidays.com, post Tour de France 2015 Footrace