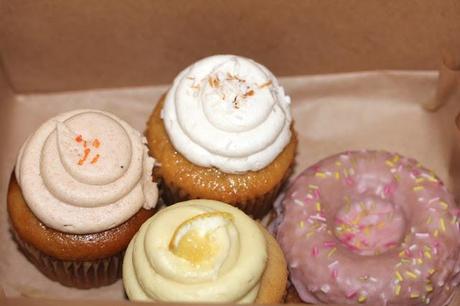 Here are some delicious treats from Tori's Bakeshop located in the beach area of Toronto. This is a vegan, refined sugar free and organic bakeshop, as it says on the website.
Pictured above we have (from left to right) a pumpkin cupcake, a coconut cupcake, a vanilla doughnut, and a lemon cupcake. Although the treats change everyday there is a good chance you might come across one of these goodies if you were to stop in. I know we've been there quite a few times and there's always been a doughnut for sale, although the sprinkles and icing was different :)
Everything we've ever had from Tori's has been delicious. Out of the cupcakes here my favorite was probably the lemon followed by the pumpkin in close second and then the coconut. None of them were "bad," I just found the coconut cupcake to have the least flavor overall. OMG the doughnut is sooo tasty. it's our favorite by far! And I'm pretty sure it's gluten-free which is so surprising because most things gluten-free taste a little wonky to me, not gonna lie. But this doughnut has a yummy vanilla flavor (that isn't too strong I'll add) and wonderful texture.
If you have the chance you should definitely stop by Tori's Bakeshop - you won't regret it!