The moment we saw this video of Timballo on the Pasta Grannies YouTube channel, I KNEW we had to make it. When I say I had it on my mind almost daily until we did, I mean it. Fortunately, when we made our own Timballo, it was absolutely breathtaking and mouthwatering. It's quite simple to make, too. Probably the most stressful part is flipping the dish over to reveal the eggplant in all its glory, but it actually flipped out without a hitch.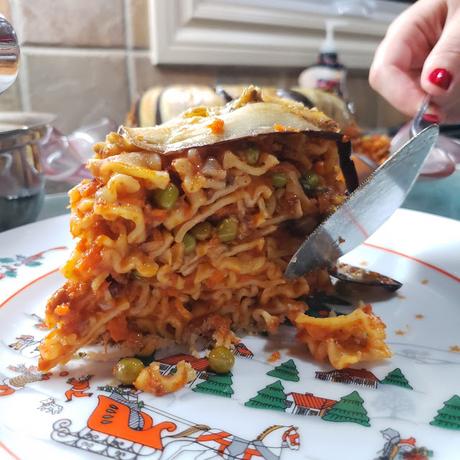 A look at the final timabllo after we had a stressful moment trying to flip it out of the dish in which it was baked.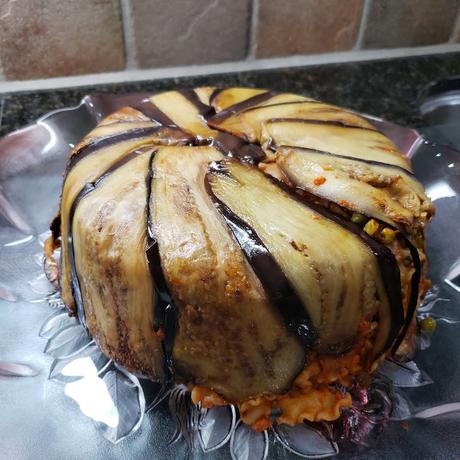 The process of making timballo is quite exciting and fun. We love taking our time making a delicious and somewhat involved meal for our loved ones. Frying the eggplant was such a fun part of making this dish because we rarely fry anything in our house so it was nice to just let loose and create something extravagant.
Once you fry the eggplant, you arrange them like so in an oven safe dish (we used one that was 3.5 inches deep and 9 inches wide). It looks like a beautiful, oily delicious flower.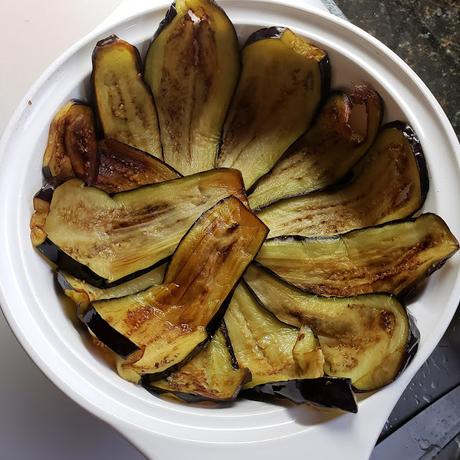 Next, you pour in half of the pasta mixture. And you hear angels singing.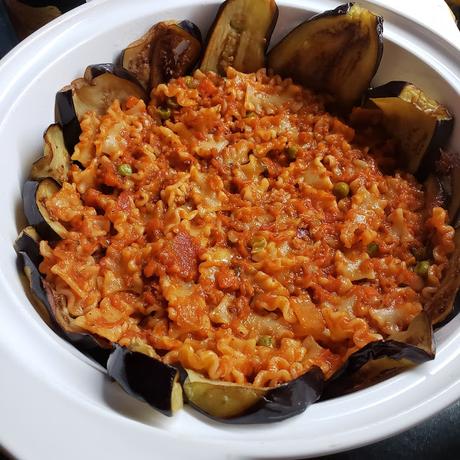 Then (though there is no photo) you add in the fried eggplant cubes and you can optionally add the cubed vegan cheese here with the remaining quarter of sauce and then the remaining pasta mixture. If you're confused, don't worry - just read the recipe below and the Notes. Lastly, top it all off with vegan parmesan and breadcrumbs then bake until it is golden. Thankfully it doesn't need too long in the oven so you can enjoy.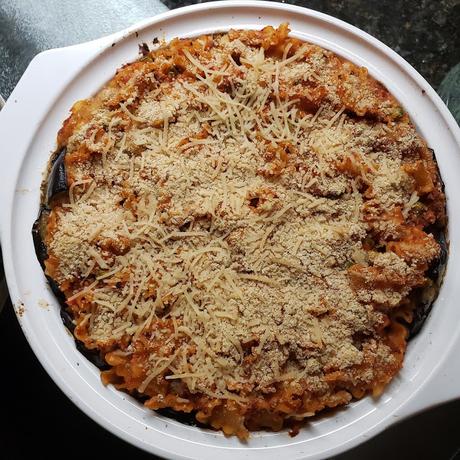 The vegan timballo dish has it all. Pasta, delicious sauce, meat crumbles, and silky eggplant. It is a festive and impressive dish. We were quite proud of ourselves and have every confidence that you will be proud of yourself too once you make it. We served this with sautéed kale and garlic knots. We were living our best lives with this meal. Worth every drop of sweat.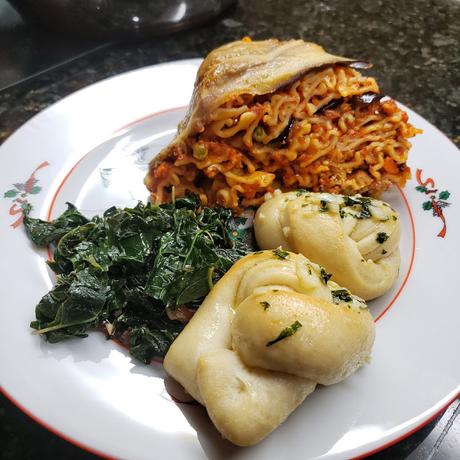 Vegan Timballo Recipe
Ingredients
1 1/2 cups of veggie meat crumbles, like Gardein
1 large or two small carrots, chopped
1 small onion, chopped
1 tsp salt
1 cup of frozen peas
1 L of your favorite pasta sauce, we like Victoria White Linen Marinara and we also used a bit of Just Sauce Hot & Spicy for some added heat
a pinch each of cinnamon and ground clove* (see Notes below)
plenty of vegetable oil for frying
2 large eggplant, one and a half sliced lengthways 1 cm thick and the rest of the half cubed** (see Notes below)
500 g of small pasta, traditionally Anelletti but we couldn't find them and used Mafalda Corta
200 g of hard vegan cheese, cubed (optional)
about 2-4 tbsp of breadcrumbs
4 tbsp of vegan parmesan
Directions
Add the chopped carrot(s) and onion to a food processor or blender, blend to a paste-like consistency. Heat a tablespoon of olive oil in a skillet, add the meat crumbles. Cook until browned, add another tbsp of oil and then add the carrot-onion paste along with the salt, stirring constantly for about 4 minutes. Toss in the peas and cook for another minute, stirring constantly. Pour in your pasta sauce and stir to blend all of the ingredients together. Sprinkle in a pinch of cinnamon and clove. Bring to a boil then turn down the heat and simmer for 15 minutes, stirring occasionally. Remove from the heat and set aside.
Boil your pasta according to the instructions and return to the pot after draining. Add 3/4 of the sauce to pot with the pasta and stir until well coated. Keep the rest of the sauce handy.
Preheat your oven to 400 degrees F.
Line two baking trays with paper towel. Pour about an inch of oil in a skillet or frying pan. When it's hot but not too hot (please don't burn yourself or anyone), add in your eggplant slices. Fry on one side for 3 minutes or until golden (but not too brown) and then cook on the other side for about two minutes until golden. Remove and place the baking tray to drain some of the oil. Once all the slices of eggplant are fried, add in the cubed eggplant and fry until golden. Keep an eye on these little ones, you don't want them to be crispy crunchy. Transfer to a baking sheet.
Lightly oil a 9 inch wide by 3.5 inch deep oven-safe dish or dutch oven. Line with the fried eggplant slices. See photo above. Add about half of the pasta mixture to the dish and really push it down to make sure there are no air pockets. Layer on the cubed eggplant and the remaining 1/4 of sauce. You can add 200g of your favorite hard vegan cheese (cubed) now, if you'd like. Top with the remaining half of the pasta mixture and squish it down again. Sprinkle with breadcrumbs and parmesan cheese.
Place the timballo in the oven and bake for half an hour. Let it rest for 15 minutes. Then run a knife along the outer edge, top with a large enough plate or serving dish, and flip the dish over. You may need two people on this - one to secure the plate on the timballo and the other to flip the timballo. 
Marvel at your hard work before digging in!
Notes
* You can add as much or as little cinnamon and clove, it really depends on you. Just a pinch of each gave a nice subtle flavour, though. 
** The main thing is that you want enough eggplant sliced lengthways to cover the bottom of the dish without any gaps.
Is this a dish you would make? Let us know!