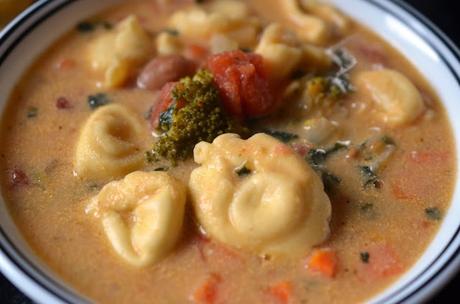 We grew up traveling to New Smyrna Beach, Florida each April, and it's a place that completely has our hearts. We haven't been there in ages but following Grilled Cheese Social (MacKenzie Smith) on Instagram fulfills our longing for NSB. MacKenzie Smith is a chef at Black Dolphin Inn and food blogger (not vegan but has a few vegan recipes). We don't believe in perfection but her life looks pretty darn sweet and she has the sweetest lil babe, so if you enjoy looking at food and embracing the beach life give her a follow. Okay, now to this soup!  
We saw this soup posted to Instagram and we were drooooling. And then we recently found VEGAN CHEESE TORTELLINI at our local grocery store, Metro. We miss tortellini, so finding some was extremely exciting. I don't see them on the O'Sole Mio company website, which is disappointing, but hopefully they aren't gone for good. There's also a beefless variety, which is quite tasty.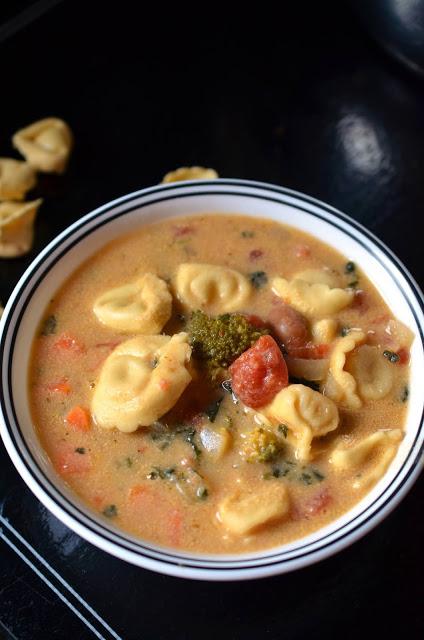 This is a decadent and delicious soup. I know the temps are getting warmer but we have a rainy week here and this would be the perfect dish to snuggle up with on a rainy evening. It has so much flavor and a variety of textural elements that make it super pleasing to eat. The carrots, broccoli, and kale are like little treasures and compliment the beans and tortellini so well.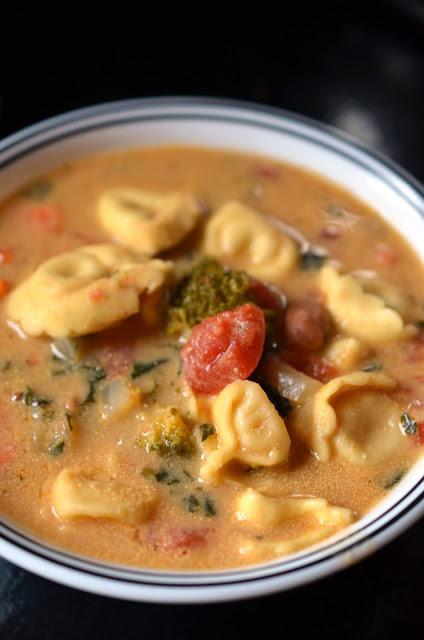 You will be so satisfied with this soup but having some crusty bread on the side would be an excellent addition. When isn't crusty bread a good idea?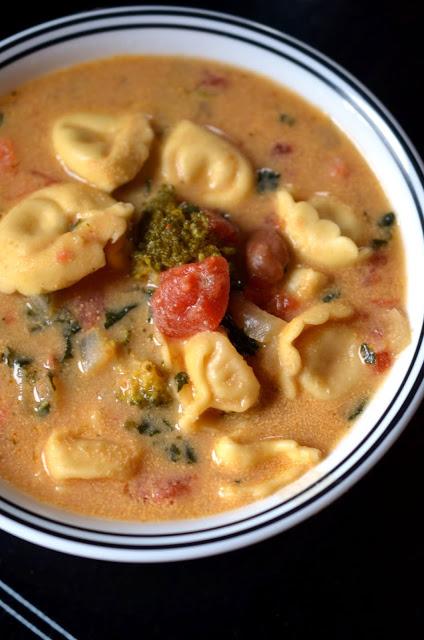 Veganized Rustic Tortellini Soup
adapted from Grilled Cheese Social 
Ingredients
2 tbsp olive oil
1 medium onion, chopped 
4 small carrots, chopped
1 tsp Italian seasoning
1 14.5 oz can of tomatoes
6 cups vegetable broth
2 cups broccoli florets
1 can romano beans
1 large clove garlic, minced
2 cups kale, fresh or frozen
2 tbsp nutritional yeast
1 cup cashew cream*
2 cups vegan cheese tortellini like O'Sole Mio
salt and pepper to taste
Directions
In a large pot heat olive oil then add onion, carrots, salt, and Italian seasoning. Saute over medium heat for about 10 minutes, stirring often. 
Add the tomatoes, broth, broccoli, and beans. Simmer for 20 minutes.
Add garlic, nutritional yeast, cashew cream, and tortellini for 5 to 10 minutes or until tortellini are cooked.
Taste for salt and pepper.
Serve and enjoy!
*To make the cashew cream: soak 1 cup of raw cashews for two or more hours. Drain the cashews and place in a high speed blender with 1/2 cup water. Blend until smooth.