Honestly, I am not sure if there is any food better than garlic knots. Living in Canada, garlic knots aren't really a thing like they are in the USA. This is a crying shame because it wasn't until the last 10 years of our lives did we finally experience garlic knots in all their glory.
Well, we first tried garlic knots at the amazing
Ethos Vegan Kitchen
in Winter Park, FL on vacation many years ago and it took us until now to recreate them for ourselves. We've also sampled the vegan garlic knots from
Allentown Pizza
in Buffalo, NY (TO DIE FOR). 
The recipe we used as our base was from School Night Vegan and we made some adjustments to the ingredients with great success so we are sharing with you - the five people who still read our blog (we love you!).
Prepare yourselves for a million garlicky goodness photos of garlic knots. Grab a napkin to catch the drool.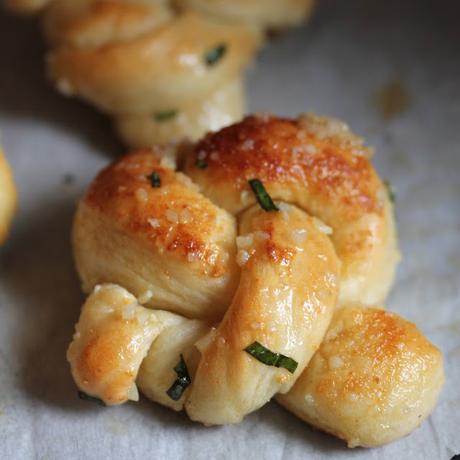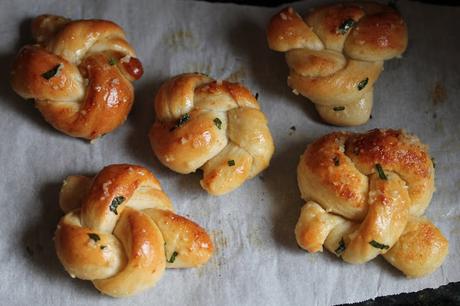 While they might not be as magical as the finished product, look at how beautiful and golden the bread knots themselves are. 
The secret to golden vegan baked goods is using oat milk. We learned that from
America's Test Kitchen
 and we haven't looked back since. The picture speaks for itself!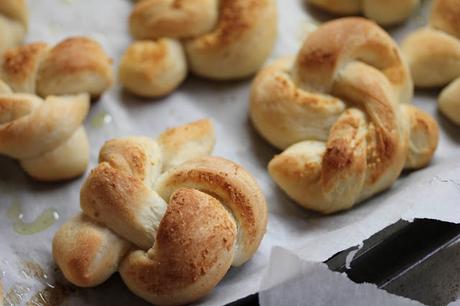 Get a load of this salty, buttery Garlic & Basil Topping that will coat every nook and cranny of the Vegan Garlic Knots. Can you smell the garlic?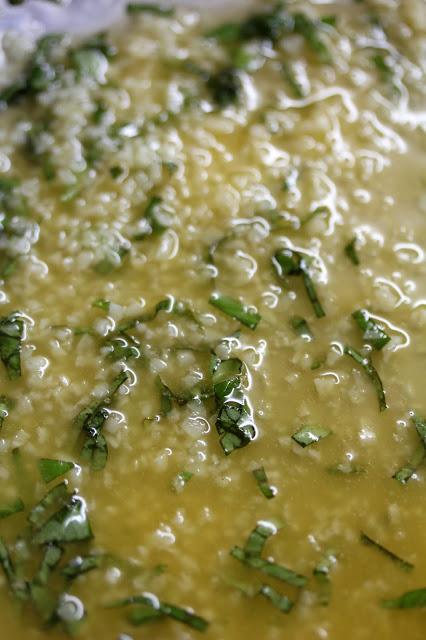 And here they are taking a nice bath in the Vegan Garlic & Basil Topping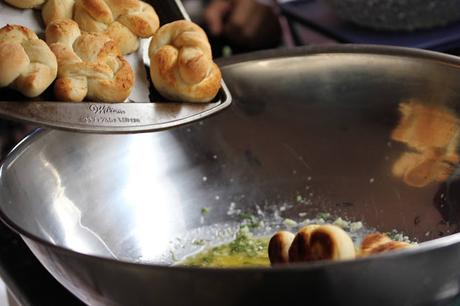 Everybody in the pool! Look at all the little garlic bits getting into the knots. Mmmm... I need to remake these STAT.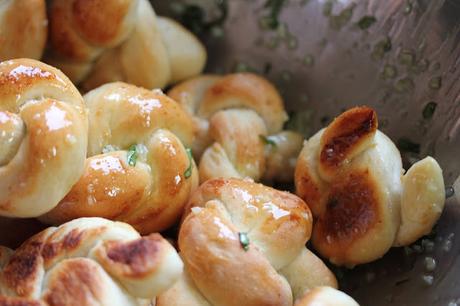 And just for good measure, we mixed them around with a spatula to make sure all the garlic made it onto the knots. No waste here! We also used delicious, local garlic from
The Cutting Veg
.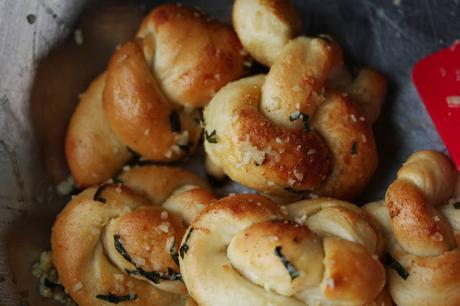 We had to get a few beauty shots because these vegan garlic knots are exactly that... beautiful. Don't you agree?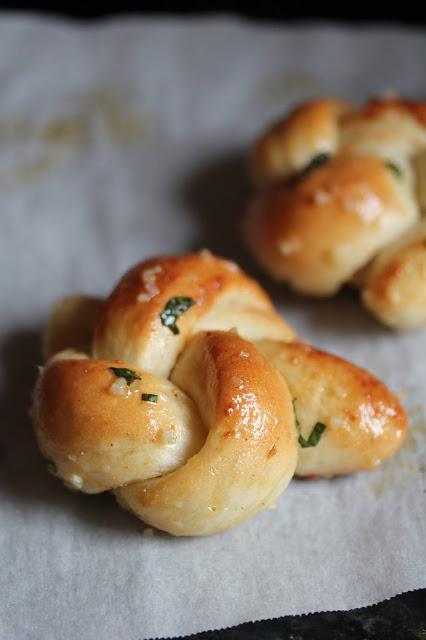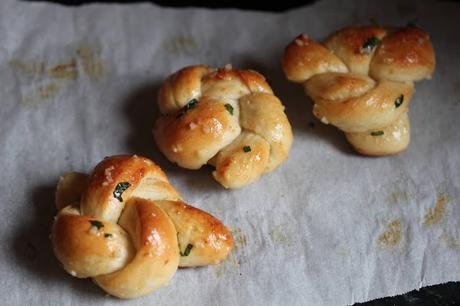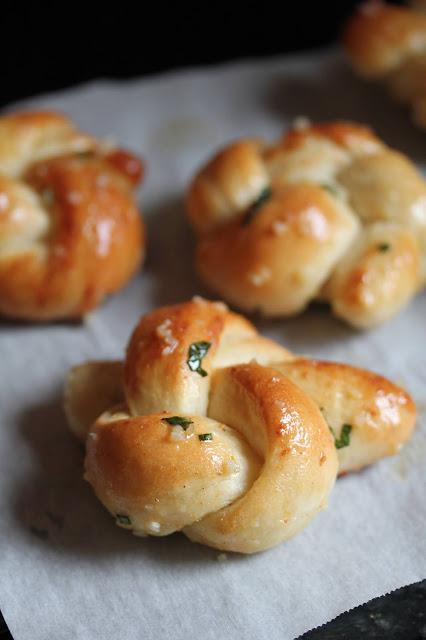 And we had to get an action pull apart shot so you can see that we aren't kidding when we say these garlic knots are soft, stretchy and delicious.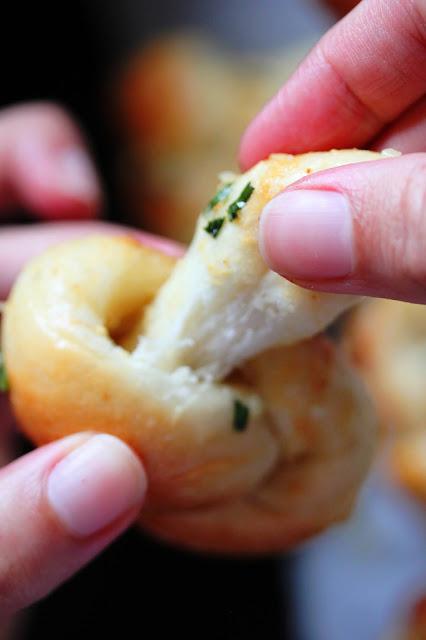 Almost at the recipe. We just want to make sure you're totally sold before you start gathering ingredients for yourself.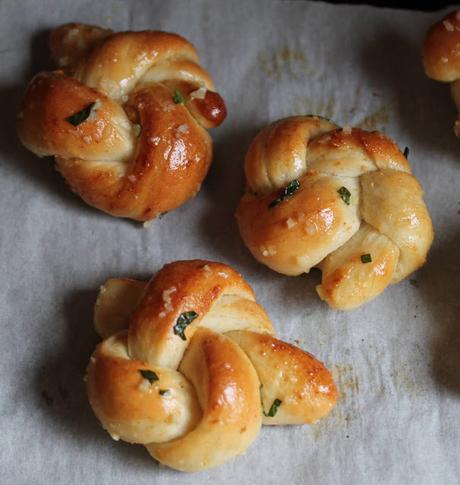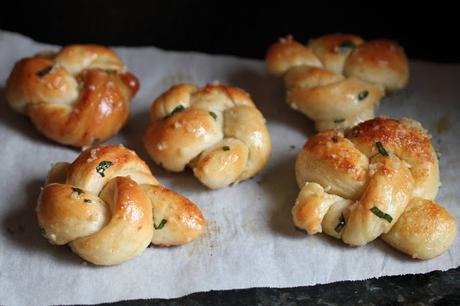 Vegan Garlic Knots
Adapted from School Night Vegan (be sure to visit his blog because his detailed instructions are very helpful)
Ingredients
Bread Knots
230 ml original unsweetened oat milk (you could use almond but oat milk makes the knots nice and golden)
2 tbsp granulated sugar
1 1/2 tsp instant yeast
360 grams all purpose flour
1 tsp pink himalayan salt
30 ml olive oil (divided into 20 ml and 10 ml)
1 tbsp all purpose flour
2 tsp garlic powder
Garlic and Basil Topping
1/3 cup Earth Balance (make sure whatever vegan butter/margarine you use, it's tasty on its own because this will flavor all the hard work you've done!)
4-6 cloves garlic, finely minced (you can use more or less depending on how big your cloves are and how garlicky you want the knots)
2 tbsp fresh basil, finely chopped (or if you don't have fresh, use 1 tsp of dried basil or parsley)
1/2 tsp pink himalayan salt
Instructions
Make the Bread Knots
Pour oat milk into a small saucepan and warm over low heat. You know when the milk is warm enough when you touch it and it feels like the tiniest bit warm. We learned that in the past we were using too hot of a liquid when working with yeast thereby killing it. It should just be the tiniest bit warmer than your body temperature.
Remove the saucepan from the heat, pour into a small glass bowl. Add the sugar and yeast. Let it sit for about 30 seconds, then stir it around and let it sit so the yeast can bloom for about five minutes. The yeast should look foamy at the end of five minutes.
Find a big bowl and mix together the flour and sea salt. We have a giant metal bowl for bread making and it helps a lot. Make sure your utensils are room temperature or warmer so as not to deactivate the yeast.
Add 20 ml of olive oil to the yeast mixture and mix well. Now pour the yeast (liquid) mixture into the flour. Mix around – it will be messy and that is okay. Don't overwork it now. Just get the liquid over most of the flour and then cover with a damp tea towel and leave to hydrate the flour for 10 minutes.
Once the ten minutes are up, turn the dough onto a clean surface (not floured!) and knead for two minutes. Since we added oil, you don't need to use flour to prevent sticking. Return the dough to the bowl, cover with the damp tea towel and leave for another 10 minutes. Knead again for two minutes and cover again and leave in a warm place to rise for one hour.
After the dough as doubled in size, dump out the dough onto a clean surface that has been lightly floured and push out any air bubbles. Slice the dough in half with a knife and form into two balls. Next, roll out the dough ball into a rectangle and then use a pizza cutter to slice 10 strips which will become your knots.
Mix 1 tbsp AP white flour and garlic powder and sprinkle over the dough strips. Then do your best to make little knots. Here is a helpful video. Place the knots on a parchment lined baking tray. Now repeat for the other dough ball. You should have about 20 knots.
Brush the knots with the 10 ml of olive oil. Cover with the damp tea towel and leave to rise in a warm place for 30-40 minutes.
Preheat the oven to 400F. Once the time is up, place the trays in the oven and bake for 10-12 minutes. If they aren't golden enough, bake another minute or two longer until golden. The bottoms can burn quick so don't forget to check at 10 minutes.
Make the Garlic and Basil Topping
Melt vegan butter in a small saucepan. Add the minced garlic (you want it as small as possible) and cook for just a minute. You don't want to brown the garlic... just cook it a bit. Then remove from the heat.
Stir in the basil and salt. Now get a big bowl and pour in the garlic butter. Then dump in the bread knots and toss away! Eat them right away – you don't want them to sit because they are soooooooo good fresh from the oven tossed in the garlic butter.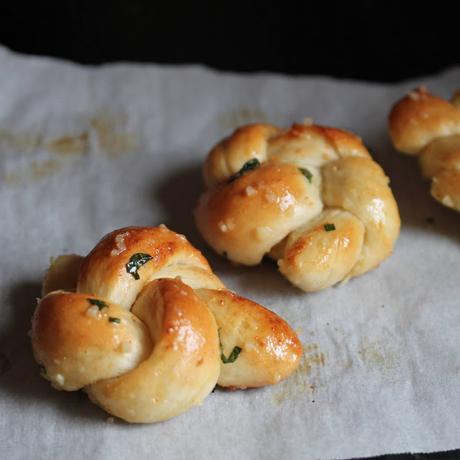 So, are you going to make these garlic knots for yourself? We can promise you won't regret the time and effort!