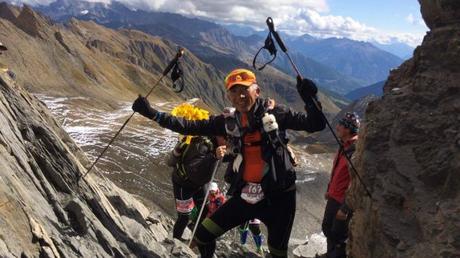 The Tor de Geants 2017 features two races: the Tor de Geants and the 130 km Tot Dret.
The Tour de Geants is a challenging multiday trail race that starts and finishes in Courmayeur. During the event, the runners cross 34 municipalities, 25 mountain passes over 2000 metres, 30 alpine lakes and 2 natural parks. The minimum altitude is 300 m (985ft) and the highest is 3,300 m (10800ft). The total elevation gain is about 24,000 m (78700ft).
Tot Dret is a new 130 km event that started in Gressoney-St-Jean and finished in Courmayeur.
The Tor de Geants finishes tomorrow, Sunday 17th and there's still almost 70 runners still on the course at the 149 hour point from the 527 starters.
Javi Dominguez set a new course record by over two hours and Oliviero also went under the old benchmark for second place. Lisa Borzani won the womens category with an 8 hour cushion over second placed Silva Ainhoa Trigueros Garrote from Spain.
Brit Debbie Marco Consani was 18th woman.
Top finishers Tor de Geants 2017
Race Links
Website: Tordesgeants.it
Live tracking: Live.tordesgeants.it/#/
Facebook: www.facebook.com/TorDesGeants
Multidays.com The home of multiday running news and events.