Hello 2015
Say goodbye to 2014 and give a warm welcome to 2015. This is the best time of the year. Why you ask? New wedding dress collections have arrived of course! Designers have rolled out their spring collections for 2015 and the styles this year are sure to leave us all breathless. Wedding gown designs for 2015 are turning back the clocks and using past decades and designs for pure inspiration. It's like the saying, "if it's not broken- why fix it?". New dresses are hitting the runway and stores that are have timeless designs, gleam femininity, provide an intimate feel, and remain classic. The designers have set the hottest trends for wedding gowns this year and oh boy, they are stunning. Let's take a closer look at some of the hottest wedding gown trends of 2015!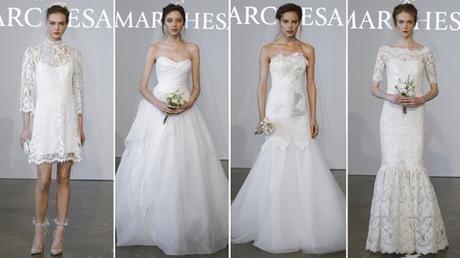 Lace & Romance
Three words Marchesa, drop-dead-gorgeous! Marchesa designed magnificent gowns for their 2015 spring collection. The gowns this year are timeless, breathe romance, and intimacy. Lace adorns many of the dresses and it creates a delicate intimate feel. You might be thinking, "Okay- lace has been a trend for a few years now, what's the big deal?". Well folks, it's all in the details! The lace detailing is pushed a step further than it was in 2014. Various lace types and patterns, including eyelash lace details, scalloped edges, and ornate designs are delicately placed on dresses in the collection. The lace and the quality of lace this year will be different than another and it's not on repeat. The fit and draping of the lace has up'd it's game as well! Marchesa also mixes textures to create eye catching looks. Mixing organza, tool, and lace give gowns a fabulous pop of texture that will be sure to dazzle down the aisle. Lace has always been stunning, but lace this year will make the romance meter pop! Keep your eyes peeled for timeless intimate gowns that radiate texture. You are going to love how glamorous you look in just the right amount of lace!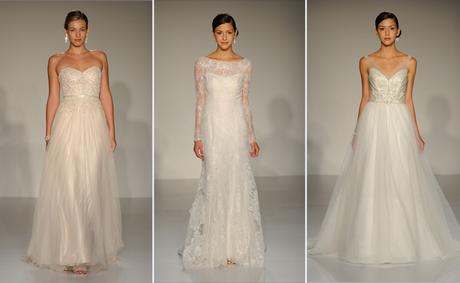 Dare to be Feminine
Sottero and Midgley are putting their best foot forward for the 2015 year! Their collection screams femininity. Your wedding day is one of the biggest days of your life. So why not bring out your true girly side? A feminine gown is detailed, but still allows you to shine in your wedding dress. These gowns are simple, will still create a strong statement but, will allow you- the bride- to be at center stage in a beautiful feminine gown. Most importantly, this trend is a trend that every woman can wear. Feminine dresses can be found or created in any size! Necklines are another feminine added detail in this particular 2015 trend. Classic sweetheart, illusion, bateau, and v-necklines create the ultimate feminine feel for bridal couture. It's an understated sexy that will be sure to stun on your big day. Illusion necklines and even sleeves will be the new trend for 2015. Yes, sleeves! Sleeves are a fantastic option for a winter or spring wedding! Both of these trends are a fantastic fashion forward option for brides that want to feel comfortable but elegant on their big day. Don't be afraid to try a new neckline- it's a timeless option that adds a feminine feel. In 2015 look for dresses that show less but they will shine more!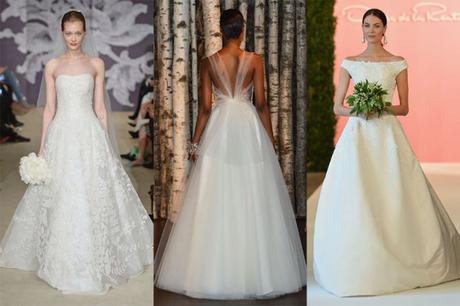 Embrace the Full Skirt
Movies portrayed fashion for 2015 to be space suits that looked like foil. Thankfully, in reality, 2015 wedding dress trends are taking a note from the past and reverting to classic structures and silhouettes. You can expect clean and simple lines for gown structures and full skirts. For the last few years trumpet and mermaid gowns have been seen in look books and in stores. In 2015, full skirts are coming back in full swing! A-line dresses and ball gowns provide a classic look for your wedding day but they are far from dated! Designers are creating magnificent designs incorporating lace and tulle into the full skirt structure of the dress. Once again, the added texture provides brides with a modern twist to their classic look. Even celebrities like Amal Clooney have jumped on the full skirt trend and looked absolutely drop-dead-gorgeous doing it! Embrace the classic beauty of the full skirt, try one on!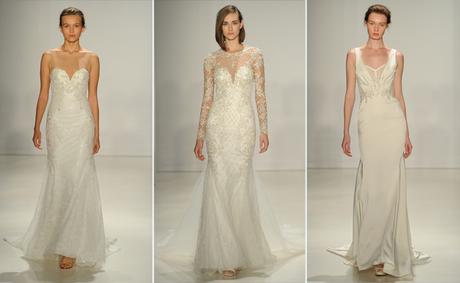 Ready, Set, Go!
Feminine and intimate detailing, classic lines, and lace are the hottest trends of the 2015 wedding gown season thus far. These trends all together create a classic and cohesive look that will add some special sparkle to your wedding day! Pick a few of the trends, just one, or I'm sure you can find "the" dress with the trends all in one. Try it on for size, you may be surprised at how special you feel! Now, it's not just big label designers like Marchesa and Soterro and Midgley that are creating these hot trends. Timeless gowns that have lace, illusion necklines, provide feminine details all with that classic twist can be found in stores such as David's Bridal and at many of your online retailers. No matter what your budget is, you can still stay in your budget and follow these fashion forward trends. One last piece of advice is to remember to keep in mind that trends are trends and you still need to dress for your taste and body type! 2015 is going to be a great year in bridal fashion. Now go out and try on some of these fabulous trends! Happy shopping and happy new year!