Top 6 Elegant Ladies Pyjamas
Pyjamas don't have to be a sloppy, shapeless mass of fabric which is unflattering and certainly not chic! Designers have changed the look of ladies pajamas over the years and now they're available in a wide variety of colours, patterns, fabrics and styles. Gone are the days where ladies pajamas resemble a baggy tracksuit....it's time to say hello to stylish designs and elegance.
Men in the past have had a negative view of ladies pyjamas, often citing them as a 'passion killer' pah! What do they know eh? Take a look at these wonderful designs and we're confident that your view of ladies pajamas will change, we're also confident that men will no longer view them as unsexy but conversely, they will appreciate how a simple design can bring out the feminine side of the lucky lady wearing them.
Take a look at our favourites:
Floral Pyjamas
Made by New York Botanical, these elegant ladies pyjamas simply ooze vintage glamour. We're visualising them worn with luxurious silk slippers and a slinky black gown. No man would ever be able to resist a lady wearing these.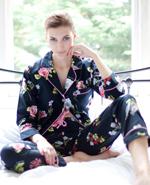 Silk Pyjamas
Is there anything more elegant and sophisticated than the feel of silk against the skin? We didn't think so either. Bodas have designed these wonderful silk ladies pyjamas which follow a classic pyjama design. These ladies pajamas would make a perfect gift for that special lady in your life - if you want to make it super special then team with a silk gown too.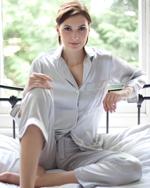 Lacy Pyjamas
Whoever said pajamas couldn't be sexy have clearly never seen these ladies pyjamas! Not over-the-top nor garish, these understated lacy ladies pyjamas by Espirit Nightwear feature elegant detailing on both the cuffs and waist. They're also comfortable too and perfect for snuggling.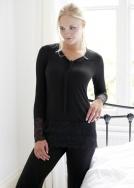 Oriental Pyjamas
Oh hello you gorgeous Oriental style ladies pyjamas! These kimono-style ladies pyjamas have been created with sateen cotton and have been hand-printed with a contemporary floral design. There is nothing plain or simple about these pjs. They're elegant, charming and chic, just the way they should be.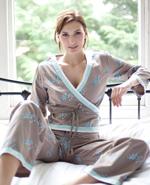 Chic Pyjamas
These Eberjey Bardot ladies pyjamas perfectly illustrate how designers have experimented with different shapes and design. Ladies pajamas should flatter the body shape whilst remaining comfortable and these manage to strike the perfect balance of comfort and style. Long draped designs such as these manage to create an elegant silhouette that exudes natural elegance.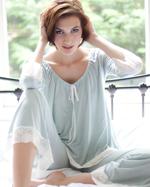 Pretty Pyjamas
Possibly the prettiest ladies pyjamas we've ever seen. These adorable pajamas have been designed by Princesse Tam Tam; a Parisian brand with elegance and style firmly in mind. Not only do they feature a cute ditsy floral print but also the small details such as the scoop neck and side waist bow make them super feminine too.
Ladies pajamas have changed over the years; once upon a time the nightgown was first choice, but now as you can see, ladies pajamas are more feminine and more elegant than ever.