How to Pick the Best Pyjamas for Your Girlfriend
You can tell a lot about a person by the clothes that they wear and pajamas are no exception; this is why buying pajamas for your loved one can be a tricky experience if you haven't done your research. Buying any type of clothing for your girlfriend can be hard - will she like the style that you've chosen? Will they fit? As with any kind of personalised gift buying, a little bit of detective work may be necessary first, but remember to not make it too obvious!
To find the perfect pair of pajamas for your girlfriend then you'll need to look at her existing style.
Take a look at our guide below and see which category she might fit into:
Comfortable
Is your girlfriend the type of woman that likes to dress comfortably in a pair of jeans and a jumper? Does she favour flat shoes over high-heels because she hates the feeling of squashed toes and painful ankles? In that case she would probably appreciate a nice comfortable pair of pajamas such as this cute pair by Princesse Tam Tam; made with soft cotton fleece, she'll be as snug as a bug in a rug wearing them!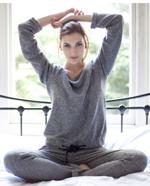 Unusual
Does your girlfriend like to experiment with different hair colours and follow the latest trends no matter how wacky it may look? Then she would no doubt welcome an unusual pair of pajamas into her wardrobe. These bright pink flamingo pyjamas are pretty unique! They're fun too; so if she likes unusual items of clothing then these pjs will be the perfect choice.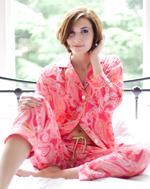 Classic
What happens when your girlfriend has a classic style? Perhaps she prefers simple, elegant items of clothing that are both timeless and chic? These stylish check pyjamas by Esprit have been made with soft brushed cotton and make the ideal choice for ladies who like classic styles.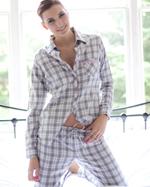 Designer
If there's one thing you're sure of, it's that your girlfriend wouldn't dream of stepping out of the house without her designer clothing and accessories; she likes designer houseware too - labels are important to her. If she likes her clothing to carry a designer tag then opt for a pair such as these warm fleece stripy pajamas by DKNY. Not only will they keep her warm, but she'll feel stylish too.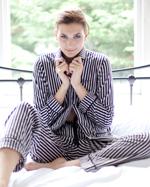 Girly
If your girlfriend is super girly and loves floral prints, pretty skirts and feminine designs then she's going to want her pajamas to match this style. These Princesse Tam Tam Loungewear Pyjamas are both unusual and girly - not only do they feature a wonderful camisole top, but they also have a cute pattern in muted colours.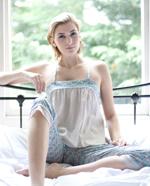 Sexy
Classic striped pajamas would be the worst thing to buy your girlfriend if she usually wears sexy, sultry clothing. Why not opt for a sleepwear set like this?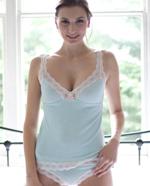 It has sexy credentials such as a lace trim and it comes with little hipster pants too!