The Fashionable Man's Guide to Buying Ladies Nightwear
When it comes to buying clothing for that special woman in your life, you're either going to get it very right, or very, very wrong. This works the other way round too - the simple fact of the matter is this; buying clothes for a member of the opposite sex isn't an easy task at all.
Buying an item of clothing as a gift should never be a last-minute experience. Trust us when we say...it will show! There's nothing worse than being on the receiving end of an ill-thought out gift that is two sizes too small or even worse, two sizes too big! Even ladies nightwear needs careful consideration - you mustn't just rush out and buy the first thing you see.
These are the things to consider:
Never underestimate the importance of getting it right
The whole point of buying someone a gift is to show them that you care and that you know what they like. Buying your sister or girlfriend the wrong type of ladies nightwear may send out the wrong message that you didn't care!
Appropriate ladies nightwear
Quite obvious really but you'll need to consider what is appropriate ladies nightwear to buy and what is inappropriate ladies nightwear to buy. If you're planning on buying your mom a new nightgown then racy lace and see-through fabric is probably best avoided! If your girlfriend is the lucky one receiving carefully chosen ladies nightwear then you'll want to avoid anything 'mumsy' and opt for the lace instead. Simple.
Best for your mum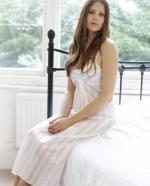 This pretty cotton nightdress by Bodas features a long-striped design and dainty little straps. This would be the perfect choice for any fashion-conscious mother.
Is this for you or her?
Are you buying this gift for you or for her? We're not suggesting that you're buying ladies nightwear for yourself (although if that floats your boat then we're ok with that!) but we want you to think about whether or not you are dressing your girlfriend for you or for her? Of course you want her to look good but if she's not going to feel comfortable in what you buy then there's no point in buying it in the first place!
Best for your Girlfriend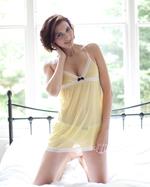 This vintage-inspired chemise by Eberjey Eloise straddles the line between cute and sexy and would make a great gift for your girlfriend. The lace and polka dots create a 60s 70s feel whilst the 'boy shorts' bring this look bang up-to-date.
What's her style?
Is she a designer fiend or a classic fashion lover? Observe what she wears over the next week and this should give an indication of what type of ladies nightwear to buy her.
How much should you spend of ladies nightwear?
This is entirely up to you! Ladies nightwear can suit every budget from bargain to splurge.
Buying ladies nightwear doesn't have to be a difficult task, so long as you remember to do your research first.