At this cold, dark and – let's face it – gloomy time of year, there's nothing nicer than getting in from work, pouring yourself a glass of wine or coffee (whatever your tipple) and settling down on the coach to watch a comedy DVD wearing a lovely, snugly, luxurious pair of flannel pajamas.
Well, can you think of anything nicer? Apart from the addition of a hug from a loved one and maybe a square of chocolate or three, that is…
If your other half is going to be at home, or plans to pop round to yours later, then there's no need to rush around getting dressed either. You can still sit there glowing prettily in your PJs because at Idlewild London we have some gorgeous numbers currently in - a few of which are on sale too!
Stay cosy – and stylishly cool – in Calvin Klein
Take the flattering flannel nightwear range from Calvin Klein for instance where there's currently a post-christmas 20 per cent reduction on both the Kiss Me Kate and the Putting On The Ritz styles resulting in a £14 saving on each.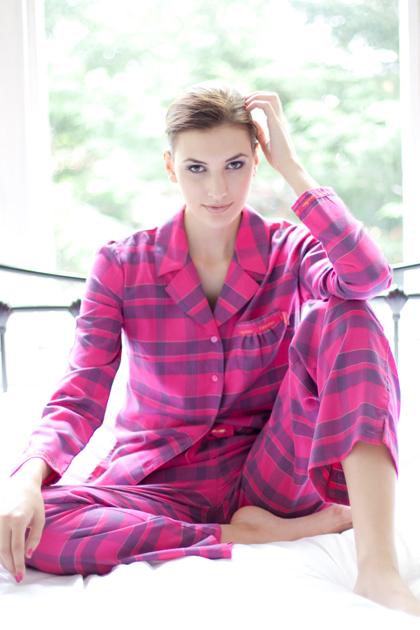 The former is the stunning purple pair and the latter the bright pink shade. Both have a single breast pocket with contrast trim (which is also at the cuffs).
And that's not all. The floor length pajamas on both have an elasticated waist and tie belt for the ultimate in comfort. They're great as a gift too if you've a special birthday coming up or why not treat yourself if there's money left over from sales shopping? Yes, we know – we shouldn't be encouraging you.
We're just telling you, that's all!
We love Calvin Klein's Cabaret Style pyjamas too. In fact, we remember our granddad having a pair just like this. Very updated 1970s.
Sophisticated and stylish fun flannel
If you really want to push the boat out though and see exactly why all those luxury mags rave about the softness factor of flannel then Bedhead's New York Botanical nightwear is worth taking a look, and feel, at: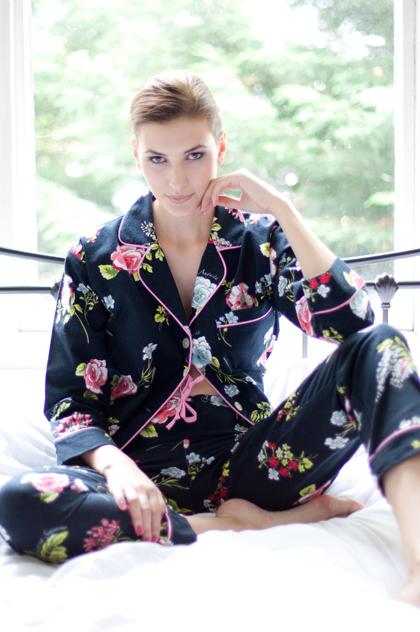 The Los Angeles-based cult nightwear designer brand has opted for a dark blue background with plenty of bright pink roses, green foliage and pink piping around the jacket and trousers. Very pretty, we think.
And now we're going to give you a few flannel facts to impress your mates:
Flannel reached the peak of its popularity not too long ago actually – the 1990s with the rise of Nirvana and other grunge bands who made flannel plaid shirts part of their 'uniform.'

The term flannel dates back to 16th century Wales.
When first conceived of flannel consisted mainly of fine, short wool but come the 20th century it had become a mix of both silk and cotton and was particularly popular for cricket whites. Cheaper materials such as polyester led to its demise and today it's mostly heard of as nightwear or bed linen.
You can take a look a look at the rest of the cosy Idlewild London collection at our flannel pajamas page.