5 Reasons Why Pyjamas Are the Best Christmas Present Ever!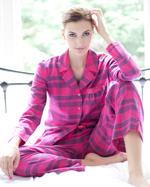 Christmas is that time of year when we sit around in our pyjamas, decorate pine trees with twinkly lights, eat silly amounts of delicious food like cakes, biscuits and roast potatoes and see friends and family we haven't seen all year. It almost feels naughty to say this but let's be honest; the best part of Christmas is giving and receiving gifts isn't it?
It's a lovely feeling receiving a gift that has been carefully thought of and personalised. On the flipside it's really awkward when you receive something...well a bit rubbish, like cheap socks and handkerchiefs with the wrong initial embroidered onto them!
The best present you could possibly buy someone or be lucky enough to receive is a pair of good-quality pajamas.
Here's why...
Comfortable
There is nothing more comfortable than a pair of pajamas and that's a fact! When you're curled up on the sofa or snuggled up in bed the added bonus of soft brushed cotton next to your skin means your level of comfort is raised to epic proportions! Imagine the comfort levels of these cute ribbed pyjamas: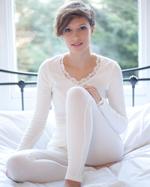 Indulgent
Ok this one will need a little explaining. Pyjamas are super indulgent...don't you believe us? Well doesn't it feel super cosy (not to mention a little naughty) slipping into a pair of comfy pajamas as soon as you return home from work? There's really no better feeling. Need more convincing? Try having a long soak in a rose-scented bath and then popping on a clean pair of fleece pajamas – you'll feel as though you've been wrapped up in flower-scented cotton.
Snuggly
When it's blowing a gale outside and there is raining lashing against the windows, it's surely time to get all warm and snuggly? Pop into a dotty pair of pajamas such as these: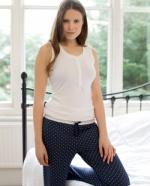 Now make yourself a cup of tea and enjoy the safety and comfort of your home.
Cute
Remember those pyjama parties you used to go to as a child? How much fun did you used to have? Pyjamas have a way of making you feel youthful and cute again, whilst having the added bonus of comfort and practicality. Add a little cuteness to your winter wardrobe and invest in a pair (or give a pair as a gift) of girly pajamas.
Stylish
Yes pajamas can be stylish too! If you have an idea in your head of sloppy pajamas with saggy bottoms and greying slippers then stop right now...pjs have come a long way since those old days. Nowadays designers are creating unique styles that have a more mature feel. Take a look at these wonderful New York Botanical pyjamas for example: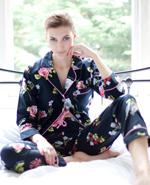 They simply exude Oriental glamour with a vintage 1930s feel. These are a far cry from the saggy bottomed pajamas of yesteryear! Imagine these worn with a silk gown and silk slippers.
So comfortable, stylish, warm and cosy what is stopping you from wearing a smart pair of pyjamas?