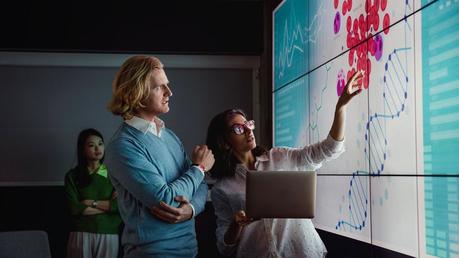 What clinical trials related to low carb got our attention in 2018? There are both large important studies and smaller promising studies, too!
Here are our top five pics, plus some nods to other hopeful research:
Cara B. Ebbeling, et.al. in BMJ:
Effects of a low carbohydrate diet on energy expenditure during weight loss maintenance: randomized trial

Consistent with the carbohydrate-insulin model, lowering dietary carbohydrate increased energy expenditure during weight loss maintenance. (209 kcal/day greater in low-carbohydrate group versus high-carbohydrate group. This metabolic effect may improve the success of obesity treatment, especially among those with high insulin secretion.

For our take on this important randomized clinical trial, see our post " New major study: A calorie is not a calorie "

Dr. Sarah Hallberg, et. al. in Diabetes Therapy:
Effectiveness and safety of a novel care model for the management of type 2 diabetes at 1 year: An open-label, non-randomized, controlled study

What are the clinically-proven results of the Virta Treatment at one year? 60% of patients reversed type 2 diabetes; 94% of patients either reduced insulin usage or removed it altogether; 83% of patients remained active in the trial; and substantial and sustained improvements [were attained] in other co-morbidities, including blood pressure, inflammation, cardiovascular markers, insulin resistance and weight loss."

(This is Virta Health's ketogenic-diet-plus-smart-phone-based coaching model for type 2 diabetes reversal. Read our take on this clinical trial in our post, " 1-year results of the Virta Health keto study." Also from Virta this year, see its trial reporting improved cardiovascular risk among its treatment group. Click through for a preliminary report of Virta's two-year results.)

Dr. Stephen J. Freedland, et. al. in Journal of Clinical Oncology:
Interim analysis of a prospective randomized trial of dietary carbohydrate restriction for men with a rising PSA after failed primary treatment: Carbohydrate and prostate study 2 (CAPS2)

In this interim analysis of an on-going dietary study for men with a rising PSA after definitive local treatment, an extreme low carbohydrate diet results in dramatic weight loss in 6 months [median: 31.7 pounds vs. 0.8 lbs in higher carb arm]. Whether this weight loss slows PC growth is an on-going question.

Luigi Schiavo et. al. in Obesity Surgery:
A 4-week preoperative ketogenic micronutrient-enriched diet is effective in reducing body weight, left hepatic lobe volume, and micronutrient deficiencies in patients undergoing bariatric surgery: A prospective pilot study

[This small pilot study assessed] the safety and the effectiveness of a 4-week preoperative ketogenic micronutrient-enriched diet in reducing body weight, left hepatic lobe volume, and correcting micronutrient deficiencies in patients scheduled for bariatric surgery. We observed highly significant decreases in body weight (− 10.3% in males;− 8.2%, in females), left hepatic lobe volume (− 19.8%), and an amelioration of patient micronutrient status. All patients showed a high frequency of acceptability and compliance in following the diet.

Sridevi Krishnan et. al. in The American Journal of Clinical Nutrition:
A randomized controlled-feeding trial based on the Dietary Guidelines for Americans on cardiometabolic health indexes

The consumption of a Dietary Guidelines for Americans (DGA) dietary pattern for 8 weeks without weight loss reduced systolic blood pressure. There were no differences between the DGA and typical American diet... in fasting insulin, glucose, indexes of insulin resistance, or fasting lipids.

(This trial speaks to the DGA's failure to effectively address most metabolic disfunction. Similarly, this clinical trial, also from 2018, shows that 12 months of either following MyPlate or calorie counting results in NO weight loss.)
An honorable mention goes to three clinical reports:
Heather Hall et. al in PLOS Biology:
Glucotypes reveal new patterns of glucose dysregulation

We found that even individuals considered normoglycemic by standard measures exhibit high glucose variability using continuous glucose monitoring (CGM), with glucose levels reaching prediabetic and diabetic ranges 15% and 2% of the time, respectively. We thus show that glucose dysregulation, as characterized by CGM, is more prevalent and heterogeneous than previously thought and can affect individuals considered normoglycemic by standard measures, and specific patterns of glycemic responses reflect variable underlying physiology.

Adil Mardinoglu in Cell Metabolism:
An integrated understanding of the rapid metabolic benefits of a carbohydrate-restricted diet on hepatic steatosis in humans

We performed a short-term intervention with an isocaloric low-carbohydrate diet with increased protein content in obese subjects with NAFLD and characterized the resulting alterations in metabolism and the gut microbiota using a multiomics approach. We observed rapid and dramatic reductions of liver fat and other cardiometabolic risk factors paralleled by (1) marked decreases in hepatic de novo lipogenesis; (2) large increases in serum β-hydroxybutyrate concentrations, reflecting increased mitochondrial β-oxidation; and (3) rapid increases in folate-producing Streptococcus and serum folate concentrations.

Belinda Lennerz in Pediatrics:
Management of type 1 diabetes with a very low-carbohydrate diet

Exceptional glycemic control of type 1 diabetes with low rates of adverse events was reported by a community of children and adults who consume a very low-carb diet. The generalizability of these findings requires further studies, including high-quality randomized controlled trials.
In 2019 we expect more interesting trials demonstrating the efficacy of low-carb diets for fighting metabolic disregulation.
More