The last of a series of Tony Moly products I was sent for review I especially saved for last since I'm a big fan of eye makeup products particularly the eyeliner. Yes, today I'm reviewing the Tony Moly Perfect Eyes Water-Proof Liner.
The Tony Moly Perfect Eyes Water-Proof Liner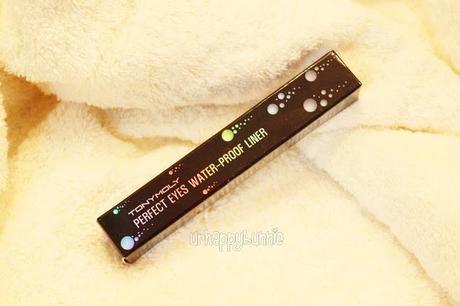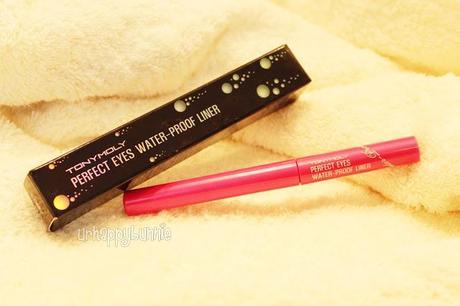 Observations:
Consistency - liquid, nice application, not watery
Shades - comes in a lot of shades; 01 Real Black, 02 Real Brown, 03 Sparkle Navy, 04 Sparkle Black, 05 Sparkle Green,  06 Night Navy, 07 Night Violet, 08 Sparkle Pink (I'm not sure if these are all the shades available for the liquid liners because I know there are a lot more shades for the pencil liners and I can't find any shades after the 08 - if any of you knows, leave me a comment so I can update)
Applicator - felt tip brush
Pigmentation - vibrant; great color pay off
Drying time - quick drying
Wear - last the whole day without smudging, waterproof - can take a dip in the pool or shower with it without worrying if it will come off unless you rub it with water
Removal - easy to remove with makeup remover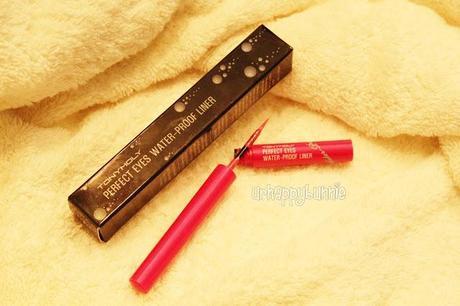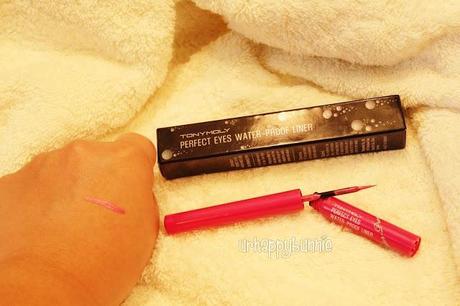 I have tried a lot of liquid and pencil eyeliners especially when I was still starting to experiment with makeup. Liquid eyeliner was the makeup I use on a daily basis when I was in college and I went through a lot of tubes of them already. 
The packaging, texture, consistency and pigmentation of this liner is very similar to the Urban Decay 24/7 Waterproof Liquid Eyeliner. Though I very much prefer the Tony Moly liquid liner than the UD 24/7 in terms of the brush applicator and it's staying power. The felt tip applicator just gives a better control and enough flexibility to glide when lining the eyes and not tug on it. It is staying power is amazing and it lasted me the whole day without it budging, smudging or flaking. Pigmentation is great as well: vibrant and didn't fade throughout the day. Though I received a shade that isn't really my comfort zone, I think I still pulled it off. It is a great pop of color and something that is just nice to have around in my collection to play around with once in a while. 
Definitely a ♥ ♥ ♥ ♥ ♥! 
Watch out for a makeup look featuring the this liner and other Tony Moly products previously reveiwed! :)
Visit 
BNTNews
 for the latest news and trends
Official Page
Tumblr YouTube
Facebook
Twitter: @officialbntnews