Oh hi guys!
Been a while huh? Man I can't even begin to tell you how hectic life has been, I've had teeny tiny nubs for SO LONG, it's good to finally have some length again to do some art with ;)
Let's just get to the nitty gritty, NAILS! Woo! I recently purchased a few of Colors by Llarowe stamping polishes to play with and OH MY GOD, I literally can't even. Yep I just went all teenage girl on you right now, but it's SO warranted once you see these polishes! I'm super amazed with how well they stamp, so you guys will probably be seeing quite a few manis using them in the near future.
Moving on, mint has been my go to color lately (always) so I tried out some tone on tone stamping. It's a bit more subtle in photos then it was in real life, but I think you guys will love it anyways!
I started with a base of China Glaze Too Yacht to Handle. Next I stamped over each nail using CBL Turq'd and the Winstonia Say I Do plate. I sealed everything in with Seche Vite top coat and that was it! Take a look for yourselves!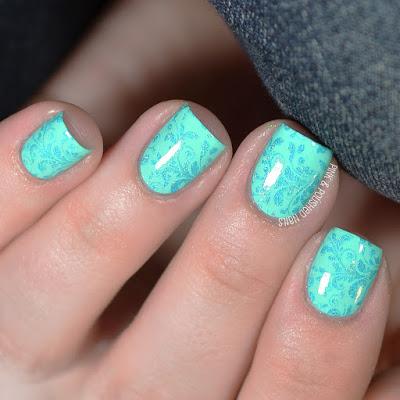 Minty goodness!
I almost prefer how subtle it looks, it gives it a classic feel.
What do you guys think?
Thanks loves :)